May I present my 1984 Mercury Marquis Brougham. Propelled by a 3.8 liter V6 engine coupled to a 3 speed automatic transmission. With less than 40,000 original miles, the smell of almost new, 31 year old velour will calm you, as you recline in the power red seats and waft away with no effort. Literally no effort, this thing is a pooch.
So this is my build thread, but also my ask questions thread. So don't feel bad when you clutter this up with info to fuel the fire.
The car will be the occasional family hauler but mostly be used during the summertime to bomb around the countryside to and from work. We have a proper family vehicle so this just needs to get the kid home from daycare and maybe a weekend cruse. No autocross or HPDE; so that should keep this build nice and focused.
Topics (in no particular order):
Big Ugly. A nose swap: I'm not sure if it'll be a newer GT or a four eyed version. Either way, I would need the bumper that's behind a Mustang's rubber nose correct? What else? Fenders, hood, and light are fairly obvious. A donor car might be the way to handle it.

The brightwork on the car. I don't like brightwork on a car. I've got a contact that can powder coat it. Is that the best way to deal with it. How do I remove it without putting a bunch of kinks in it? I can't go without it around the windows, can I? I'll remove it over the wheel arches and replace the door ding guards with black ones that match the nose.

What are the rear suspension modifications that I should do? I've heard the quadrabind comments, and I'm thinking I need to swap in a 8.8" with a panhard/watts link. Springs/Shocks/Anti-roll Bars?

Subframe connectors. My dad is a pretty good fabricator. I'm going to guess it would be easier/cheaper to just make them, than to modify Mustang ones. What else stiffens the car without doing anything to the interior?

Front suspension modifactions: SN-95 K member. Is that the easy button? I'm good with parts hunting for that special mix of LCA and what not if there is something else to consider. Camber plates/Springs/Shocks/Anti-roll bar?

Five lug swap. Goes along with the K member and 8.8 swap. Can you use the 8.8 out of a SN-95 as a direct bolt in? Not sure about the wheels yet but I like the Bullitt/Torque Trust style. Summer only tire suggestions?

Black Paint or Black Vinyl wrap? I haven't looked into local prices but I'm guessing the wrap is a lot cheaper. Who has painted a car in a plastic tent in their garage? I have access to a decent size air compressor...

Engine and Transmission. Well as much as I'd love to throw the Zetec and the Type E four speed in this car, the 3000 pound weight says otherwise. The Zetec is from a 2000 Focus and is rated at 127 hp while the 3.8 has 120 hp but 205 lb-ft. I'm not sure if my transmission will hold up behind a beefed up Zetec in this car. The Type E is the Type 9 from the XR4Ti without a fifth gear. One website stated 180 hp rating for the Type E. The other (better) options would be the old 5.0 or a 4.6/5.4 and an appropriate manual transmission. I'm looking for hopefully 300hp. I've got to get more than the V6 in our Grand Cherokee, right?!?

Megasquirt will be used on whatever engine that replaces the V6. It currently has the Central Fuel Injection (Throttle body injection) system. So it that EEC-IV?
TL;DR: I bought a clean four door fox body and I'm pretty excited. What should I do next?
Inspirational photos: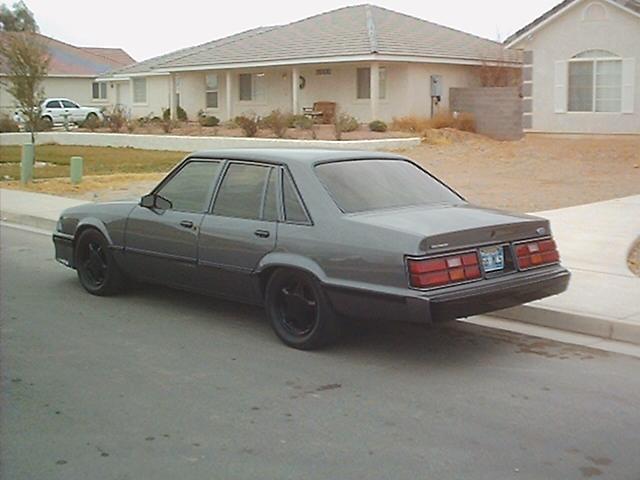 The spoiler doesn't look too bad, either.
Thanks, RossD