I have no idea if anyone will be interested in reading along, but I figured I'd start a thread on my various bikes to document my modifications, improvements, adventures, maintenance, and marginally-successful attempts at downsizing my collection.
Backstory: From 10 years-old or so through my teens I obsessed about bikes; cars were a way-less-captivating afterthought. My dad rode, as had his father, so I came by it honestly. I bought a Honda CR125 project at 13 or so. It was my first vehicular project. I rebuilt it with my dad, learned to ride, and scared myself silly riding that two-stroke around the rural property I grew up on. After taking a break in my 20's and early 30's (which was probably for the best) I rejoined motorcycling nine years ago, and realized that it is one of the most fun things I've done in life, and I can't imagine not riding.
The ease of working on a thumper and the adventure potential of a dual sport really appeal to me, so I dipped my toes back into the pool with a Suzuki DR350SE which rapidly became several DR350s, including one which I completely rebuilt and modified pretty radically.
As fate would have it, I scored a deal on some DR350 supermoto wheels, and my world was forever changed.
I loved the supermoto...so much fun! The combination of long-travel supple suspension, narrow and super-lightweight, torquey power delivery, and upright ergonomics suited my typical rides perfectly. I planned on swapping wheelsets as needed, but in reality the 17s stayed on the bike most of the time.

In the interest of branching out a bit, I bought a rough wrecked Suzuki 400 Bandit project and restored it to have a multi-cylinder street bike. I'd lusted after one since they first came out, and I wasn't even legal riding age at the time. It was fun to see my efforts transform the gaudy wreck back to presentable, and more power and tons of revs were fun, but cleaning, syncing and maintaining four cylinders with four carbs was a lot of extra effort over my usual thumpers.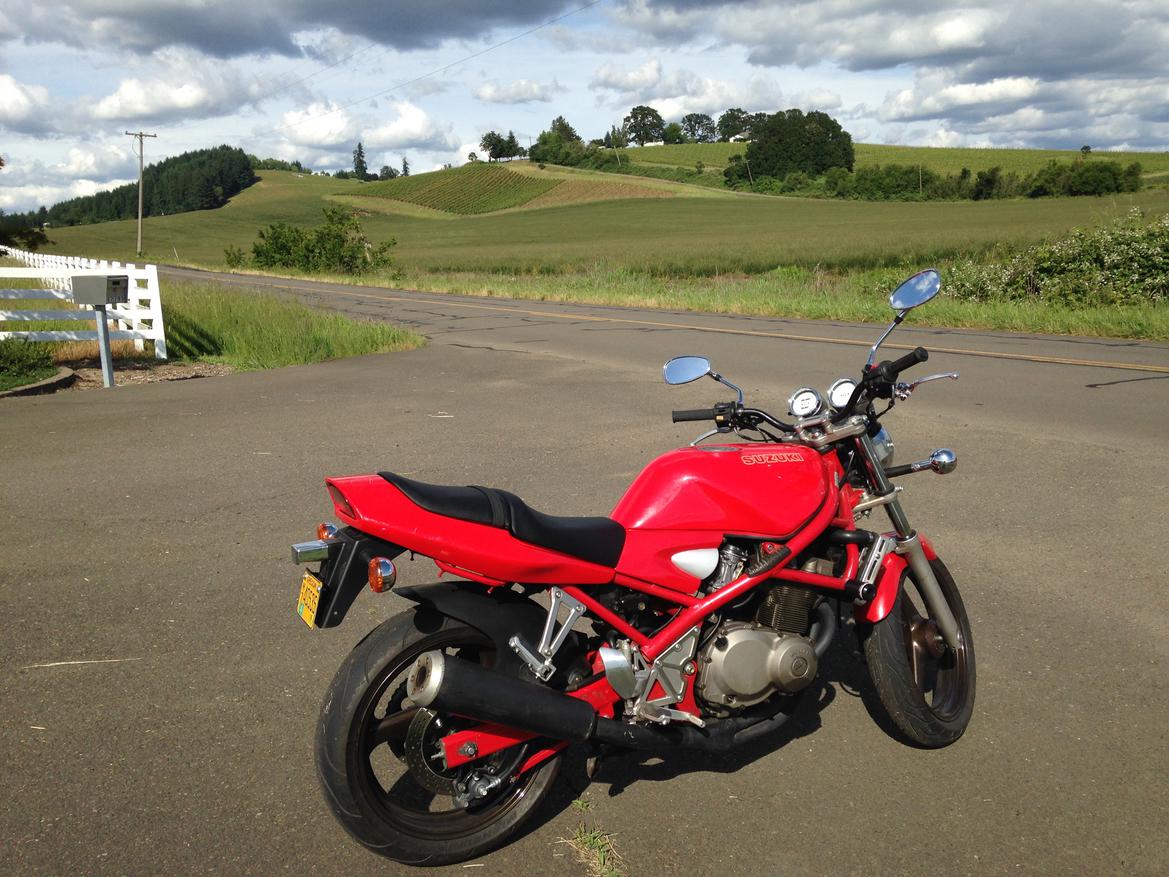 I was also around waist-deep into a custom DR350-based cafe racer build when I learned of the JDM Suzuki Goose 350 via one for sale the next state over! After I got over the feeling that an early-90's Suzuki designer was somehow in my head, I bought it, and commenced with fixing it up. I love the style of this bike. The familiar mechanicals were a nice bonus, and I told myself the riding position would provide motivation to stay fit and flexible.