The Bad Call (10/28/2018) - 7 hours - Portland International Raceway:
I wake up early, wishing for another hour of sleep. Last night I was up late emptying memory cards, charging radios, and looking at data. I jump in my Acura TL to head to the track with it still dark and raining outside. I get a few miles down the freeway, and it's as if the heavens just opened up. In the Northwest we mainly just get drizzles and regular rain. But this was not that at all. This was monsoon level, I can't see where I'm going type of rain. As I'm slowed down 45 mph on the freeway to try see and avoid hydroplaning, I think "If I have to go this slow in my front-drive street car on all-weather tires.. how am I going to be able to race??" I was fighting hydroplaning so much with the Direzza ZIIIs last night, I just need something that will divert water better and not hydroplane so bad. I think about my drift car on it's full tread Direzza DZ101s, and I get an idea. If I steal the tires off my drift car, I should have better hydroplaning resistance. I immediately call my dad to let him know my plans and head back home.
Direzza ZIII on the left, DZ101 on the right. DZ101 has a lot more paths for water to travel through. This is genius!
"I'm just borrowing them, I promise they will come back later.."
We get the tires/wheels swapped out quickly in the rain and I am feeling quite proud of myself. At the track the starting order is generally decided by who manages to line up first, and for the first time ever we get right up on the front row! The driver's meeting rolls around, and Cathy mentions that the weather looks like it may clear up. Huh... that's not what I saw just earlier this morning when I checked. Hmm.. now I'm second guessing. The DZ101 is not as grippy of a tire, if we aren't worrying about hydroplaning then it won't be as fast as the ZIII will be. Do we swap back? We are on the front row.. that would mean cycling all the way to the back. After some angst over the decision, we decide to leave the tires on and just see how it goes.
The race starts... and it is not going well. The DZ101 are a 320 treadwear tire compared to the 200 treadwear of the ZIII. My dad immediately reports that the tires are no good and he is sliding all over the place. He drops from 2nd to 15th place on the first lap. None of our help has arrived at the track yet, so if he pulls in, it will be a two man pit stop changing four tires. And we are not exactly a NASCAR pit crew... this will be disastrous. And all because I thought it was worth starting on the front row! I start preparing to do the swap, and Dave pulls in after dropping to 32nd place. We get all four tires swapped out in a reasonable 8 minutes, however that is also giving the entire field a four full lap head start on us. Well there goes any hope of us continuing our 10 race streak of podium finishes in Portland!
Dave is immediately ten seconds faster on the new tires, and starts running quicker and quicker. The track is starting to dry out. My genius idea of swapping tires is looking really silly right about now. Dave starts making his way back through the field, climbing all the way up to 13th place by lap 56 when he pits. Unfortunately at this point, our fuel man Kyle is not at the track yet. Kyle is rock solid on fueling, and does nearly all of our fueling, which means we are not as in practice. And it's a two-man pit stop again. Dave starts filling fuel, the first jug is in and he goes for the second. Normally we would go to the third jug, and may use most of the last jug. But in this case due to our long pit and the track starting wet, we haven't used that much fuel. We are at full flow when the tank is full, splashing fuel all down the side of the car. We have a pan there, but it doesn't catch all of it so we get hit with our first fueling penalty. When it rains, it pours... well at least figuratively, as the track is nice and dry now.
I get in the car, and go serve my time penalty for fueling. We have now dropped all the way back to 20th again! I push all I can during my stint, knowing we have a big hole to climb out of. I get all the way up to 7th place running a 1:29.7 before I pull into the pits on lap 112.
During Dave's stint while he is driving the normal racing line through 12, a red Miata decides to try stuff a pass in right before the apex in Randy Pobst's "Vortex of Danger". He tags Blue Bayou with his front bumper in the very right rear of the car. You can see the Miata in the right mirror (this is during the impact).
\
As you can see in this shot, it was front fender to rear fender:
Unfortunately, this now means a black flag for contact, which costs us another two minutes. Dave runs cleanly for the rest of his stint, getting us up into 6th place. Dave pits on lap 171, having run a fastest lap of 1:32.4.
I get in the car for the last stint, and boy was this an interesting one! I run a 1:30.1, then a 1:30.2 as the track is dry and things are going well. A few laps later some drops of water start to hit the windshield, and it looks like something serious is moving our way.
A view of turn 4 on lap 181, nice and dry:
As I turn onto the straight for lap 182, the track just looks white ahead in turn four. The pavement is dry where I am, but I can see what looks like a two foot high mist from all the water hitting the track. I've really never seen anything like this before!
A view of turn of lap 182, just one lap after the dry view earlier!
As I roll onto the back straight of PIR, the rain intensifies a bit.. then stops. I'm on dry ground again. What the heck.. this is a serious leading edge to this rain storm! As I head down the straight stretch again, the leading edge has moved past the finish line and I can see very distinct bands of wet and dry pavement.
After a couple more laps of this, the track is fully soaked again with puddles. We later find out that during this crazy burst of weather, just across the freeway a tornado touched down and overturned a few semi trailers.
In the map below, you can just see Portland International Raceway below the overturned trailer pictures.
After all this craziness, I finish the race on a wet track in 6th place. As it turns out we were four laps off of the podium, my initial call to put on the DZ101s as well as my stubbornness to give up our track position at the beginning of the race to change tires really cost us that podium. Lesson learned, rubber compound is way more important than siping, especially if it's not full wet!
We still went home with two trophies, and my son absolutely loved the sprint race trophy with the skeleton on top! He inexplicably named it "Green leg", which I still have no idea where that came from.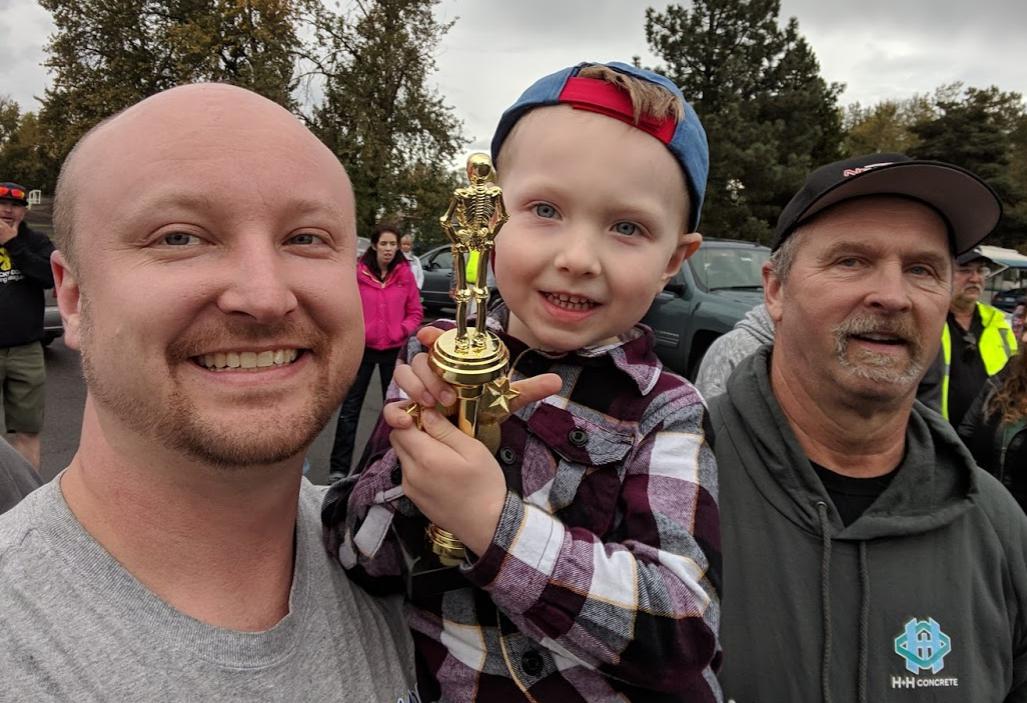 Video overview: