"I did it."
Clark Griswold, 1989
finished at the stroke of midnight before we had to leave for our camping trip. cutting it close...but sometimes that's how life goes. had a beer and stared at it a bit from the driveway on a perfectly still fall night. worth it just for the excitement from the kiddo this morning.
the solar panel brackets are from AM Solar and attached with both 3M tape and some screws. that sucker's never coming off. the tiny bracket "flaps" beneath the hurricane hinge are scrap square aluminum and are intended to help direct air and water away from under the hinge at speed. air currents seem to want to push water into the hinge extrusion. weird, but that's what others have found. the hinge hangs over the sides a bit to again help with keeping water seeping into the sides as it runs down the body of the camper.
that black vinyl trim between the fender and body is called "fender welting", cheap to get from summit racing. the 3rd brake light and tail lights are amazon jobbies. the 3rd brake light is really cool - flashes on one side or the other depending on your signal direction as sort of an extra blinker.
2 excited campers

MAIDEN VOYAGE
well, spoilers, made it back in one piece. pulled it about 350 total miles up to N. GA and back again. had a great time, amazing weather except for some rain packing up, and it was pretty much everything we hoped. i did a lot of peeking in the rearview the whole time making sure i was really seeing what i was seeing. after all these years i thought maybe i didn't have it in me to bring it all together. this was a stupidly ambitious project for me, but in the end i wouldn't trade the late nights, anxiety, or frustrations. i feel like i proved a lot of things to myself that i wasn't sure i was cut out to do.
when my wife and i decided on making the 2019 fall break a camping trip deadline we were too far behind the ball on reservations to actually find any openings at our favorite campgrounds. October, as i found out, is the busiest month in the entire calendar year for that kind of thing so we should have known better than trying to show up and find an empty campsite, and learned our lesson. got to our 1st choice campground in the N. GA mountains at about 5pm and it was packed solid. had to go straight to plan B, heck i figured maybe plan C. thankfully i had a really good knowledge of the area from driving up there for fun back when i lived in ATL so we made a 45 min detour NW to the Cooper Creek WMA (wildlife management area) to try to find a spot in that campground. had to drive some absolutely relentless curvy roads on rt.60, but the truck/trailer took it in stride. pulled into the campground near dark and grabbed the last spot! they had just rebuilt our site and laid down some really coarse gravel. if we had tried to tent camp it like normal, we never could have made it work. instead we could just park and start cooking dinner...perfect.
leaving Thursday afternoon, first time out of the driveway in like 3 years. go figure we finished building a big orange camper right before Halloween. i've never towed anything long distance before. pretty nervous and it took a while to get used to the bumps and noises from the extra weight on the hitch. i have not yet weighed it fully loaded yet but i'm sure its under 1500 lbs. probably closer to 1200.

making our way to campground plan B. couple bouncy miles on forest service roads to get to our spot. i've never seen a utility trailer ride nice, so i expected it to bounce around a bit but nothing inside shifted or broke despite the unplanned shaker test. i'm sure the car tires helped the ride too, they are set to about 28psi...a bit of squish but plenty of pressure to keep the rolling resistance down.

next morning, slept great. 4 souls fit inside pretty handily - me+wife on the queen size foam mattress, boy up on the loft and pupper slept next to my leg (he wanted his nose next to the screen for sniffs and such). i really should have grabbed some pics but just forgot. sounds like a disaster, i know, but it was fine for us and we slept hard. with the fan on low speed it still moved a lot of air and the first night i had a pretty cold arm from the 50 degree air coming through the screen right on it. otherwise the insulation did its job and we stayed warm with nothing more than a comforter. looking to install a resistor later on the fan motor to slow it down a bit.

solar panel worked great, and it actually turned out to be another unplanned test. unbeknownst to me, this campground had NO electrical hookup which is rare for the area and i didn't see anything mentioned about it beforehand. we ran power 100% off the sun and thankfully everything worked great. we were able to charge about 1 to 1.5 amps throughout the day with heavy tree cover. usually starting the morning at 12 to 12.5A and ending the day at 13.5. our LED lights were super efficient and the fan barely made a dent. we typically ran the stereo and reading lights inside too. without the panel i'm not sure we would have made it 3 nights, might have been a seriously close call. i'm not sure how much power my wife's APAP machine will pull, we didn't try it yet due to her allergies on the trip making breathing with a mask a no-go.
play "find the pumpkin"

worst campsite security ever. he'd roll over for any belly rub offers.

stuff everywhere, signs of a good time though. steak slab a-cookin
.

galley setup kinda in action. propane Coleman for breakfast/sides. stows in the lower left cabinet. the top of the Yeti actually makes a great additional work surface. plan is to eventually add side tables to the exterior of the camper for prep and wash stations. water jugs travel next to the cabinet down low but we keep them on the picnic tables for actual use. i'm glad i added a drain in that compartment - one jug had a leaky spigot that soaked the floor but most drained out.


heading back home in the rain. no major leaks. i need to address some sealant in a few places on the hatch but thankfully those were a couple drops being a nuisance and not full on seal failure. you can see the license plate lights don't work with the lights on. probably some stupid wire i crossed, i'll fix it over the winter.

what its all about. gear drying out, sun shining, sound of the river in the background and a poppin fire to cook dinner on.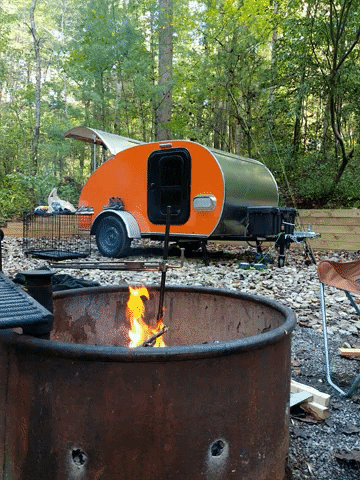 2020 upgrades:
roof rack (acquired)
ARB 2500x2000 awning on one side (acquired)
fab/install side tables next to galley
slow down the roof fan with a resistor
pretty-up the sides of the hatch frame
fix the plate lights
do some final detail work on the galley counter

that's about it. currently still dirty, hibernating in the corner. yes, i actually park my car like that normally...told you it was a serious game of inches. i've gotten surprisingly good at nailing it on the first try too, about 2-3 inches front and back. i use a reference mark on the wall and line up my b-pillar with it.
everybody all tucked in.
next trip will be in April to the Cherokee Nat'l Forest up in NC. gonna be awesome. the hope is to pull it the full length of the Blue Ridge Parkway and then out west!