I've never attempted to make a build thread before, but here goes.
Over the weekend, I picked up my personal attainable unicorn, a 1991 Audi 200 20v. This is my second 5 cylinder, my first being a 95.5 urS6 that I bought and attempted to daily drive through college. The car never left me stranded, but maintaining it properly proved to be a little beyond my bare bones college kid budget, so I eventually sold it.
This picture's from the day I brought it home before removing the PO's plastidip job off the Avus wheels. When I bought it, I didn't realize how rare Europa Blue urS cars were. This was something like 1 of 4 made for the US market. Not that that made it any more valuable, just kinda cool and unique.
Time passed, and I eventually graduated, got a decent job, and played with BMWs for a bit, but I could never shake the 5 cylinder bug, so recently after selling my m3 to find a somewhat more family friendly project car, my search led me back to 5 cylinder Audis. As with most cars these days, prices had increased and supply had decreased. Discouraged, I reached out to one of the guys I knew from the old days on the forums to see if he had any leads, and he sent me this single image, saying that the car needed an engine, but was otherwise complete and clean.
Immediately, I knew I had to see it. As much as I loved the urS cars, the 200 20v was always cooler to me. It didn't help that it was a 200 20v that got me interested in these cars in the first place.
https://www.youtube.com/watch?v=tdXhvTwUa8U
I'm probably responsible for a few hundred of the views on this video by myself lol
So after a month or so of planning, I prepped the Pumpkin, borrowed a friend's trailer, and headed North to Cleveland to see if this was worth pursuing.
The car was sitting at his father's shop, which was full of all kinds of wild cars, from 2nd gen camaros, to FB and FD RX7s, a 260z, and an old Fiat 124 spyder. But unfortunately, there was no room in the shop for an old engineless Audi, so the car had been sitting outside for a while.
After towing it out from under the tree with a manual Camry, we were able to look the car over and found that other than the obvious dirt and grime, it was as complete as advertised, and ALL of the trim was present and in remarkably good shape. Only about 1100 of these were imported to the US and WAY fewer than that remain, so lots of the smaller trim pieces and other bits are worth their weight in gold. Better yet, the interior still smelled like an old Audi-no hints of mice or mildew (at least not yet, knock on wood). The wiring harness was fully intact, and the assorted hoses and front end parts were boxed up in the car or in the trunk, other than an engine itself. I knew I had to have it.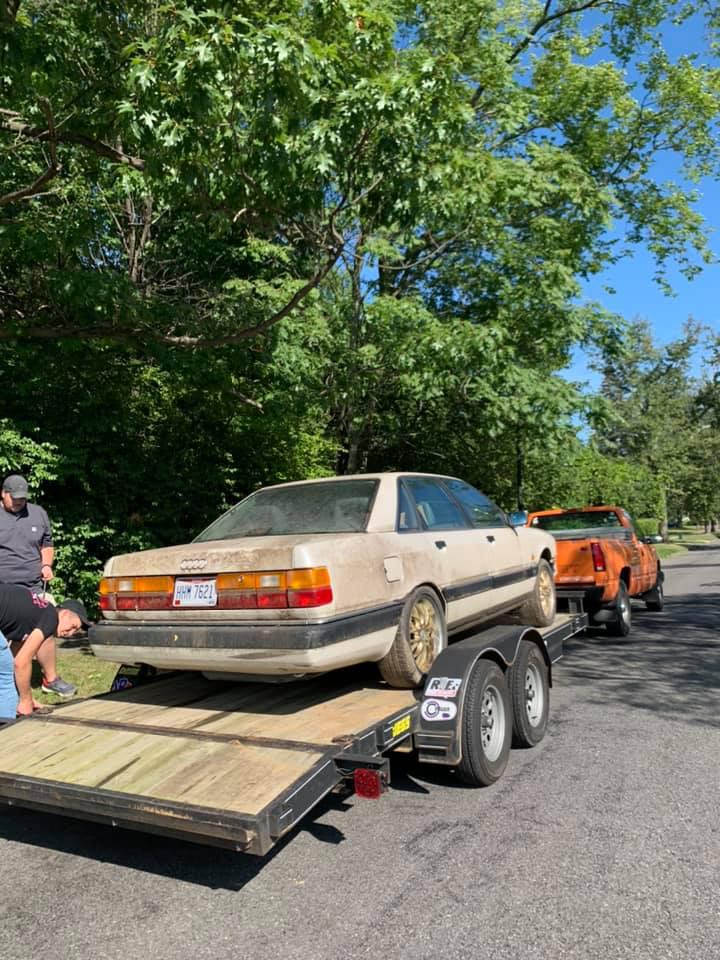 Loading it up and heading home! The drive was uneventful for the most part. The only real drama was towing a trailer through some of the narrower streets in Cleveland. Thankfully, the Pumpkin did great and made the 3 hour drive South without any issues.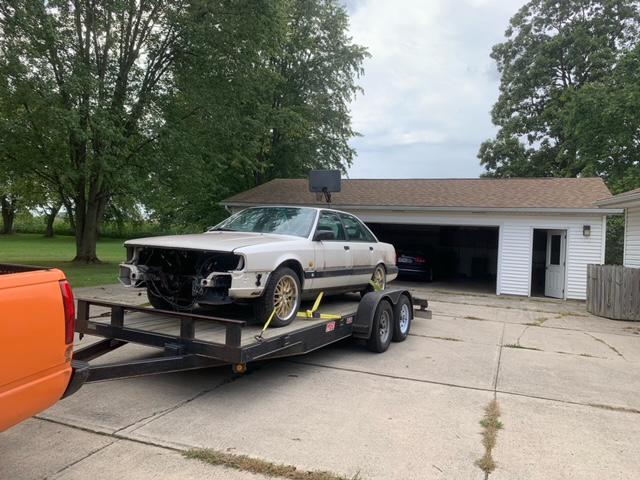 Home! and about to be unloaded next to my DD Passat TDI.