I sold the WRX to help pay for a $13k roof repair where insurance gave me a whole $1800. Thanks for (almost) nothing Pekin Insurance. (I switched to USAA Wednesday, better coverage, lower deductible, still cheaper premium.)
Last Thursday night I was looking at the forums just before bed and saw a thread "Cheap 1990 Miata - Dayton OH". berkeley. I've been interested in a Miata since the $2017 Challenge in @eastsidemav's car. I had a space in the garage. I need to at least take a look.
I expected a ratty rusty car for $3500. Instead a saw a pretty decent looking car and only asking $1250. Hm. I could scrape up $1200 somehow. Sent an email and assumed I had already missed out. Instead I had a reply waiting for me the next morning, still available, any question? I replied I wanted to spare him the usual BS on selling a car online & just asked is it driveable as-is? Like functioning headlights, turn signals etc & shifting ok?
Fast forward to Friday evening on a test drive. Nice guy, no hassles. I tried to offer $1k cash of course but he declined. I don't blame him. He could have sold it for $2k or more easily.
Returned Sunday with a notary friend and $1250. I have the Answer.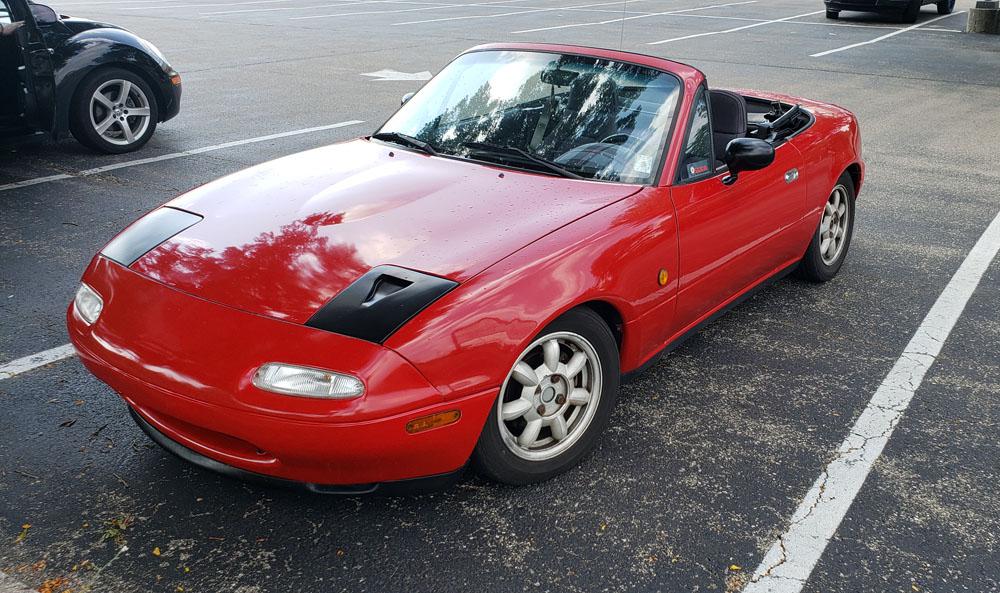 He said the paint was "ok". For 30 years and 168k miles at this price I have no complaints. (The spots are from a quick rain while I was eating. Welcome to convertible ownership.)
I think the interior is pretty nice for the age as well. Looks like it got caught in the rain a few times in its life, going to see if some cleaner can do anything with it. Maybe seat covers. I've already bought the cup holder thing that replaces the ashtray part.
I don't have a lot of plans other than driving it occasionally. Probably an autocross when things level out & I get the feel of the car. Wouldn't mind different wheels/tires, a cheap roll bar. And put my vinyl cutter to use.