Since I can't seem to learn from my mistakes and because apparently I like putting myself in difficult situations, I would like to present my latest project, Vicki. (I literally change cars faster than my underwear as all the underwear I own I've had longer than my last three cars…)
A little background, if you will. Ford engineered a fantastic car overseas called the Mondeo. This vehicle chassis code is CDW27 and was the basis for many, many cars including the Mazda 6, various Volvos, Mercury Cougar, Jaguar X-Type and the Ford Contour. I came to learn all of this as a previous owner of four Contours, three of which were 1998 SVT Contours (black with midnight purple interior - all three. See? I really don't learn). For whatever reason I had tired of the Contours and by the third one I had started setting my eyes on the X-Types as they were awd and had more creature comforts. Eventually I found a gorgeous blue 3L '04 automatic and made her mine. I absolutely loved this car and although the mods were few (front and rear Addco swaybars and 17x8.5" Worx XSA wheels) the smiles per miles was high. I took it up and down Mt. Washington and Mt. Ascutney a couple times, I had it at NHMS and VIR. However, a few issues plagued it and my wife convinced me to get rid of it. (Three or four front wheel bearings and a leaky transfer case…)
SVTC #2

SVTC #3:
Jaguar X-Type #1: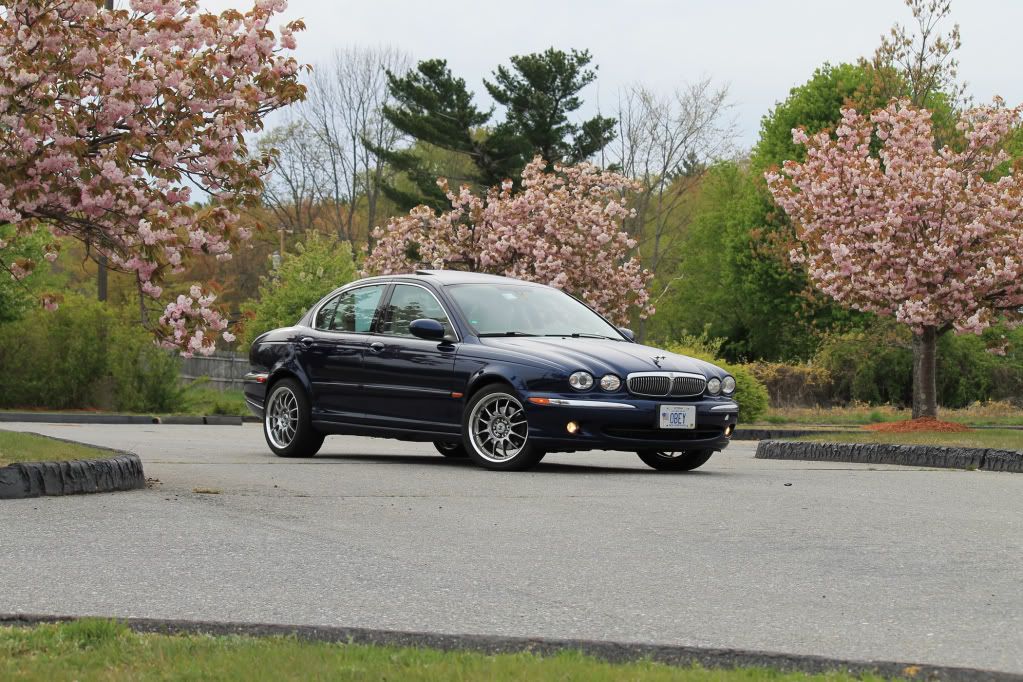 As some of you know I recently had a fourth SVT Contour which was lucky enough to make it into the mag as a 'Hot Builds' entry but due to family health issues I wasn't able to get it back on the road. Shortly after the engine went on my 2011 XF (the vehicle I lucked into to 'get me around' while I farted around on the Contour) and I couldn't justify the funds to get it rebuilt. After unloading both of those I was left with a hole in my soul and made up my mind to look for another X-Type. This time I was going to get specific with what I wanted - British Racing Green Sport. I really wanted a BRG with the charcoal interior but no such animal was created by Jaguar - so I will make my own.
This is my car - I shall call her Vicki. Because you know, hot British accent...
Meet Vicki!
I found Vicki on Craigslist as she was listed by an elderly Canadian couple looking to head back home for the summer (Tampa weather can be brutal that time of year) and they couldn't really justify the money to store it another year. While it is not a true 'Sport' model, it does come with the Sport package to include body-colored cladding rather than chrome accents and also the Sport suspension and seats. The side bolstering is much more significant than what was found in my first 2004 X-Type and the difference is quite noticeable. I haven't had time to really see how well they hold me while cornering but that's on the agenda. :D
As with any new car the first order of business is to assess the situation and see what she needs. I already knew by the test drive she was going to need brakes - there was some ungodly grinding and shimmy in the steering wheel on braking and such. The tires were absolutely shot so it was going to be pretty difficult to accurately determine what else she may need, although a part of me did feel she was going to need wheel bearings.
I definitely had stars in my eyes when I test drove it however so I kind of glossed over some of the cosmetic issues she had. The interior had seen better days, however for a 13 year old car and only 86k on the odometer I felt it was acceptable. Especially since my plan is to completely replace the interior with charcoal. The paint, however, is darn near immaculate. I can't believe how good the paint still looks. I could tell the PO's had definitely taken care of it.
Agenda: charcoal interior, heated seats (I guess not necessarily a requirement in Tampa, FL...), new windshield
After picking her up I headed over to Tampa Jaguar for a post purchase inspection to help aid me in determining what else she may need. I would be inclined to say it was a waste of time and money, but we did find a few things that needed to be rectified immediately, as well as in the near future. First up was the aftermarket key that the PO's had supplied with the car. I had noticed the key was a little 'sloppy' in the ignition tumbler but didn't really pay much attention to it. However, after the service manager saw how bad it was he informed me that both the tumbler and the key needed replacing, citing a recent event where a customer had new keys made but due to wear in the tumbler they could not get the new key out. Eventually it cost about $2k to have the steering column removed, disassembled and reassembled with a new tumbler. Yeah, let's go ahead and get that done. I'm happy to say that Vicki's keyhole is much tighter and holds onto the key shaft much more firmly - no more sloppy holes.
What IS sloppy however is the suspension, brakes and tires still. Along with recommending swaybar endlinks and new tires, the dealership stated my oil pan gasket is leaking. This is not an easy job for these cars because the front subframe has to come out for just about anything.
Add to list: brakes, endlinks, oil pan gasket, tires and a tune up. I also seem to have developed an intermittent DSC fault which appears to be related to temperature and whether or not I driver her in Sport mode. My DSC was off for a week as I left Sport mode off in the car but Sunday, within an hour of putting her in Sport, the DSC fault came back on. I turned Sport mode off again and it cleared shortly thereafter with a few ignition cycles. Today, however, it returned just as it had down in Tampa which leads me to believe that it may be heat related? I am not entirely sure at this point but it is a possibility.
Hopefully you won't begrudge me the lengthy intro but this is a vehicle I see myself keeping for some time and I have big plans for her.