We got a new to us XJ a few months ago, after 4+ months of searching, and chasing down dead ends, stupid sellers, and junkers. Craigslist dolts make me want to do bad things, after countless dead ends due to: unmotivated sellers (seriously I have money, you have an XJ you claim to want to sell, what's the hold up?), literally clueless sellers (Uhhh, it's a Jeep Cherokee, I think it's red, uhhh...), ads not representative of the Jeeps actual condition, and our(my) very particular criteria of required options/condition, it took a while to find the "right one." I actually had to go to St. Louis to get it, about a 12 hour round trip. My step mom is awesome, and was my copilot and codriver for the trip.
Due to the illusive nature of the Cherokee we were in search of, the long journey, trials and tribulations involved with finding and acquiring it, and the fact that it is white, when I called SWMBO after making the purchase to inform her, "Ahab & Ishmael finally landed the elusive white whale," she of course, started calling the XJ, "Moby." Additionally Moby is HER Jeep.
Specs:
- 2001 XJ.
- Limited, leather in phenomenal shape, two minor rips in drivers seat bottom bolster from getting in and out.
- 4X4, NP231 instead of the NP242 I wanted, I already possess the NP242J to remedy this.
- Antilock Brakes!!! This was the biggest hang up, I actually wanted ABS, not many came with it.
- White.
- Not quite 1/4 million miles on it.
- Came with a folder full of maintenance records.
- Driven by a non-smoker, teenage-early 20's female since 2004. We're the 3rd owners.
- Not a single modification. Bone stock, another requirement that took a while to find.
- Runs great, a lot of power, no smoke.
- Documented "tune-up" about a year ago.
- Were I so inclined (I'm not) I could sell the Limited/Classic Icon wheels, get a set of Sport wheels and be at or below Challenge budget.
- Calculated 21.85 MPG on the drive home, color me impressed!
Needs some TLC:
- Owner said A/C won't stay charged, alleged previous dye test said evaporator was leaking, not looking forward to that job; I added a can of R134a with stop leak (band-aid I know) and it started blowing cold, was still blowing cold when I got it home, but about 6 weeks later it had all leaked out.
- Valve cover gasket is leaking, came with a replacement.
- The 4.0l has the dreaded 0331 head, but it's got evidence of professional maintenance, not abused, and with the amount of miles on it, the head should have cracked already if it was going to.
- Headliner fabric is falling down, I'm going to try and convince SWMBO to go with a gray tartan plaid fabric to replace it.
- The shock absorbers, are toast.
- Steering needs some attention, enough bump steer to cause a heart palpitation or two if not paying attention.
- Has been in two minor fender benders, front bumper cover is mashed a little in front right, small crack in the grill on the same corner, and a wrinkle in the front right fender.
- Typical paint nicks/chips of a 13 year old car.
- It's what a person from Ohio would call "rust free," but being from Arkansas, it ain't; small spot on roof will need some attention, couple spots on the driver side drip rail, and some minor spots underneath in the rear; the rear bumper too, but I think it's going to get replaced with a bumper with integrated hitch, so I'm not concerned with it.
- Brakes are a little mushy, and I believe one of the rear drums is sticking a bit.
- Has the infinity sound system, blown speaker in the P/S front door.
- I don't think the seat warmers work, D/S anyway, haven't tried P/S.
- Rear wiper is in-op, switch on dash is physically broken as well.
- Tires have adequate tread, but are old, hard as nails, and you can see the tread seam.
- The wiper blades SUCK!
Looking out the previous owner's garage door the day I purchased it: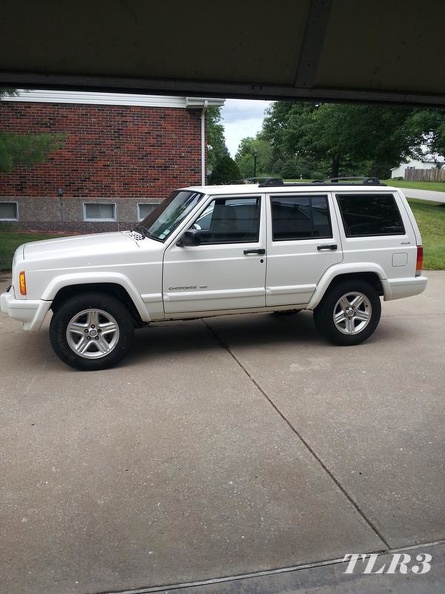 There were several waves of heavy storms on the drive home, hence the "wipers suck" comment above. There were more white knuckle experiences than I care to recall. This was taken during a fuel/potty brake during a lull in the storm on the trip home, somewhere in BFE SEMO.