About 10 months ago a friend of mine (Joe) sent me the link to a Race Car Replicas "SLC" chassis for sale. This chassis was not an abandoned incomplete kit, but was one of the screen used chassis prepared for the Need For Speed movie. The previous owner of the chassis was a YouTuber tangentially associated with Tavarish, and had purchased the car from what I understand to be the same Florida warehouse that provided Tavarish and B is for Build with their SLC chassis. He originally was going to do some build on his channel with it but decided not to and put it up for sale. He was told it was a Mclaren P1 from the movie, but based on some pictures I think it was more likely one of the Koenigseggs.
My friend sent me the link I believe assuming I would buy it, but I was a big kid and passed on the purchase. I did however send him links to a few Mid Engined conversions to 1960-1970s cars, and told him I would be of assistance in putting the car together. Apparently that planted the bug and a few days later he informed me a deal had been struck for the chassis.
He got the chassis and then it languished. He couldn't quite decide what to put on it. He would send me cars that he thought were cool and we would discuss the merits of putting it on the chassis. He thought about Boxsters, 911s, Audi TTs and what he really wanted a GT40. The challenge with everything was that the SLC chassis is modern Hypercar sized. It's almost 76" wide and has a 107" wheelbase. So any of the "normal sized" car options and even a GT40 were going to result in a massive amount of LMP360 like body transmogrify which honestly would be really hard to make look good for something that is going to get street use. Moving wheel wells on cars with curves does not always look right and for most of these cars we would be looking at 10-14" of wheelbase to hide.
But a week ago Joe sent me a winner. A 1967-1972 Chevrolet C10 truck. It's bigger then the chassis, slab sided to make wheelbase adjustments easy, and if my guestimation from Interent pictures of NFS movie cars was correct the dash to front wheel spacing would be about right. I figured because trucks are simple structurally it shouldn't be to hard to adapt it to the chassis so I was excited for the easier fabrication compared to some of the other more extreme ideas.
I did what I do and to help guide the final decision I made a real quick sketch followed by a few quick renderings. Again big thanks to the internet for making a 1970 c10 on SketchUp. I didn't bother with ensuring that the wheels where exactly right (they poke through the front fenders a little) but I just wanted to get the idea across. Obvioulsy we will have to adjust the fender openings as well because.. This wouldn't be able to drive. I figured we would need to cut about 3-4" off the bottom of the body and wanted to make sure it looked okay with a full height greenhouse.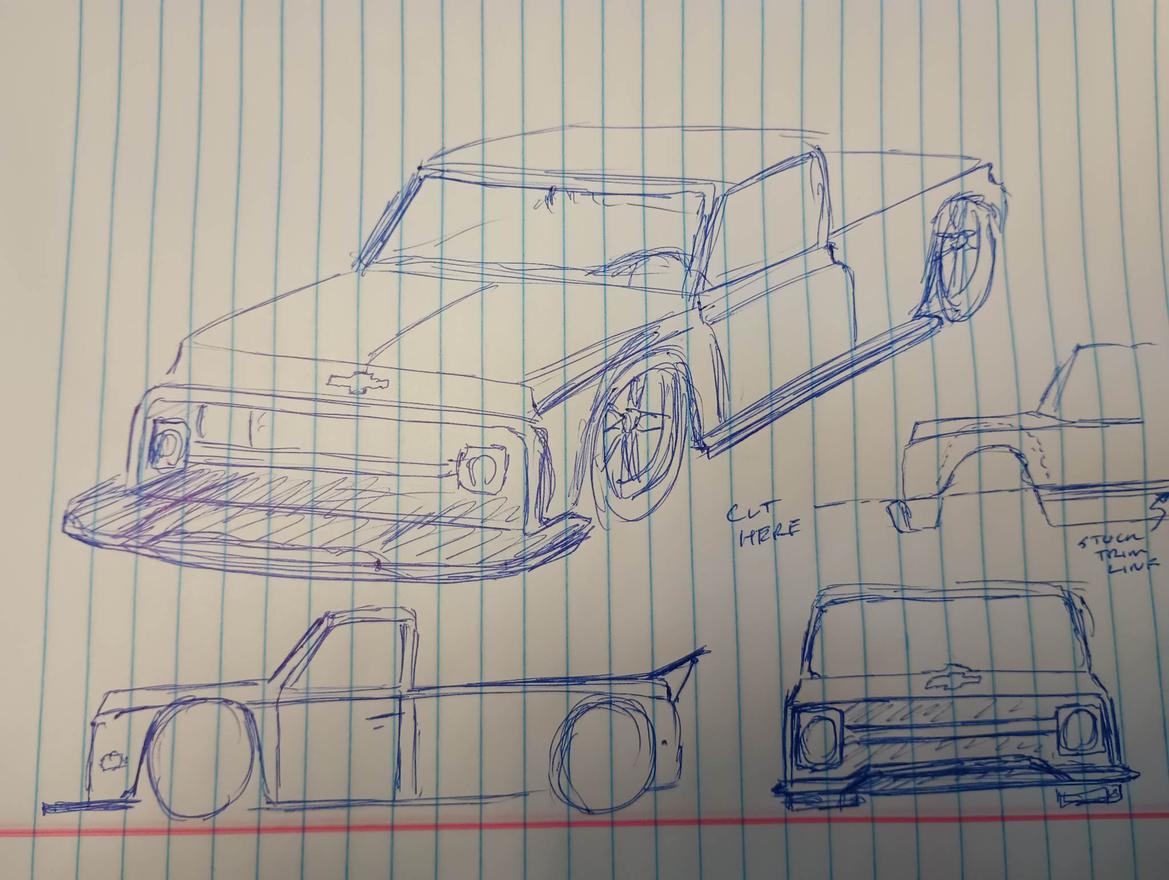 We thought it looked pretty good and Joe found a titled "rough" C10. It needed doors and a hood but at least was titled.
This weekend Joe dropped off what has to be the roughest vehicle I've ever had in my driveway. He found a local guy that does a lot of stuff with C10s and acquired all the missing body parts. This truck is terrible and could never be returned to a normal C10. … But it's good that we aren't building a normal C10.
On Sunday the project begins. Joe brought over the SLC chassis and we proceed to play the weirdest game of shuffling cars around. I think at one time we had the same trailer hooked up to 3 different tow vehicles just because we had to shuffle so many trailers and cars around. Singleslammer was here picking up the Samurai so he and Josh helped strip the body down. We quickly mocked up a fender and did some measurements just to double check and it really looked like it was going to work. So it was time to get real Sawzally. Out came the tools of destruction and in 5 hours we had everything we wanted off the C10 and it's chassis was sent back to where it came never to be spoken off again.
Unable to resist Joe and I put the cab on the chassis, mocked up the fenders and hood, and cut down 1 bedside and stood back.
This thing is going to be so cool. The seats need to come back about 4" and up about 3". The alumium behind the seats covers a bladder type fuel cell. Both Tavarish and B is for Build had leaks when they tried to fill theirs so I'm assuming it's toast. Our plan is to remove it, move the seats back and just mount a 15 gallon cell somewhere under the bed.
Plans for the truck is currently some kind of LS engine (need) with a Porsche transmission out of a 996 (have that) using a kennedy adapter. The chassis was setup for that combo when NFS had it, and that coupled with the fact that it's a Mid Engined Chevy truck has made it basically required that a LS be used.
So yeah that's another pretty cool project going on in my garage for now. I'll keep everyone updated as the project progresses. I'm going to do the fab work to mount the body and get it ready for finishing. I'm not sure exactly how quickly it will be done, but for now it is taking up space in the garage so I will likely move fairly quickly on it over the next month or so. Oh and for sure I'm going to sneak a tow hitch on the back so I can tow the LMP360 with it sometime.
I'll post some stuff about the SLC chassis when I get a chance to dig into it a little more. It has some amazing brakes on it with 2 rear calipers and a hydro handbrake. #drifttruck.