TL;DR warning.
Welcome your comments, hints, ideas, mocking, and derision. BTW my family has the over under on miles before slamming backwards into something set at 5.5.
After all the positive response I got on on my "learn me read engine car" thread, as well as requests on the other 2 boards I frequent I thought I'd start a build thread.
A little background, on how I got here. I'm a boring middle aged guy, married with 2 young boys. I'm a civil engineer, and while I can build roads bridges, water systems I'm a relative rookie (at least for this place) on cars.
About a year ago my younger brother moved back here, and we are all big car guys. I wanted a project that my dad, brother and two boys could all work on together. At the time money was very tight, so we started looking for a lemons project.
My brother provides all the technical expertise, he is a mechanic by trade, and has an incredible job. He works here
awesome job or awesomest job EVER? There isn't any luxury dealers in our town, so they do most of the bmw, mercedes, porsche etc around town, as well as lots of old muscle cars and race prep work.
Things he's done lately include putting 502's in one customers 64 chevelle, 62 pontiac biscayne and 59 impala, redoing the transmission on a dinan supercharged m5 with about 650 hp, replacing the clutch on a shelby super snake. He likes to send me texts all day of "gotta go make sure the turbos are working on the viper".
I also have a friend that is a subaru expert. He builds custom computers that go in high powered sand rails. If you guys have never ridden in one of these things, you really can't fathom how fast they are. My buddies is 1600 lbs 400 hp and can go over 2 foot high whoops at 70 mph as smooth as a cadillac.
Anyway, back to the fiat. one day while browsing the lemons cars for sale forum, I saw a post that a guy was giving away his fiat, and thought some broke lemons poster would come haul it off for him. I was lucky enough to be the first to email him, and promised to be there bright and early the next saturday morning to take it off his hands. So friday we loaded up the 'burb and trailer and made the 500 mile each way trek from Amarillo to Austin and back.
When we left all I knew was he had a car with no engine, and a pile of parts, and it was a 67 fiat 850 spider. When we got there I couldn't believe what he was giving to us! He had spent a LOT of time and money turning this car into a very competitive scca solo race car.
Here is a video of it at the 2008 nationals 2008 scca nationals
He told me a little bit about the car, and that he had LOTS of money in the fiat 850 engine in it to make only about 80 HP. After nuking the engine he decided to start over and built a formula 1000 car IN 5 MONTHS! he has some serious fab skills. I came away with the complete car minus the engine, including the VW transaxle he has used, 4 sets of wheels and tires, a hard top, and an uncut front windshield frame. right when he gave us the original windshield he says, "Just don't break this, they are impossible to f..."
Crash, my brother steps on it.
After getting all the stuff home we snapped some pictures
Here is my youngest son, and big helper.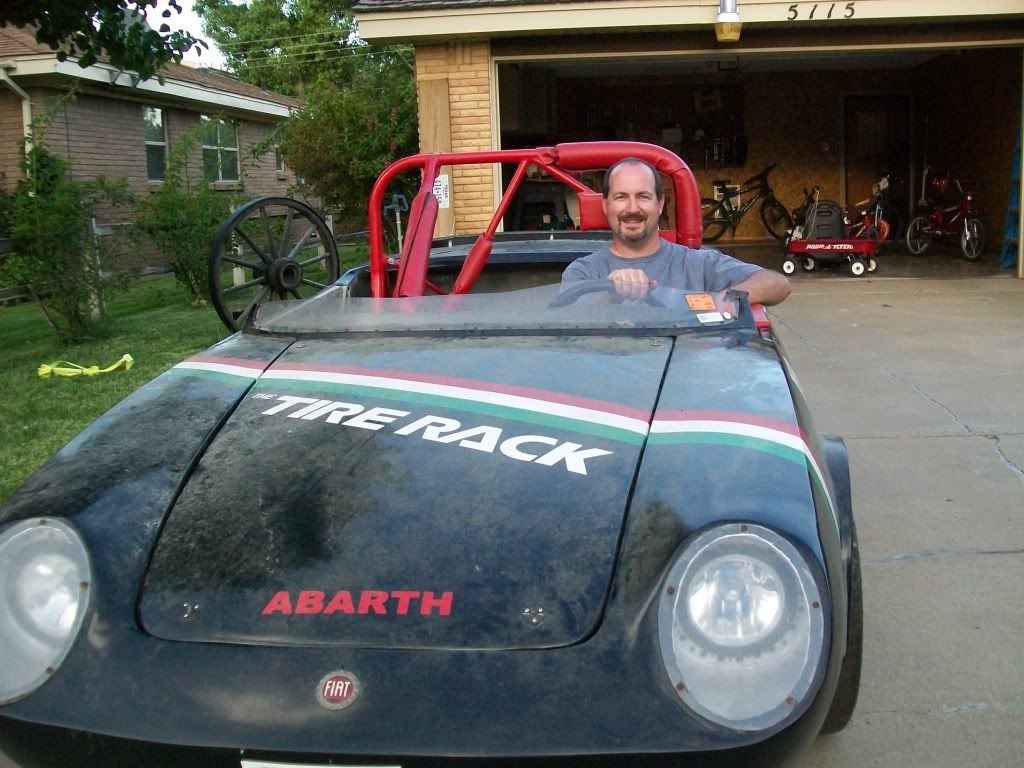 Here is the rear end with the the VW trans.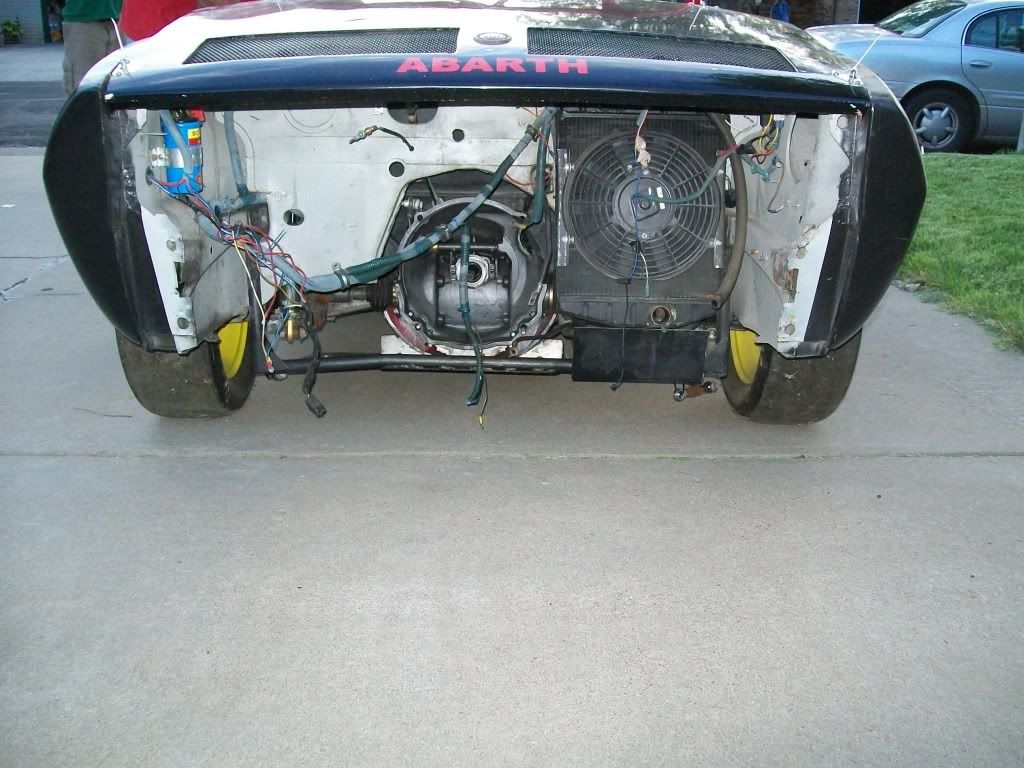 After a few weeks of pondering this thing in the garage, we came to the decision that this was too nice to be a lemons car. I also didn't want to be out there in a 1400 pound car when someone else was racing a 72 ltd at 5000 lbs. (the lemons forum also let me know that it was a cool project, but showing up with scca national stickers and wilwood brakes would not go over well)
Then we had to decide what to do with it. Money was very tight at the time, so we went looking for the cheapest options. $645 for a JDM ej20 twin turbo seemed to be the perfect fit. Of course, then I had to figure out something for the transaxle, and I knew I could build up the VW, but after looking at it, I found that porsche 915's are about what I'd pay for the VW, and it has 5 speeds (important when you are running mighty 13" tires!)
Progress was slow, mainly because it took months for me to scrimp together the savings for the various major pieces. Right about the time I made the last big purchase, I got a new job, that pays well over twice what I was making, so now things can progress much faster since I'm not sitting there waiting for the next part for months.
Tomorrow I'll get some more pics of all the mods and stuff that he did to the car, and what I've done. (if it looks good, it's the previous owners!)