Newly married, my wife and I have been house hunting for the past few months. Not satisfied with what I've been seeing in the housing market, most houses seem to have either a great garage and small house, or large house and small garage. Being the type of person to have multiple projects going on at once a small garage won't suffice. I spoke with a friend who has a 1,500 sq. ft. shop with 20 ft ceilings to clear his lifts and with concrete, pre-fabbed metal building he assembled and wired himself, he still managed to spend over $25,000
Determined to maximize my dollar per sq ft, I've decided to start planning out my garage so that when my wife and I finally acquire some property I will already have the planning out of the way and all that will need to be done is to start putting together the garage.
I've seen some cool things done with shipping containers, yes the 40 ft shipping containers you see on freight ships.
While cruising the internet I've found tons of ideas for creating a garage out of shipping container. In fact, it's almost like a Goldilocks and the three bears story. Too small. . .
Too damn big and impractical (for the kind of land we're looking at). . .
But then I started stumbling upon better looking more practical ideas.
Then I had a thought, haven't I seen a shipping container garage a while back? It wasn't in person, but on tv or somewhere. . . Oh yeah, Tron Legacy! That's more like it!
and while this rendering and the movie made it seem like the ground level was 20 ft containers with 40 ft containers up top, I would be more interested in a 40x40 if possible. This would maximize sq ft and create area for more than working on cars, after all a garage really is a man cave!
Hey, now we're talking! Maybe not so much on the sliding glass doors and such, but getting closer!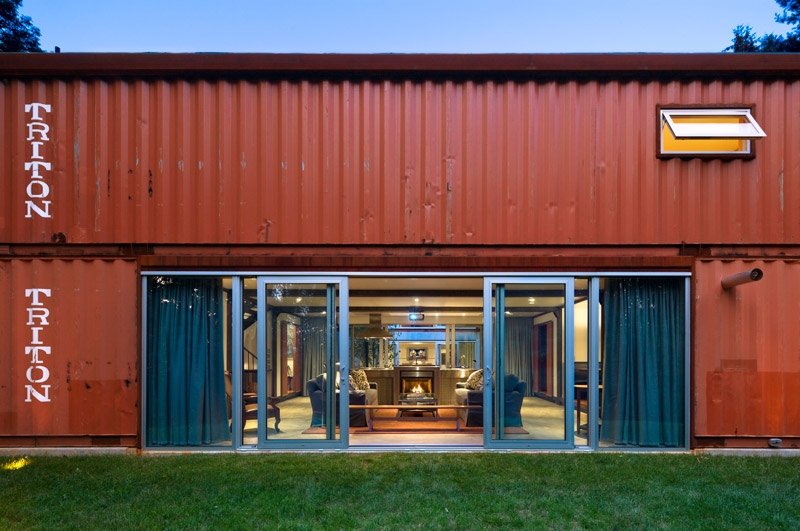 Since we are still in search of a house at this point I obviously haven't started on building this thing, BUT I have started to lay out floor plans with ideas and pricing out containers, etc. The more planning I do now, the less will have to be done when we finally find a house!
Updates to come, comment away with your thoughts!