With the sale of the V8 Pontiac Firefly, I went to post a new picture of the Lethal Locost dusted off and put back into service, only I apparently didn't do a build thread. I may have on the old site (there's an old site? Yeah, us old folks remember it).
What follows is going WAY back. This project is NOT "in progress."
I wanted a Super 7 since I had a ride in one when I was 8. It was wicked! I wanted one ever since. My Uncle owned one, only I'm pretty sure now that it was an Ontario-made Fejer Super 7.
Way back, "the book" came out. "How To Build Your Own Sports Car for £250." But while it super cool, I wasn't in a spot to take on that project at the time. I passed on the book.
Then the reprint came out "How To Build Your Own Sports Car for £250 and Race it!" Oh yes. Bought it.
At about the same time, I had a student show up with an old rwd Mazda GLC that didn't run. I thought this might be a great donor, so I bought it off the kid and started building the frame in the school metal shop.
The GLC had an automatic, and I had a hard time sourcing a standard transmission for the wee motor, so instead I just drove around residential areas looking for parked Corollas or something.
I ended up finding an '86 Corolla GTS AE-86 with a for sale sign, parked in front of a house. When I rang the doorbell, an elderly couple invited me in and served me tea. Turned out they knew me from church (they know my wife and her family super well), and that the car was owned by a cousin of a girl I went to college with years before. Picked it up for $800 and drove it home and cut it up. Yeah. I know. Should have painted it and sold it, but it made sense at the time.
The GLC I bought off a student, I put a 60° V6 in it and then sold it to another kid.
I missed a few of the early stages of construction, but ended up here before too long. This was the easy part of the frame.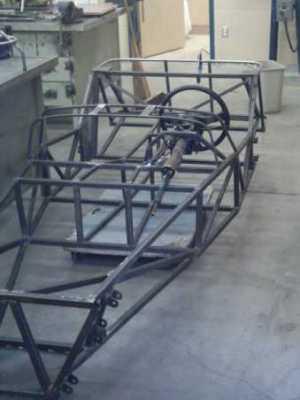 Once the frame was reasonably complete, I dragged it over to the school auto shop and started sorting out the mechanicals.
I shortened the MacStruts from the Corolla so use as knuckles. This was later poo-poo'd by The Man, and I later switched to Chevette Spindles.
And I shortened and de-powered the Corolla steering rack. Which was also poo-poo'd and I later used a Chevette rack.
I also used as much of the Corolla brakes as I could.
After 100 hours into a nosecone buck, I priced out fiberglass and resin and decided this wasn't cost effective. I bought the fenders and nose from Curtis Unlimited out of Kneelands California (I heard they retired? I might be mistaken). Figured out how to mount them, and fabricated a cowl. I also used the Corolla wiper motor, and I think I used the rear wiper arm from a pair of GLC's I found at the wreckers. Or I didn't. I don't remember.