So there's a guy I know on the book of faces that had an 88 944 Turbo S for sale. He'd already pulled the brakes and transaxle from it and was offering the rest of the car, which was in good condition with a few major mods.
I already had a set of standard 944 turbo (Brembo) brake calipers already and my buddy had a 944 turbo transaxle that he'd sell me for a few hundred bucks. So I wouldn't be too far from a running and driving 951.
So after asking the collective about whether this made any sense, I grabbed SWMBO and headed to Chehalis, Washinton (what a lovely smell in the town). She approved the purchase after she and I looked at it with the PO. It was 91 miles away from our house so we had AAA haul it home and plop it in the garage. :) I love it when a plan comes together!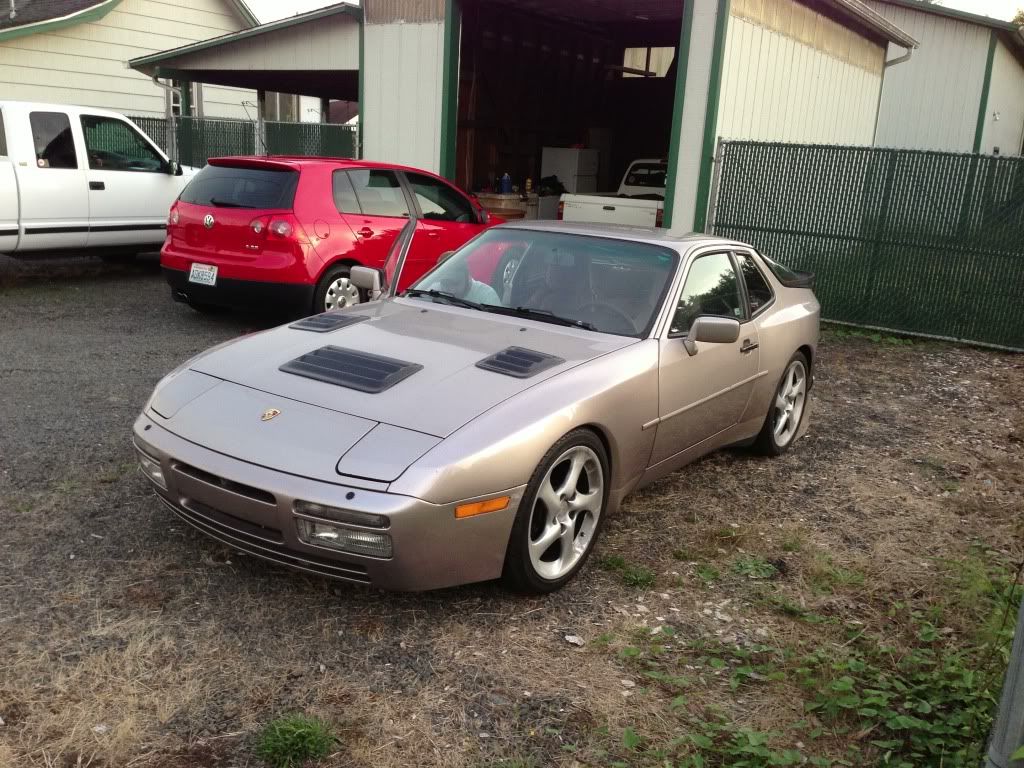 Current specs:
Spec Stage II clutch Lindsey Racing exhaust Upgraded 60mm turbo (Ball bearings, billet compressor wheel) Synapse BOV Upgraded Wastegate Custom aluminum intercooler piping Recent headgasket Recent timing belt (kevlar belt) Wolf3D V4 PnP w/ J&S Knocksafe 18" 911 wheels Vented hood Dash recovered professionally in burgundy leather
Now that it is home, I've started looking it over: Came with a set of good axles, so I just need the transaxle, rotors, pads, brake lines, wear sensors, ABS sensors to get it on the road again. Should have most of these parts by the end of the week.
While poking around checking systems, the power windows don't work, I bypassed the relay and cleaned the switches with no change. Might be wiring, might be the motors, need to diagnose further. Found a receipt for a new set of switches and a window motor from the PO in the glove box, wonder if he actually got them installed?
The power sunroof latches won't move and are stuck in the retracted position, I can hear the motor turning, so I've ordered a new set of gears to hopefully get that sorted out.
The HVAC system doesn't seem to want to work at anything except HOT. Found a vacuum line disconnected for the heater control valve. Given its position behind the head, I'm not sure how I'll get it reconnected at this point. Might also solve the issues the PO mentioned with the BOV releasing early. Time to see how skinny I can make my fingers ;)
The Electric water pump for the turbo cooling system is leaking (though it could be the hose, hard to tell at this point), luckily they are rebuildable with a replacement O-ring and general cleaning. Worst case, there is an cheaper Mercedes pump available to replace it if necessary. Need to get the hoses ordered for it so I can dive into it.
Power steering pump and/or power steering pump reservoir hoses are leaking. Not uber critical at this point, but its just messy. Pumps and hoses aren't impossible to get, just a PITA to replace.
Going to pickup a replacement undertray/batwing for it as the non-turbo's don't like to run cool without them, I suspect the turbo's are even worse since the air can bypass the coolers in the nose without it.
Found the remains of an aftermarket stereo system including a 4-channel Alpine amp mounted in the spare tire well. Will likely poke around my stash of parts to see if there is a single-DIN cd-player I can grab along with a small sub/amp I can toss in the spare tire well.
I'm going to fabricate a gauge panel to hold the aftermarket boost gauge since it looks tacky as heck. Probably only do one gauge right now until I determine if there is a need for any further gauges or perhaps build a carputer with a double din touchscreen solution that could monitor the EFI system and display the various data streams.
I'll take some moar pics later.