Back in April, I posted about Miata #338 turning 30.
Short version: My dad bought it in 1999. He and Mom took it on a number of road trips, including traveling out to visit me in Colorado. After he passed away this spring, the plan was to put it up for sale.
Was.
I couldn't do it. I really don't need another Miata. I don't need another 1990 Miata. Heck, I don't even need another Canadian 1990 Miata. But as Janel pointed out, I can always decide to let it go later but I'll never get it back if I let it go now.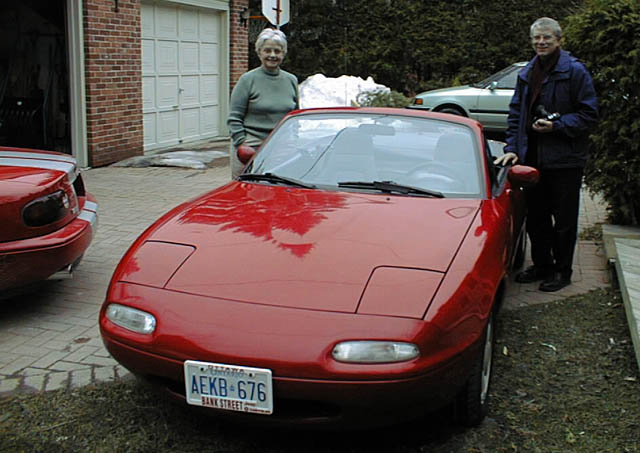 The car is a driver-quality time capsule. It's not perfect - it had some history before Dad bought it, and has been repainted on a couple of panels. It had significant oil use at a pretty early age, leading to my rebuilding the engine back in 2002 or so. But it's been well cared-for over the last 20 years and it never fell into rat level. It's just been driven.
Today, it's almost completely stock. It has a set of Koni shocks, some FM sway bars and some FM frame rails. A shock tower brace as well as a replacement radiator. But it's got a completely stock engine and exhaust. I think even the top might be original, it's certainly the one that was on the car when Dad got the car in 1999. It's on a set of stock wheels from my original 1990 - I accidentally gave away the 3/89 production non-Enkei wheels this spring when I was cleaning out a bunch of stuff, don't tell anyone. It's as close as you can get to driving an (almost) new 1990 Miata.
So the plan was hatched for a fly and drive. Three weeks ago, I drove to SLC to pick up our Tesla. Two weeks ago, I took the Tesla on an overnight road trip. Last week, I drove the big Dodge diesel to Monterey and back with a two-car trailer. So of course, the best thing to do this week is drive a 30 year sports car from Ottawa to Colorado. That's 2000 miles.
What could go wrong?