Hi all, I'm hoping this is the good place to share the story of my car. I've read and referenced the GRM forums for some time but otherwise new here. This may be sort of boring at first, with some real crappy camera phone pics so appologies in advance, image quality will be improving. Anyway, the car is a 2004 VW Jetta, 5 speed, 2.0, whatever. Original purpose was beating around Southern and Central NH while commuting for school and work. Purchased at around 135k miles in fall 2012 if memory serves me correctly. Quickly managed to find some OEM roof racks to haul bicycles around.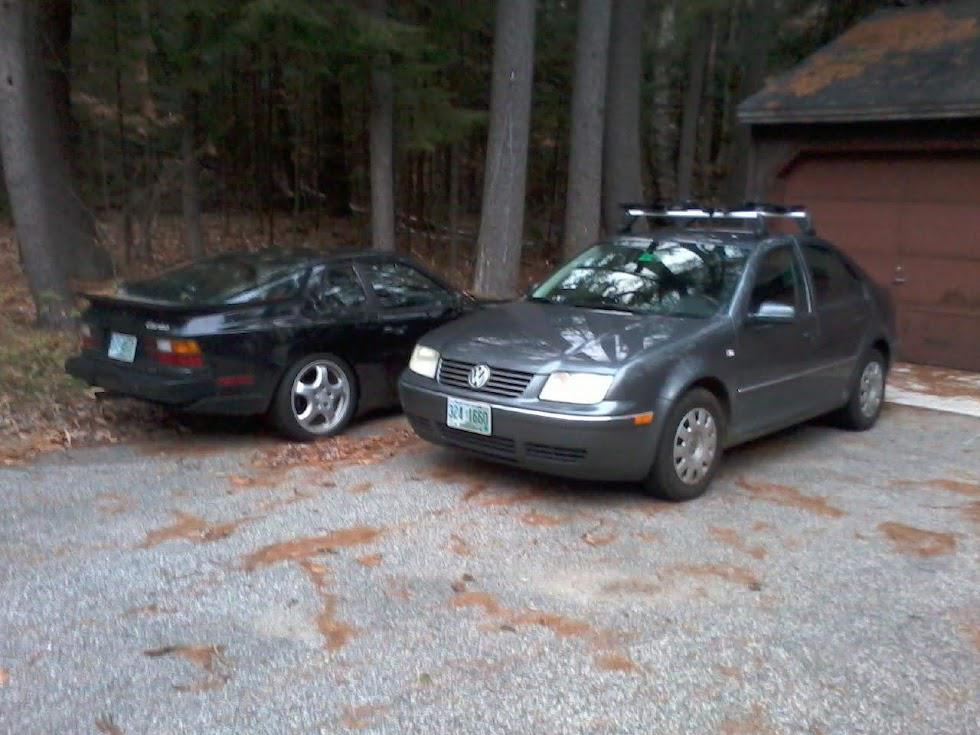 944 is my dads, I did a head gasket and timing belt on it in summer 2011 and wheeled it around a fair amount. He still has it, built a 3.0 964 short block years ago for it, it's on a stand still. Anyway, I whipped up this crappy fairing that destroyed the paint on the roof. Also scared up some snows from a TT ($250!), and went to a couple winter TSD events with the NER guys in 2013/2014. Changed out the foggy headlights at some point too.
Found some W8 passat wheels for like $140 sometime in 2013. Got some adapters on there and those boat anchors had the car looking halfway okay. Some time in the summer of 2013 I did a timing belt, water pump, brakes, regular maintenance stuff.
One day we had a mean misfire come about, limped the car home and changed plugs, wires, ignition coil, had broken the flex pipe so I tossed in a used downpipe and a catback. Ran pretty good, continued to drive around all over. Didnt worry much about the misfire issue. In January 2015, replaced the radiator, that time of year its getting kind of cold in NH to be wrenching on the daily. headlights appear to be getting foggy again.
Misfire issue came back at the beginning February 2015 on a trip to VT, we were staying with some friends, my girlfriend at the time, now wife had a grad school interview at UVM. We made it up there, during the interview I pulled the plugs, and the one that was acting up came out with a helicoil attached. So I walked to the parts store and picked up some plugs, and a spark plug insert kit, kept rolling.
At the end of February 2015 the clutch went (due to some foolery in the snow) and at the beginning of March 2015 my friend Nolan helped me by car dollying it over to his place (with his Mom's Honda Element FTW) and snow blowing out a spot in his yard for me to change the clutch. I installed the ECS single mass flywheel/ clutch kit, my friend Alex helped me with the swap in Nolans icy yard. I remember it being very cold the night we swapped it, and we came back the next weekend or something when it was warmer to finish assembling everything. Alex owned a red 99.5 TDI Jetta at the time, seen in this pic after the clutch job. Those dudes really helped me out big time. For reference the clutch replacement happened around 225k miles, did a fair bit of driving during those 2012-2015 years.
in the spring of 2015 sometime, probably May, I installed some solowerks coilovers. Finally some pictures in the daylight! Most of the wrenching happened at night, during the day if it wasnt school it was work which sometimes left the time that youre supposed to sleep for doing car work.
Thats where I'll leave off for now, June 2015. More adventure to come, sorry its a slow start to the story here.
Mike