I've been reading GRM for a long time and finally decided to make an account, so I thought I'd share my Rx7 build here. Some Celica content will also be included, but it's my daily so it will only be maintenance. I already have most / all of this information on the Rx7club, so my plan is to upload here as I have time until I'm up to date and then upload concurrently from there on out. I did consider just copying my posts over, but I decided to write this as a retrospective instead. The first couple posts will be a drawn out story about how and why I got the car. If you want to skip to the true "build thread" content it will be down a ways.
When I was 18 I decided I wanted to buy my first car. I lived (still do) two minutes from the high school and ten minutes from where I was working. I could have borrowed a parents' car trivially but I was dead set on buying my own.
I was also dead set on getting an Rx7. My father used to own several (before I was born) and after reading about the unique engine and looking at all three generations I was totally hooked. However, I was completely convinced I would never be able to afford the upkeep or the insurance. To my surprise though, the Rx7 had the lowest insurance quote of any car I checked. I can only attribute this to some sort of error, since there's no way a Civic or a Saab 93 should be 50% more expensive to insure than an Rx7. As an 18 year old male driving a 30 year old red rear-wheel-drive car, $160 was very fair. This was 2017 or so, rates would be much higher now.
My dad and I started looking at different Rx7s, specifically FC models. The first one sat in someone's backyard for over a decade and was slowly returning to the dust from whence it came. Sitting on flat tires directly on grass had caused so much rust it was a write-off. We would later pick some parts from this car though before it went to scrap.
The second one had rust, a bad paint job, and was sitting in someone's driveway with four flat tires. Allegedly had a Turbo II engine but never actually looked under the hood. Neither my dad nor I are good at bodywork and the seats were growing a nice healthy ecosystem of green moss, so we passed on that one too.
The third one had sat in the previous owner's garage for at least three years. He'd bought it new, it had been brought to the United States at some point, brought back to Canada later, transferred in title to his nephew, transferred back, then parked in his garage and left to languish for awhile. It was a 1986 Series 4, in Royal Maroon Metallic. 5 speed, naturally aspirated.
Cons:
Missing interior parts.

370,000 km on it. Engine allegedly replaced (we'll talk about that later).

Base model. Somehow it acquired AC and power steering during its life, neither of which was originally installed on the car.

AC barely blew cool at all

Remaining interior parts were a blend of maroon and grey.

Torn driver's seat

When driving, transmission tunnel got absurdly hot. Especially big problem since there was no center console.

Bad idle

Bad driveshaft u-joints made it feel like a rock tumbler over 40kph

Brakes semi-seized on all corners. Pads and rotors trashed.

Transmission very notchy

Minor floor rust (which is never as minor as it looks)

Bad engine mounts

Bad transmission mounts

Fairly bad battery

Stereo made only crackling noises

Cracked tail-light
Pros:
Included Haynes Manual

Is red.
So of course I bought it. That night I left a deposit and the previous owner gave me the service manual and keys to bring home with me. My mother refused to talk to me for three days when she heard I was bringing home a 30 year old sports-car.
A few days later my father and I went back down to pick it up. I drove my mum's car back following him. I didn't drive stick at the time anyway. Top speed was 40kph due to the driveshaft u-joints and the useless brakes. I followed him just down the road to the Canadian Tire parking lot where we proceeded to do some of the due diligence we SHOULD have done before buying the car.
This is where we found the radiator was empty (!) and the headlights were both burnt. Some distilled water and new bulbs fixed that. I also recall we randomly met another Rx7 owner in the parking lot looking at my car, which was pretty cool.
A few minutes after that I noticed that every time my dad pressed the brake pedal sparks would shoot out of the wheel well. Turns out the brakes were coming back around, and the rust was being ground off now that the calipers were moving. Then blue smoke poured out from the bottom of the car and I started panicking thinking my "new" car had a blown engine. Pulled over in the dark and inspected with a flashlight and we realized the alternator belt had snapped. We were way too far now to go back to Canadian Tire, but having me in my mum's car following and a set of jumper cables we decided to just push through and get it home.
12 jumps later (illegally parking backwards on the shoulder so the cables would reach every time) we got it home. I could always tell it was about to need a jump because the running lights would go dim.
I don't have any detailed pictures of the car at the time, but with my brother's permission I'll share this one of him sitting in it. Only one I could find:
You can see the stock phone-dial rims, grey seats, grey dash, maroon doors, etc. I was missing the center console completely as well as the dash vent grilles, center dash trim, etc (common on Rx7's since they break super easily).
In addition to the cons mentioned above there were a few other things that cropped up:
Sunroof didn't open without a helping hand

Weak shocks

Bad sway bar bushings (also literally every other bushing, but only the sway bar bushings were bad enough to notice)

Exhaust leaks

Missing under-tray (necessary for cooling)
My dad and brother went to pull some of these parts from the first Rx7 we looked at, but he needed a set of seats (for some reason) so I got his maroon leather seats and we traded him my grey leather seats. My brother never lets me forget how hot it was holding up the hatch in direct sunlight while my father used a hammer to break loose the seat bolts in the parts car. Luckily for me I was working that day. The maroon seats have no tears but add to the interior mismatch.
Over the next few months my father and I did a lot of work on the car. My father is mostly self-taught and I didn't know anything at all about cars. I'd never even changed the oil. Together we did the following:
All fluids replaced

Rad hoses replaced

Belts replaced

Complete brake job, all four corners

Rebuilt leaky calipers

Complete intake and throttle body rebuild, including new silicone vacuum lines

Injectors rebuilt

New battery

Stereo, amplifiers, speakers, homemade subwoofer

Reflow all the solder joints in the body computer (warning lights still don't work right)

New [used] clutch fan

Power antenna replaced with normal antenna

Rear hatch replaced (another colour that doesn't match).

Driveshaft rebuilt with new U-Joints
And after just barely squeaking past the minimum Ontario safety inspection I was driving it! It was very loud, quite shaky, the transmission was notchy, and even at full throttle it wasn't fast. I think most of my friends (except one) were just being charitable when they said they liked my car, but I loved it. What's better for a teenager than a car that can wind out to 7000rpm, do donuts (in the snow at least) and make plenty of noise but relatively little power?
There were some other optional mods I did including steering wheel, shift knob and wheels / tires. In true teenager fashion the shift knob was not right for the car and the wheels were a bit tacky. Also had no-name stretched tires, of course. Here are a few photos I found:
Note the wheels I mentioned and the mismatched hatch colour.
One of the only old interior pictures I have. I actually did have the column surround and dash trim that's missing in this photo.
Also one time I was in a cul-de-sac and I turned on the AC. I used to do that once a month or so to prevent the compressor seizing up. This time I turned it on and then a big cloud of white mist shot out from under the car in every direction and over the windshield. Nearby an older gentleman was watering his garden and he nearly had a heart attack seeing that. I pulled over and there was condensation covering the entire engine bay. I guess all of the refrigerant leaked out at once. This is the last time that the AC in the car has ever worked. The older gentleman was nice enough to offer me a glass of water and to use his phone, but since it was just an AC issue and the rest of the car was fine I politely declined and went on my way. He kept repeating "I have NEVER seen anything like that…"
I drove it for a year or so before the clutch started to go out. My original plan was to just do the clutch over the winter and drive it again the following spring. The fact that this past summer (four years or so later) was when it was on the road again should tell you how well those plans went.
I acquired a different car for daily / winter use (tried to insert a photo of my Celica here, but it just refuses to upload. I'll try again later).
And put the Rx-7 in the garage on stands:
When I started taking parts out to do the clutch, it became apparent that there was a lot more work to be done than I thought. Blown shocks, calipers leaking again, a few small holes in the floor, etc. There were also other things I didn't need but really wanted. Series 5 tail lights, a hatch that was the factory black colour, the upgraded brake system 5 lug cars got, an interior that was all one colour and complete. All the bushings were bad too.
What I should have done at this point was just fix the absolutely necessary things and then I could drive my car while doing the rest. Instead I decided to do everything at once.
Here are some of the pictures I have from that time:
KYB AGX shocks for all corners. Replaces the old worn out stock shocks.
Limited slip differential from a GXL model. Axles are the same, but replaced them because every part of this car was thrashed and the original axles were suspect for that reason alone.
90s Nakamichi Head Unit. It has a Minidisc deck, which is not very useful in North America but it's pretty cool. I do have several Minidiscs around, so it has ended up seeing some actual use. I mostly use an iPod nowadays to bring tunes in the car with me.
So this starts to approach the time when I actually have decent amounts of photos. I'm going to break up what I did into different sections and upload them one at a time. Trying to explain it chronologically would be a bit of a mess since it was all done concurrently and with no adherence to my original plans.
Since it'll be awhile until I'm done bringing things up to speed, here's how the car sits now: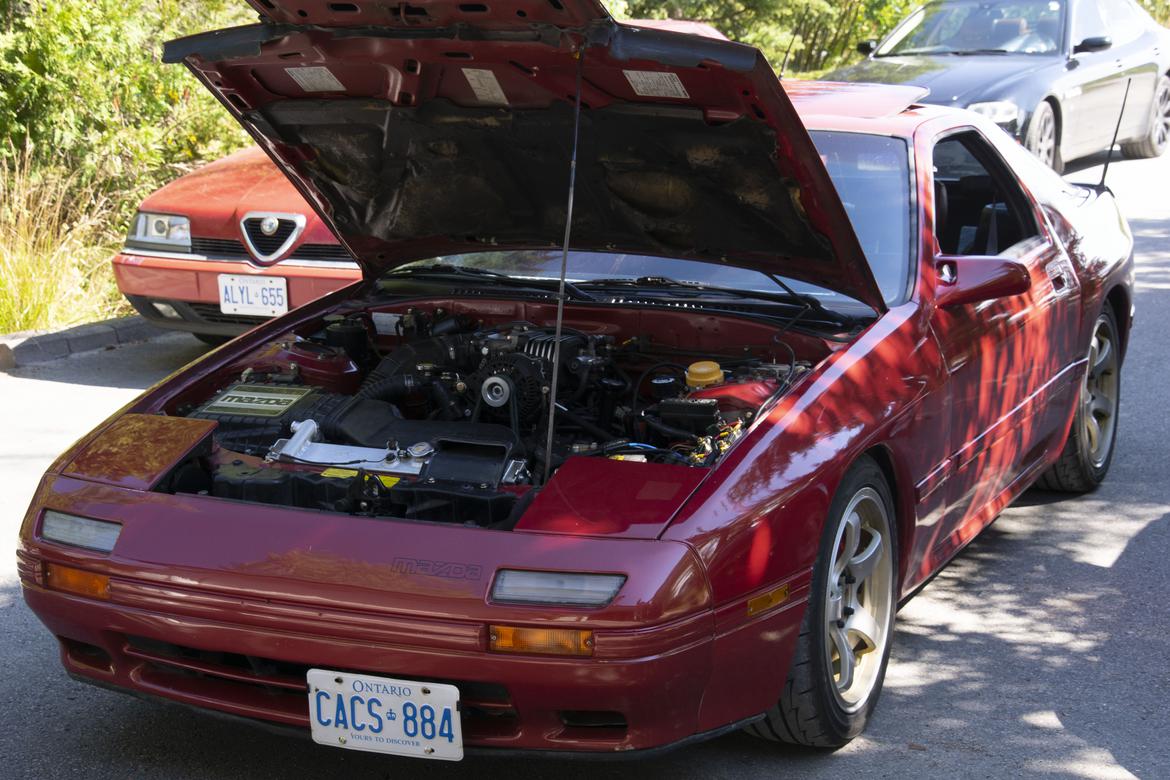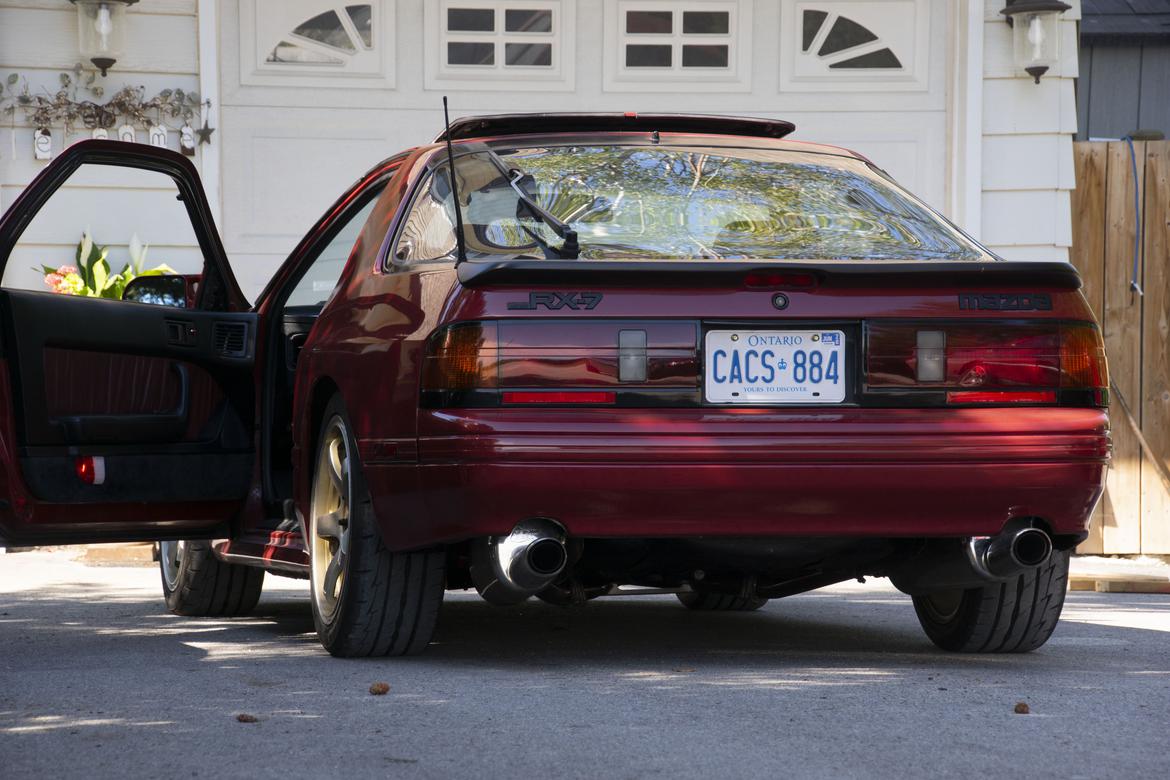 I hope those photos come out okay, they look really strange in the editor due to the resizing. If not I'll need to figure out alternative hosting.
More updates to come as I have the time to write them. Until next time :)