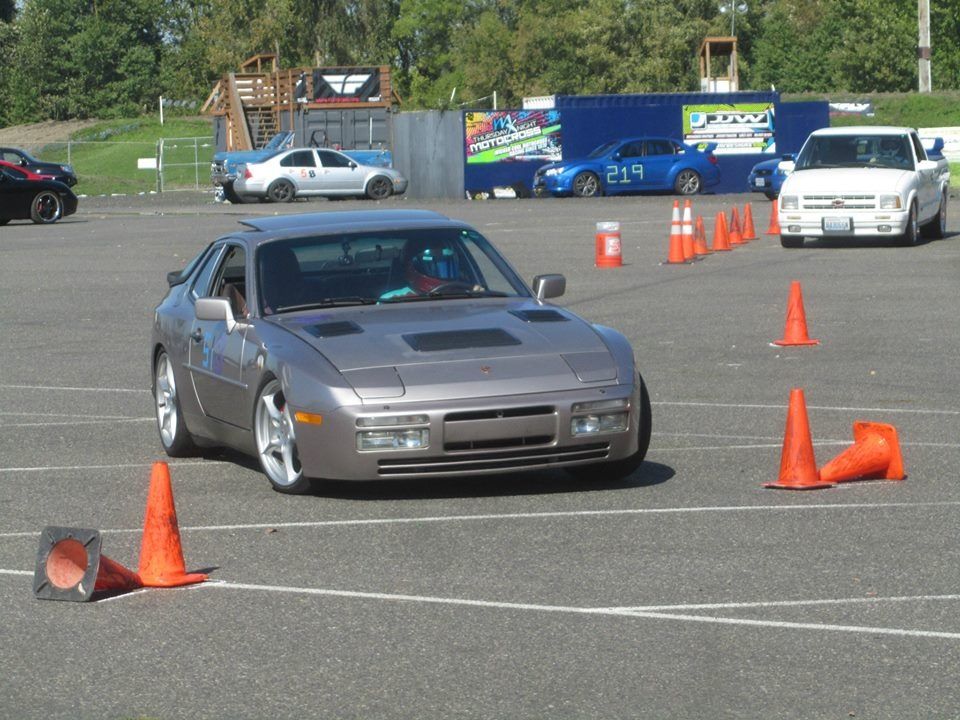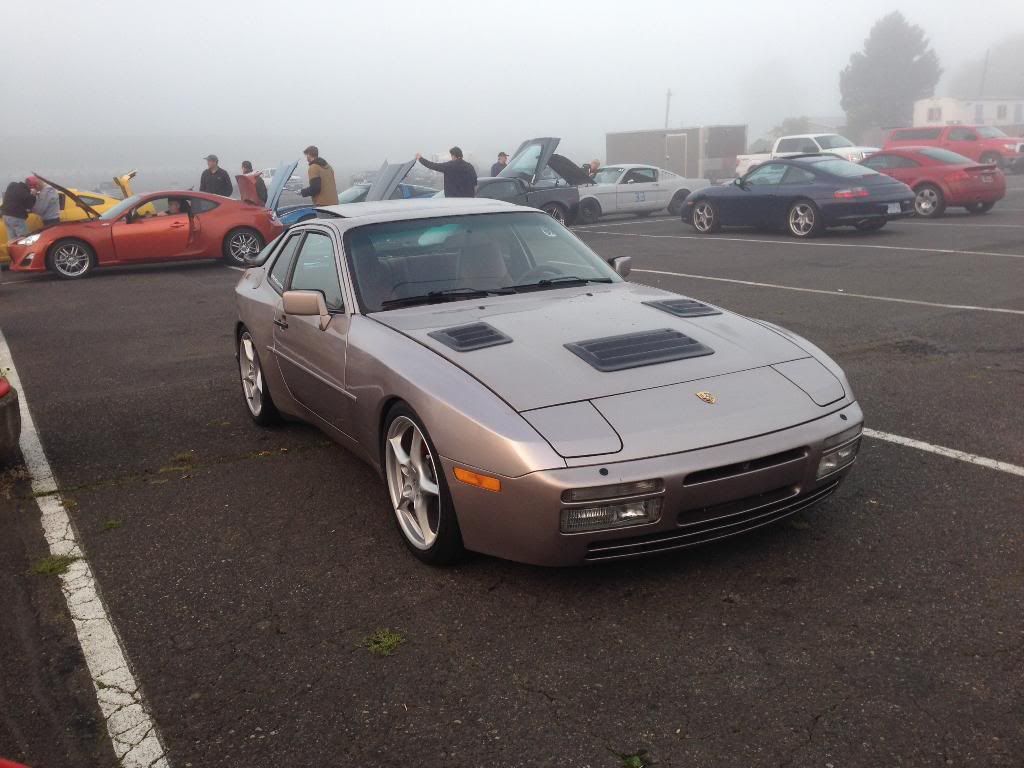 Reader's Ride:
http://grassrootsmotorsports.com/reader-rides/9675/
Build-thread:
http://grassrootsmotorsports.com/forum/build-projects-and-project-cars/sliver-rose-aka-mein-951-affliction/70370/page1/
Info on the 88 Turbo S from Wikipedia (http://en.wikipedia.org/wiki/Porsche_944#944_Turbo_.28951.2F952.29):
In 1988, Porsche introduced the Turbo S. The 944 Turbo S had a more powerful engine (designation number M44/52) with 247 hp (184 kW) and 258 lb·ft (350 N·m) torque (standard 944 Turbo 217 hp (162 kW) and 243 lb·ft (329 N·m)). This higher output was achieved by using a larger K26-8 turbine housing and revised engine mapping which allowed maintaining maximum boost until 5800 rpm as compared to the standard 944 Turbo the boost would decrease from 1.75 bar (175 kPa; 25.4 psi) at 3000 rpm to 1.52 bar (152 kPa; 22.0 psi) at 5800 rpm. In June 1988, Car and Driver tested the 944 Turbo S (with the advantage of shorter final drive gear) and achieved a 0-60 mph (97 km/h) time of 5.5 seconds and a quarter-mile time of 13.9 seconds at 101 mph (163 km/h). Top speed was factory rated at 162 mph (261 km/h).
The 944 Turbo S's suspension was the then state-of-the-art "M030" option consisting of Koni adjustable shocks front and rear, with ride height adjusting threaded collars on the front struts, progressive rate springs, larger hollow rear anti-roll/torsion bars, harder durometer suspension bushings throughout, larger 26.8 mm (1.055 in) hollow anti-roll/torsion bars at the front, and chassis stiffening brackets in the front frame rails. The air conditioning dryer lines are routed differently so as to clear the front frame brace on the driver's side. The 944 Turbo S wheels, known as the Club Sport design, were 16-inch Fuch forged and flat-dished, similar to the Design 90 wheel. Wheel widths were 7 inches (178 mm) in the front, and 9 inches (229 mm) in the rear with 52 mm (2.047 in) offset; sizes of the Z-rated tires were 225/50 in the front and 245/45 in the rear. The front and rear fender edges were rolled to accommodate the larger wheels. The manual transmission (case code designation: AOR) featured a higher friction clutch disc setup, and an external cooler, and also featured a limited slip differential with a 40% lockup setting. The Turbo S front brakes were borrowed from the Porsche 928 S4, with larger Brembo GT 4-piston fixed calipers and 12" inch discs; rear Brembo brakes remained the same as a standard Turbo. ABS also came standard.
The 944 Turbo S interior featured full power seats for both driver and passenger, where the majority of the factory-built Turbo S models sported a "Burgundy plaid" (Silver Rose edition) but other interior/exterior colors were available. A 10-speaker sound system and equalizer + amp was a common option with the Turbo S and S/SE prototypes.
Basic run down:
1988 Porsche 944 Turbo S (Silver Rose)
Wolf3D EFI system with J&S Knocksafe (tuned for 16psi on premium fuel, tunable via laptop, cable and software included)
B&B Header
SFR 60mm BallBearing Turbo (recently rebuilt)
3" Stainless downpipe (ceramic coated)
4" Lindsey Racing stainless cat-back
custom oil cooler w/new lines
Custom aluminum intake piping (larger diameter)
Ceramic coated intake manifold
Aluminum flywheel
Spec Stage II clutch
M030 sway bars
M030 Koni shocks and struts
400lb/in 2.5" diameter front springs
Polyurethane front suspension bushings
Polyurethane steering rack bushings
944only short shift linkage
Custom shifter
944 S2 transaxle (better gearing)
Polyurethane filled transaxle mount
Braided Stainless steel brake lines
996 18" wheels
Included:
Stock hood, factory tool kit, air pump and some various spare parts.
Recent repairs:
Head was pressure tested, cleaned and painted
Headgasket and FOES (113K)
Underhood Coolant hoses replaced
New oil cooler lines and resealed oil filter housing
Rebuilt power steering pump and rack w/new reservoir
Tie-rod ends and balljoints
968 caster blocks
Front wheel bearings
Pads and rotors (OEM spec)
Rebuilt CV Joints
Clutch slave and master w/new cloth covered line
Sunroof gears
Rebuilt power window switches and new motors
Cleaned and greased window mechanisms
SD-Card/USB/Stereo unit install
Rear subwoofer and amp
Custom Cell-phone mount/gauge mount for boost gauge
Repairs needed:
Passenger seat adjustment stuck
Driver's seat bolster and seat bottom fraying and will need repair
Door speakers beginning to fail
Transaxle lost 2nd gear syncro, need to double clutch to use it
Lindsey Racing fuel rail needs lines, FPR and fittings to install
PM, email, text or call me for details:
emails: Swedeis AT gmail
Celly: five oh three nine one three one oh one three