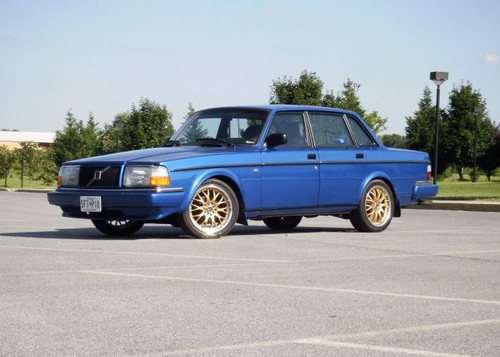 All the details and a nice gallery with a video of the build are in the eBay ad as well. PM me if you want to make an offer.
Absolutely rock solid restomod of a 1992 Volvo 240 -
1992 244 - Turbo Sonic Blue on EVERYTHING (car was almost completely disassembled) - extremely good with 5 coats of base and 4 coats of clear Engine 1990 B230FT - pulls very hard and starts every single time Trans M47 5SPD - no grinding, misses or weak gears Gold BBS Propus wheels and almost new tires with plenty of tread Dash is ALMOST PERFECT with a tiny 1/2 inch crack (see pictures - the best I've personally seen) A/C 134A - updated compressor (blows ice cold down here in Houston humidity, so I'm sure it'll be fine where ever you're at) Single-din Pioneer radio - good speakers in each door, two 6x9's in rear deck and custom subwoofer/amp setup in trunk Body 215K - all panels aligned, no major dents/ZERO RUST, a couple of small dings that can't be captured well with camera Volvo R/Brembo front calipers/rotors - stops on an absolute dime Stainless brake lines front and rear Dynamat throughout entire vehicle - trunk, doors and floors WELDED holes for lower moulding and antenna Filled bumpers IPD sways 28mm front 25mm rears Lowered on Lesfojor springs and Bilstein shocks SAM strut brace - very rare DJ Auto ECodes with Hi/Lo HID's Various new random parts - every single window, lock and function work on the car Tons of other little things you can inspect in the pictures (like the frenched-in LEDs along the front spoiler for a Euro-look) and ton of other things a Volvo enthusiast will notice. There is not ONE thing left to do to this car. Link to a gallery with more pics and a video of startup/audio system below -
https://plus.google.com/photos/115289836864766925901/albums/6010166845947702913?authkey=CMjN7v2bp_zY3AE
I also just recently installed a brand new 16" Permacool e-fan (high performance version, Part #19115) with the correct accessory switch and relay kit (Part #19005). Could I have gone with a used 850 fan and butchered it in there with Nissan relays? Sure. But everything done to this car was first class and there was no reason to stop at the cooling system, not to mention I live in Houston and love an A/C system so this isn't the place to screw with cooling needs heading into summer. Also installed brand new amp (you can see from the pictures there is a gap in the custom custom trunk floor as the older amp was bigger). The older amp just needs to be regrounded inside but I got a good deal on a brand new one so I jumped on it. The car will come with older amp if you'd like to reground and install for a flush trunk floor. Or just make a new one!
The pictures are very indicative of what you will be getting and the car is back and tucked away after a good detail. There is a picture of any noticeable ding or damage already taken. The paint job is 2 years old but has sat in a garage, under car cover and driven sparingly. Car cover will also come with vehicle. Never had been a daily driver (way too nice in my opinion) but easily could mechanically/electrically. Has never made the round at your typical Volvo shows...always bad timing. Be the guy to unveil her...
LOW reserve but email me (jaxwithanx at gmail dot com) for questions and I will do my best to answer thoroughly. I'm selling because of different life priorities. I'd rather start building for a down payment on a house than have a daily driver and 2 toys sitting around. I could possibly consider an offer but am more interested in letting the bid process go through. It's obviously not the type of car that comes around often. And for a Volvo-guy....doesn't get much better sorted....
On Jun-01-14 at 22:08:51 PDT, seller added the following information: NO RESERVE
And for those that found and watched the video in the Picasa album....the audio sucks because it's a cell phone microphone and it's clipping heavily. Trust me the stereo sounds better than most new car systems...great clarity with a little bass.
On Jun-02-14 at 10:45:40 PDT, seller added the following information: Will continue to update this listing as I get more and more questions:
the audio and complete electrical system is setup to run the car just fine (Optima Red Top battery and gauged wiring throughout audio). No voltage issues with A/C on blast, radio blaring and rolling down the windows simultaneously....none of this was half-assed (as the build photos should indicate)

you are welcome to send offers but please do not ask me my "rock bottom price"...there is a reason I am going through the bidding process. Clean/rust-free 240 examples are going upwards of $5k sometimes and that is without the big brake kit, engine swap, professional paint and audio equipment (just to name big ticket stuff). Now this car is obviously a restomod, so valued differently than your typical stocker, but that's why I am going through the auction with no reserve. Let the market dictate!
On Jun-03-14 at 15:36:52 PDT, seller added the following information: If you have less than 10 feedback you need to get in contact with me before bidding and potentially winning this auction. A few have already and I appreciate that.