DAMAGE UPDATE: I got the hood off today. I have pics of the subframe damage below. The crumple zone in the driver-front side is...crumpled a couple of inches. More importantly, the subframe rails now appear to be mis-aligned by about 1/2 inch. You can see this very clearly as the red crossbrace in the engine bay is now bent by that amount. The alternator/pulley is making the wonky noise but, as I said, still appears to be working. Finally, I managed to crack the windshield getting the hood off (sad trombone).
I had some discussion up on the main board about what to do with my now-damaged disposable 2007 Pontiac Solstice 2.4 N/A. Folks suggested putting it up here for sale so heregoes! Pics and price at the bottom. Located in Washington, DC, and I *am* willing to trailer the car to you up to ~4 hours each way. The car is no longer registered but it passed DC inspection last year. Let me know if you have any questions!
Background: I bought the Solstice two years ago from my neighbor for $2,000 to use as a beginner track car which was not a Miata as I am too tall for an NA/NB without dropping the floor. I had Piper Motorsport build a 5-point roll bar which goes into the trunk and installed race seats and harnesses, as well as a removable hardtop. It is/was a really fun beginner track car! It does not class well in SCCA/NASA, unfortunately, but it's decently quick on a tight track. 1:42 at Dominion or 1:32 at Summit Main, while at a fast place like VIR I was more like ~above 2:20 (maybe 2:23? I didn't write it down the time I was there).
With a full tank of gas and 215 pounds of me in it, the car scaled at 3,020. The car has 53,255 miles on it, including ~20 hours on track. I have changed the engine oil and filter every 2 hours on track and done normal track things like run HP+ brake pads and Motul RBF DOT 4 fluid.
Damage: A couple of weeks ago I put it into the tires at Dominion Raceway. I went into turn 1 too fast and on exit my right tires hit the gravel and I spun. I went nose-first into the tire barrier at maybe 30mph. The damage is, as far as I can tell, not *too* bad, probably mostly body damage; I drove it off track with no fluids leaking. Having said that:
(1) One of the hood latches is stuck and I have yet to cut it off to look inside. I figured I would list it here before chopping anything.
(2) The alternator pulley is making a wonky noise. Not having looked inside I'm not sure what's up, but there's no warning light and the car starts up, runs and drives just fine.
I don't know that it is worth it to me to pay someone else to fix it up. I don't have any welding or subframe-hammering experience, so for me it means paying the man, and I am thinking the funds would better be deployed towards a new ride.
Pics: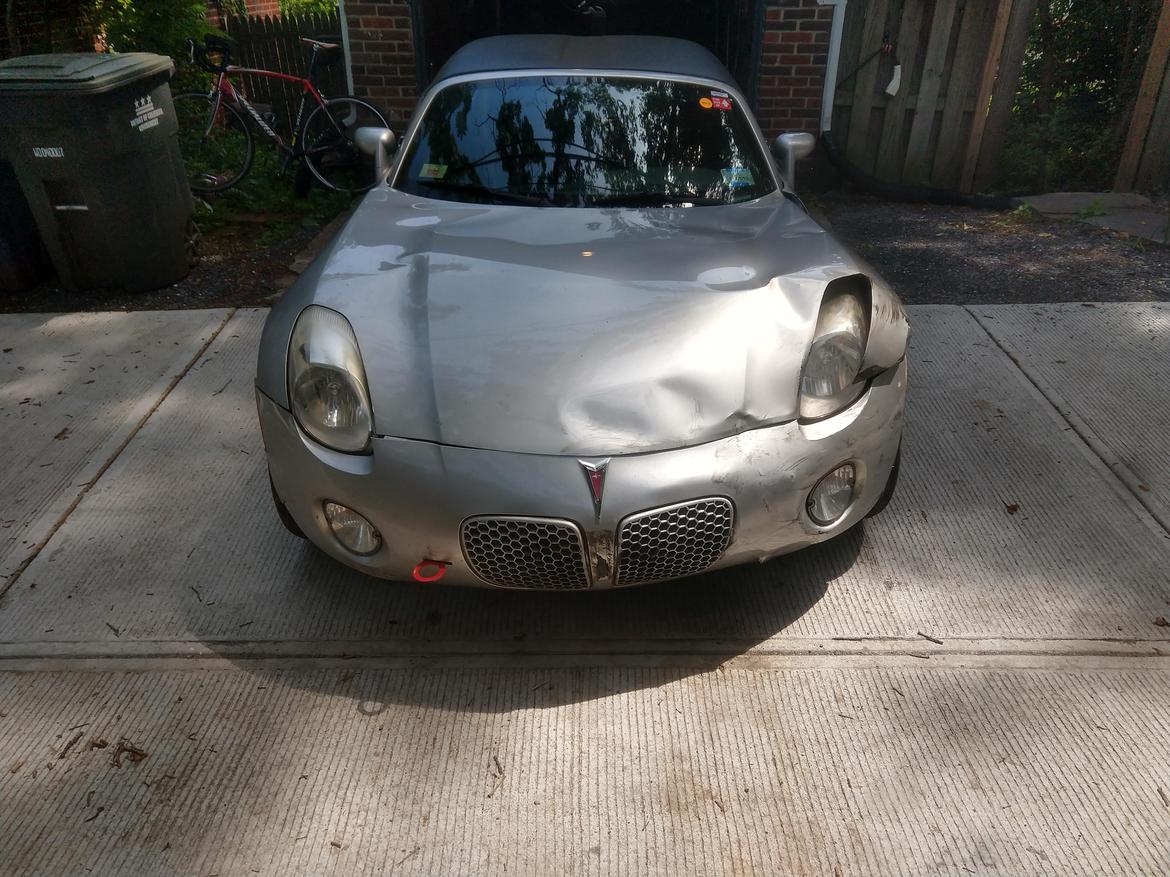 I can take more pics if folks want them. Edit: added pics of how the hardtop bolts to the A-Pillar.
Pricing:
I have some items on the car which I can take out and sell separately, or sell to you all-in-one! I would prefer to sell the whole thing to you, but I will also sell off the parts and sell you the rest. The aftermarket stuff is:
Seats (Kirkey Road Race Intermediate w/ covers - on 15'' and one 16'' I sold the stock seats, however!) - $200/each
Harnesses (G-Force 5-Point - car has hardware for 6-points welded into it, however) - $25/each
Sparco steering wheel and NRG quick-release - $50
Hardtop (I sold the convertible top!) - $400
Larger brake fluid reservoir (not installed) - $30
OZ Ultreleggera 18X8 wheels, with or without the Nitto NT01 tires mounted - $700 wheels/$200 tires
Stock wheels and almost-new Veredstein all-season tires - comes with the car! (worth $200wheels/$200 tires)
GMPP cold air intake - $75
I got a quote from an online scrap-buyer for $680 for the car, and I could sell all that stuff above for close to $2,000. For a GRM-er, the whole thing is yours for the price I got into the car originally, $2,000. I don't know how the challenge works, but if you need to mix-and-match from the above to get it into your challenge budget I would be happy to chat.
Thanks everyone!
Dave