$1195 on eBay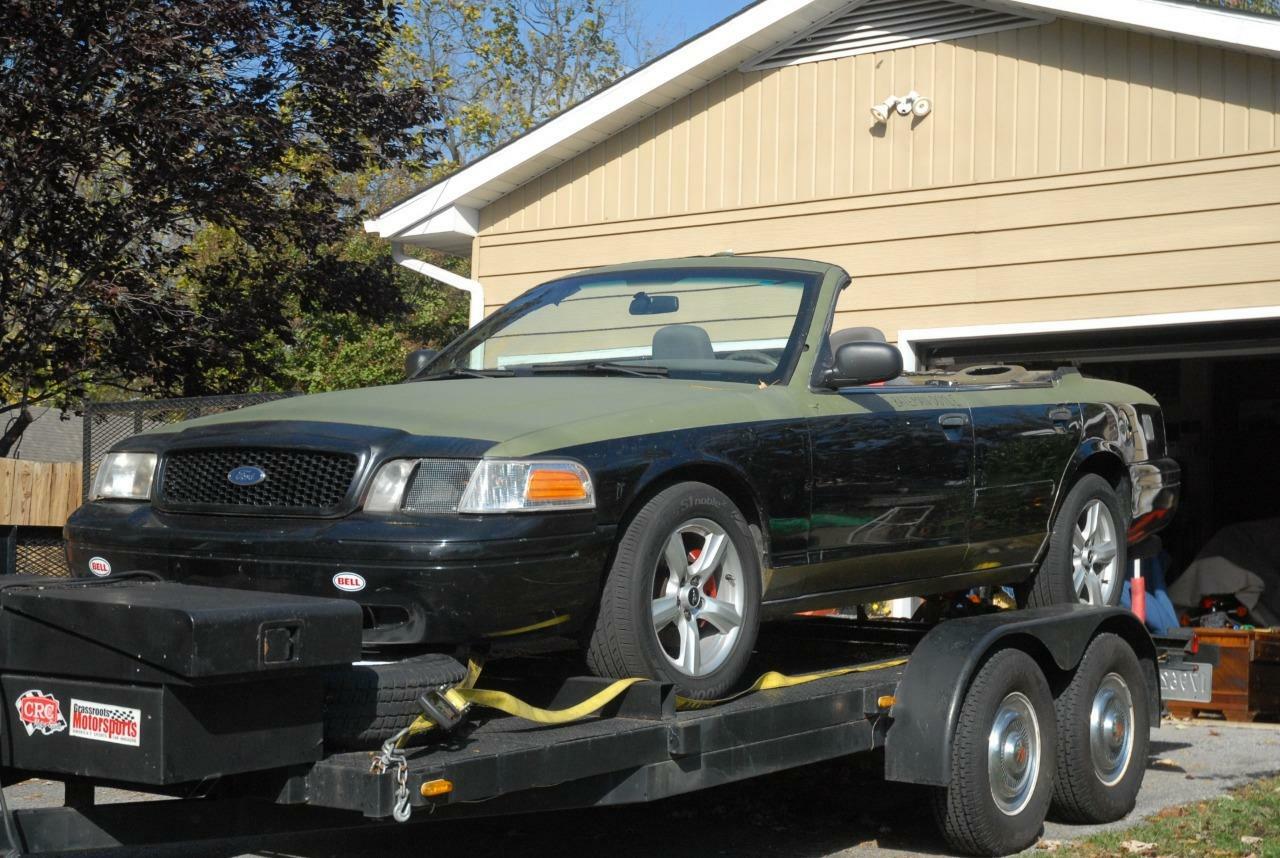 This car is fresh back from Gainesville FL where it took place in the Grassroots $2000 Challenge. While there we removed the roof (long story). But it was done relatively cleanly. All carpeting and rear seats have been removed. It has two replaced front seats, two new 5-point racing harnesses. And an incredibly stout 1 ¾ mild steel Harness bar. It added enough stiffness so all 4 doors work and work well.

This is still a street legal car.
We've replaced the left headlight with a cold ram air intake. That would need to be replaced (all wires intact) but with that exception, everything still works. See below for details.

This was a fun car to build. It drives well. Very reliable fun car. The goal was to keep this car very streetable and drivable, which it is. This is inexpensive enough to buy, drive and enjoy.
Here is what we have:

Clean Title
Ex Maryland State trooper P71 Police Package. 207,000 miles.
4.6L Modular V8 (same as Mustang, plenty of speed parts available)
3.73 open rear
Mercury Marauder rear sway bar
80mm throttle body
1 ¾ harness bar .120 mild steel
Two new 5-point racing harnesses
17" Mustang Wheels and tires. VG condition
Glasspacked mufflers
Green paint has been redone but it is an amateur paintjob, not pro.
Green tonneau cover for car to be parked out in any weather (essentially a green tarp with tiedowns.
Interior carpeting and trim removed. Rain water holes drilled. The two front seats are the only thing that needs to be covered. I planned on Scotchguard-ing the heck out of them, so you wouldn't even need to worry about that.
Oh, and we cut the roof off.
And yes, we know technically it is not a convertible but a roadster! :- )
What works:
Transmission perfect
Engine runs great
Brakes are fine
Oil Pressure, Water Temp all fine
Power steering, electric windows, electric trunk releases all work. Though one window just stopped, I think it is a switch.
Wipers, Turn signals and brake lights all work. Even electric side mirrors.
Great battery
Starts very easily, every time.

What Doesn't Work:

Not much.
One electric window
One headlight (needs replacing)
Horn
Air bags removed
Uh, no roof or convertible top. Just the tarp cover.