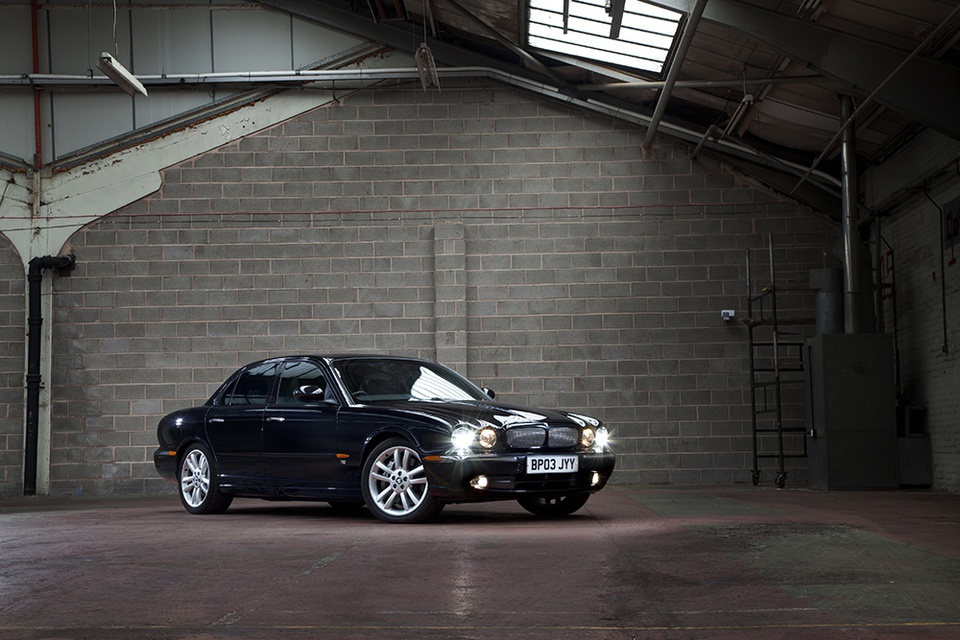 When it debuted in 2003, the new Jaguar XJ series cars easily could have been mistaken for a simple facelift of the old model. The car still had the traditional XJ lines dating to the original Series 1 XJ6, but it was under the skin–or the skin itself– that differed.
The new XJ series was the first aluminum- constructed Jaguar road car, so it was impervious to body and chassis rust. This new aluminum chassis was more rigid and much lighter than the earlier all-steel X300 and XK cars. What did this mean? The new car had higher performance, weighed less, handled better, and felt lighter when driven.
This new XJ was a hit from the onset, with many car magazines calling it the finest Jaguar sedan ever created. We would agree with that.
Upon its introduction to the U.S., the car came in three separate models: the standard XJ6, the Vanden Plas edition, and the high-performance XJR.
This was the third generation of the XJR in the country. The car came standard with an all-aluminum four-cam V8 engine that made 399 ft.-lbs. of torque and 390 horsepower. Then there was the computer-controlled air sport suspension, Brembo brakes, and six-speed automatic transmission.
Combine all this with the superb build quality, Connolly leather, Wilton wool and wood veneer of a Jaguar interior, and you have a car that can give a Bentley Turbo R a run for its money, not to mention the sports sedan offerings from Mercedes- Benz and BMW.
What about the Jaguar's notorious reputation for unreliability? By this time in the company's history, that Achilles' heel of Jaguar ownership had been pretty well banished, with the cars repeatedly scoring top marks in J.D. Power and Associates' annual dependability ratings.
The performance of the XJR competed with the best offerings in European sports sedans with a 4.8-second zero-to-60 time and a 13.4-second quarter-mile. Those numbers nearly launched it into the supercar category and made it faster than the SL55 AMG we featured in our July 2013 issue.
The news only gets better: Today, you can buy one of these cars with less than 70,000 miles for as little as $15K, with nearly perfect, sub-40,000-mile examples selling for around $35K.