So, on the monstrous MG project, I think I'm going to go with a live axle. The sudden appearance of an S10 Blazer rear end seems to be involved - thanks for the tip on that one.
I'm now trying to figure out how to tie it down. It'll have coilovers, I can't bring myself to retain the leafs (interesting, not leaves. Kinda like the Maple Leafs. Hmm, are they named after a suspension component?). But should I go with a three- or a four-link system? Both are available on the aftermarket if I want to purchase them, or I can use the copious and detailed photos as inspiration for my own version.
Three-link: Easy to work out the geometry. No chance of bind. Lots of really good pictures on how to do it
. But I'm not thrilled about the concept of a Panhard rod and the associated lateral axle movement. Is this noticeable at all from a handling perspective? Is the simplicity worth the (potentially theoretical) downside?
This is one of a bunch of pictures of the commercial setup. Note the big bend in the Panhard rod to clear the diff. I'd probably try to run it behind the axle so I could use a straight one. Many more high-quality pictures of this setup.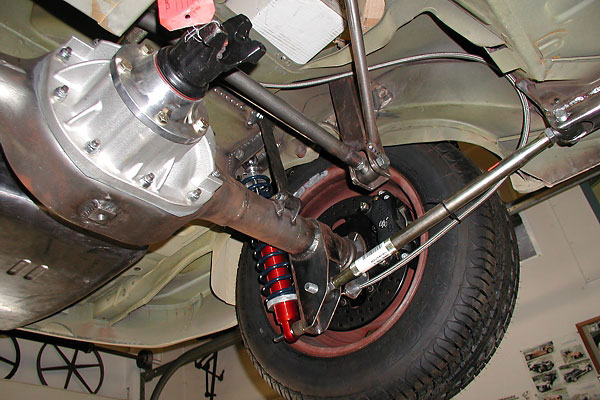 Four-link: Actually, a modified four-link with non-parallel upper joints. Herb Adams calls this a "Satchell link". Better axle location and much more pleasing from an engineering aesthetics perspective, but I think there's real potential for bind if you don't get it right and that has me a little spooked. If I choose to shell out for it, then my geometry concerns aren't really valid, but the roll oversteer designed into this one isn't quite what I was looking for. More on this commercially available setup, along with a few pictures.
Thoughts? Advice on setup? Preferences?