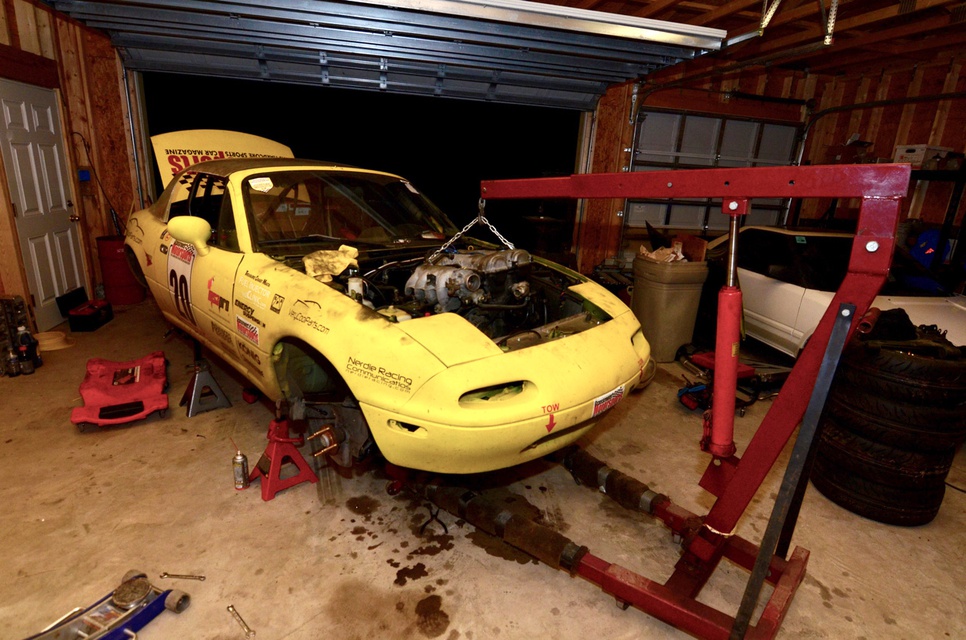 After a flawless endurance race, our project turbo Miata blew its engine with the most inconvenient timing: while being moved between shops during our pre-race prep. That next race takes place this Saturday.
We diagnosed the problem as a failed turbo oil feed line, and started prepping our spare engine for installation. Oops: One look at the engine, which had been sitting in the back of a shed for years, and we realized it was a 1.6-liter Miata engine. Besides being down on displacement, few of our existing accessories would bolt on. So we started searching for a replacement. Fortunately, we didn't have to search hard: Treasure Coast Miata had a good used 1.8-liter Miata engine in stock, and we had it the very same day.
Check out the slideshow for a step-by-step of the engine replacement. After a few nights in the garage, our Miata is back up and running. We haven't had a chance to do any on-track testing, though, so we're going into Daytona blind. Wish us luck on Saturday!
Watch the pages of Grassroots Motorsports for the full project car series. Subscriptions start at just $10.