I found a keeper. Went to look at a '77 Fiat X1/9 that was posted on Craigslist in a relatively inaccessible area, and found a nice project. The car appears to have spent a lot of its life inside, in pieces. Comes with numerous boxes of new parts and factory service manuals. New upholstery, new Weber carb. Here is the weird thing: I was only able to locate rust in two small places. Only comes with ugly steel wheels. Tires are a decade old, but zero miles on them.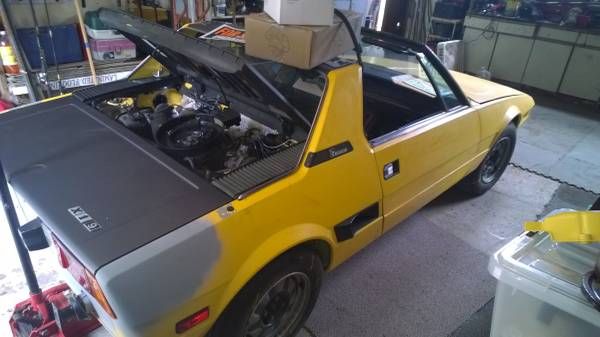 Current owner has only had it for a few months and claims to need to sell to free up the space for one of his other projects. Previous owner did all the work and it is just ready to reassemble. Engine is in and will start, but needs a little sorting. Wiring all looks good. Everything is very clean and there is a coat of paint on everything. This is a blessing and a curse because he used Rustoleum, which I understand needs to be removed prior to painting with real automotive paint.
Since it is mostly in pieces, the price is low. I'll be just under $1k.
I need you guys to tell me to move my ass and get this thing. The catch: My wife is ok with parts cars and the like for my SAAB habit, but when I told her it was another marque, she immediately concluded that this would be a new and different (therefore more involved) project and was against it. I happen to know she has spent about as much as this car on clothes in the last month, a fact that she will be embarrassed to find I know. I'm not going to create a rift in my marriage over a car, but the subject isn't closed yet. How best to convince her that I can take on another project?