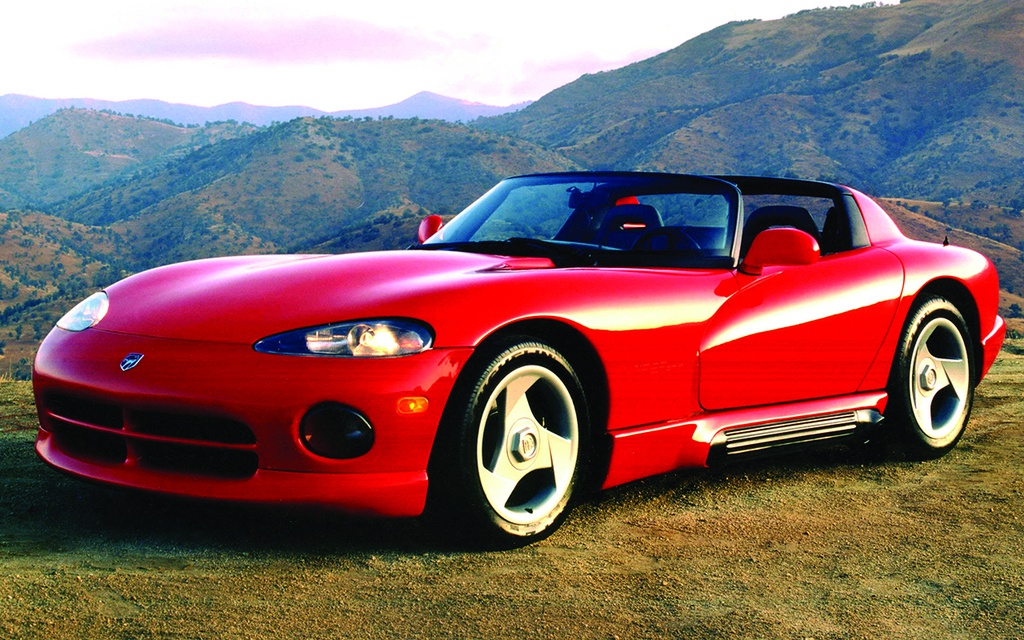 V8 engine? That's cute. How about a V10? And side pipes. And none of that modern frivolity like ABS. Or air bags. Or air conditioning. Or even roll-up windows.
Wait, are we talking about the '60s? Not quite. The year was 1991, and Dodge unleashed a quintessential throwback machine. The Dodge Viper RT/10 brought show car excess to the local dealerships. It was big and brutal. It recalled the original Cobra, both in stomping power and minimalist accouterments. Could it smoke some tires? Oh yes.
That long, long hood covered up an 8-liter V10. For the non-metric types, that's 488 cubic inches—or as much displacement as five early Miatas.
The bottom end came from Dodge's truck line, but Lamborghini helped with the cylinder head work. The Viper offered 400 horsepower, an impressive figure from a time when 300ZXs and Corvettes made do with about 300. Then there was the Viper's torque: about 450 lb.-ft. at first. One transmission was offered, and it featured six forward speeds that had to be shifted manually. With a clutch pedal.
The Viper didn't saddle that power with many extras. It didn't even have a dead pedal.
Despite its throwback nature, the Viper arrived with much fanfare. It paced the 1991 Indy 500. It landed on all of the magazine covers. It helped usher in a new wave of performance.
Dodge built only 285 Vipers for 1992, the first model year of production. They were all classic red over gray. That original Viper ran through 1995, however, with production figures increasing—and with a/c, a hardtop and other colors eventually becoming available.
All these years later, an early Viper isn't exactly a premium purchase, meaning you can relive the days of "Lethal Weapon 3" and "Honey, I Blew Up the Kid" for the price of a mid-level minivan. While Hagerty says that the best of the best is worth a tick north of $65,000, good examples of those first Vipers can be found in the mid-$20,000s.
Today, a legit Cobra costs about a million bucks. At one point, though, that wasn't the case. Don't miss out again.