So I made a lightning trip to from the bay area down to San Diego to buy a trailer yesterday. Drove my truck down, bought the trailer, towed it halfway back, stopped for the night, then did the rest of the return journey this morning. Total came to just over a thousand miles.
For most of the trip, the truck was quite happy. It's a 2002 Chevy 2500HD with the LB7 Duramax, and had the fuel injectors, FICM, and filter replaced about 1500 miles ago. It pulled the 3900 pound (empty) trailer over the Grapevine (4100 foot pass) with no problems at all, happily going up the hill at 65+. OTOH, later on in the trip, it started struggling up the other mountain pass along the way (Pacheco Pass, only about 2000 feet), and didn't seem to want to go over 55. After getting out of that pass and back to level ground I filled it back up, and it seemed to be much happier after that. It's hard to say for sure because there weren't any other major hills along the way, but just comparing the level-ground performance it seemed to be better.
Does that make any sense? I know the LB7 lacks a lift pump, meaning that the high pressure pump has to suck fuel all the way from the tank up to the motor. Is there any way that having low-but-non-zero fuel in the tank would impact power that way? It's nominally a 26 gallon tank, and I put 21 gallons into it after that pass.
ObPhoto. It's not quite as huge as it looks in the photo, the perspective is a bit odd.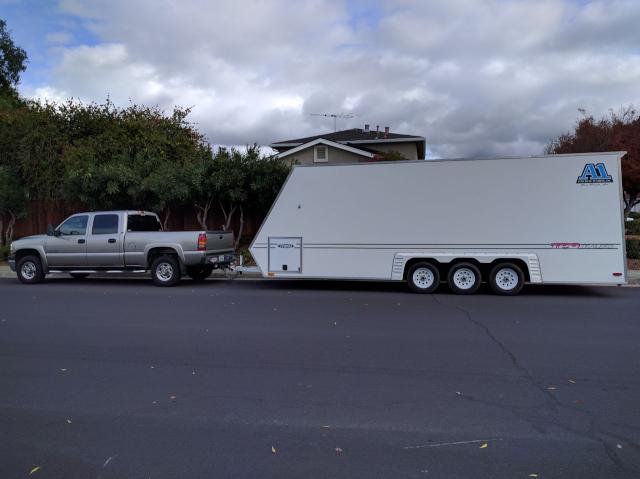 And yes, I need to peel the previous owner's business graphics off the side and find a GRM sticker or two to put on instead. :)