So, those of you who have been on this board for a while know that I love French cars, and I've messed around with a few old Renaults. I always wanted a GTA but I figured they had all disappeared into the sands of time by now, and anything left would be basically junk. I have some project car cash and initially wanted a Starquest or Z31 but struck out finding anything decent. But, life is serendipitous, and after e-mailing for more info after seeing a listing for a "1985 Renault" with almost no info, I had my first barn find.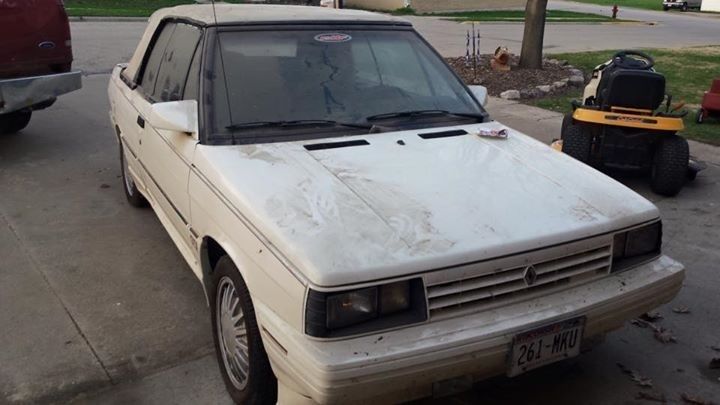 1987 GTA convertible. 90k miles. Bought new by a plant manager in Kenosha where they were built, it has never seen salt and apparently has only seen rain once or twice. Dad who bought it pampered it, then gave it to his daughter as a wedding present before passing away, daughter got busy with kids and life so it sat in the garage. For about a decade.
I'm dragging it home tomorrow for a sub-$1000 price and after I detail the heck out of it, change all the fluids and do the timing belt/water pump I intend to hop it up a little bit. At least, I'd like to, but there is NOTHING out there for these cars. Even concrete information is hard to come by.
I intend to do some research to see just how much these share with the Euro Renault 9 and 11; those cars were not exactly loved either, even in their home country, but at least parts and info exist over there. Otherwise I am basically going to be blazing a new trail by trying to fix this thing up and modify it. I might even buy a domain and compile as much info as I can for the sole purpose of creating some kind of future reference for anyone else crazy enough to be into these cars.
So, until I can ascertain the amount of parts sharing with Euro models, what are some universal tricks I could make use of to get this thing moving a little quicker and handling a little better? I'd bet the chassis could use some stiffness, maybe a DIY strut brace setup or some fender arms could help. Lightweight wheels with real modern rubber? Advance the timing? What should I poke at to increase the fun factor of this incredibly rare frog car?