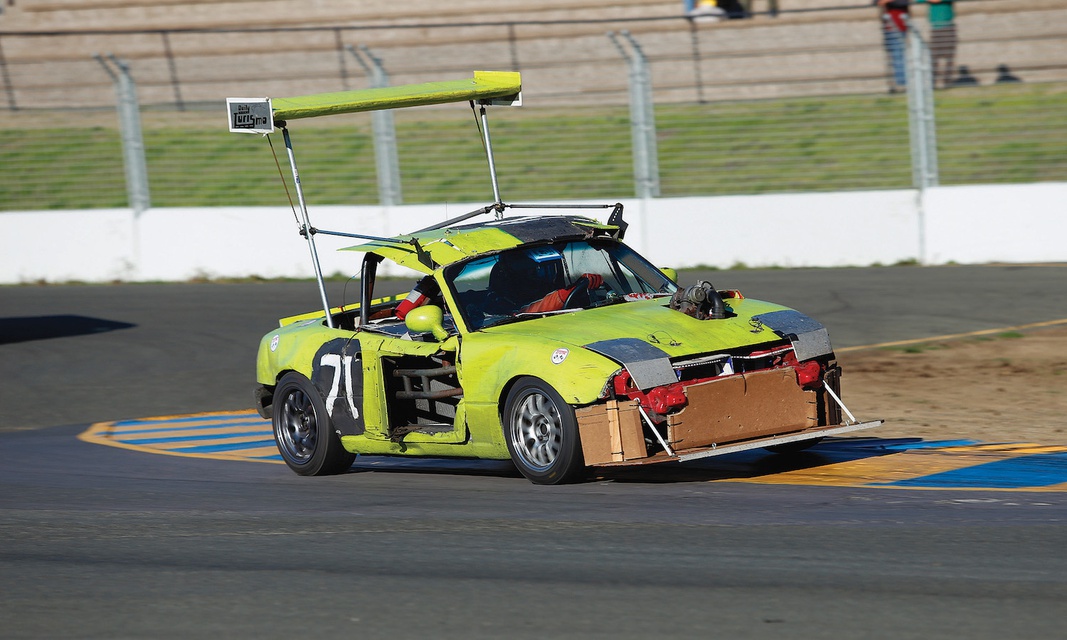 Story by Judge Phil • Photography as Credited
Eyesore Racing has been competing in Lemons enduros since the very early days of the series–back to 2007, when the team fielded a fairly quick Honda CRX. They switched to a Miata in 2009 because of team captain Dave Coleman, who happens to be the manager of Vehicle Dynamics for Mazda North America; it looked better for him to drive a car made by his employer.
The team added a low-budget junkyard turbocharging setup and won a bunch of races in the ensuing years, but something was missing. That something turned out to be a big Chaparral 2E-style high wing connected directly to the rear suspension via linkage made from dumpster-acquired anti-roll bar end links and steel electrical conduit reinforced with an IKEA lamppost.
Because the team has an average of 1.5 advanced engineering degrees per member–and includes one who designed the turbopumps for SpaceX's rocket engines–the wingis based on the closest approximation to an Eppler 420 airfoil that could be constructed using backyard fabrication techniques.
Normally, such a sketchy rig could be expected to collapse within minutes of hitting the race track, but Eyesore's low-budget, suspension-connected high wing works very well and allows the team's drivers to enter corners in fourth gear instead of theprevious third. The team took the win on laps against very tough competition at the2017 Arse Freeze-a-Palooza 24 Hours of Lemons at Sonoma Raceway, and they credited their new wing for the victory.