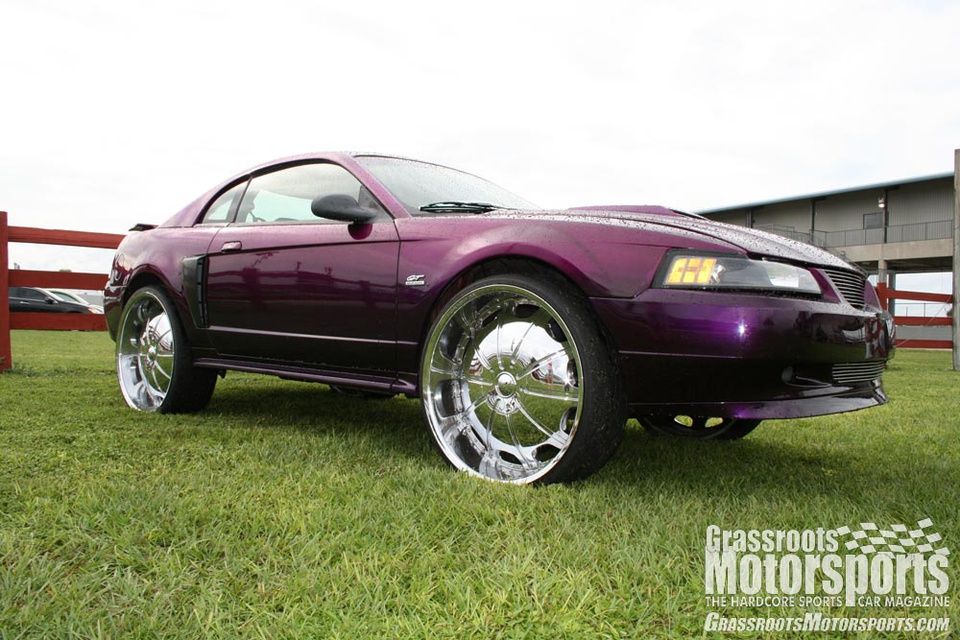 My town of Palm Coast, Florida, is pretty much exactly as middle-class as its well-planned name implies. Not that it's not a lovely place to live, just that it's very much a what-you-see-is-whatyou- get sort of place.
In my immediate neighborhood–just a few blocks away on my drive to or from work–is another middle- class, two-car-garage, early-oughts-built house where I frequently see the resident out in the driveway washing, detailing, wrenching on, or otherwise doting over his car.
Because I pass him often, he's never surprised to see me in the press car of the week. He always has a smile and a thumbs-up for me, whether I'm behind the wheel of an entry-level Hyundai or a Grey Pouponlevel Jaguar.
I was surprised, then, that it took me so long to stop and ask him about his car.
When I finally did, I felt bad that I'd never initiated a conversation. He spoke lovingly about the 1995 Chevy Caprice that graced his driveway. I learned all about the suspension mods–massive surgery, really–that it required to accept the enormous 32-inch wheels. He told me about all the separate stages involved in the paint job. Alternating coats of color, clear, metalflake and various treatments in between created an effect that makes the Chevy look like the world's meanest robotic reptile.
I heard about the various upholstery techniques he learned and assisted with in the creation of the luxurious and–I mean this with the utmost respect–utterly pimped-out interior.
I learned that full-sized GM cars from this generation were referred to as "bubbles," while the earlier Caprices and Impalas were "boxes" because of their more squared-off styling.
But mostly, I heard that this is a guy who completely loves, is entirely knowledgeable about, and is totally into his car.
But he's not the only kindred sprit in my suburb. At another point on my commute lies another driveway with another beloved automobile. After my experience with my new friend and his donked-out ride, I felt it was my duty to reach out to this other seemingly autocrazy neighbor.
Unlike that Caprice, which you could literally have a picnic underneath, this guy's Acura TL was low. You could barely slide a slice of salami under it. I learned that the reason he always parks in the same spot in the driveway is because it's the only place he can get the proper angle to clear our relatively modest driveway gutters without sacrificing his undercarriage.
He told me about the many sets of wheels and tires he'd experimented with to get the exact look he had in his head into corporeal space. The current setup is as close as he's come to his vision. The too-narrow tires are stretched onto too-wide wheels, and the resulting effect leaves barely a pinkie's width between the tire sidewall and the fender lip. The car looks like a rolling cartoon and is, in all likelihood, no fun at all to drive.
But you should have seen the guy's eyes light up when he talked about it.
To achieve his vision while still keeping this thing drivable, he had to learn a great deal about how his car works and how it was put together. It required extensive suspension modification, precise wheel-and-tire combinations, lots of research, and lots of wrenching. All on a machine that makes him very, very happy.
After talking to these guys, I started to wonder: At what point did we decide that our arbitrary way of enjoying cars was somehow better or made more sense than someone else's arbitrary way of enjoying cars?
When did an autocross trophy become more valuable than a car show trophy? When did lap times become more valuable than fun times?
Look, I'm all about the apexes and slip angles over the big bass and hellaflush style, but let's not kid ourselves into believing that we have some sort of lock on true automotive enlightenment.
So if we're ever in a crowd and the talk turns to derision of the "stance-tards" or the "donk-rats," you'll accept my apology in advance should I choose to take my leave of the conversation.
I'd rather go hang out with people who like cars, too.