What's one of the biggest consumables when putting a car on track? Tires.
And how can you ratchet down your tire budget? A few ways: Run fewer track days, drive smoother or, here's another one, move to a smaller tire.
While a lot of people track their M3s on 18-inch tires—and that can be said for both E46- and E92-chassis cars—why not run 17s instead?
Apex Race Parts offers a 17x9.5-inch square setup specifically aimed at E46-chassis M3 track cars. Running the same-size wheel at all four corners allows them to be rotated, while the 17-inch tires simply cost less than 18s. "Tires are less expensive to replace when needed, which keeps running costs down," the company notes on its site. This setup features a 35mm offset, meaning you'll likely want to run a 12mm rear spacer. (And for E92-chassis M3 owners, the Apex catalog contains a 17x10-inch square setup.)
Apex recommends the E46-chassis M3 17-inch setup for dual-duty cars still running the stock brakes or for aftermarket setups with a rotor diameter up to 355mm.
Did someone say something about shedding tire costs? Time for a quick price check. Right now we'll look at Yokohama Advan A052 prices since we already fitted the company's Advan Apex V601 to our 2004 BMW M3. The 265/35R18 size retails for about $283 each at Tire Rack. Drop down to a 255/40R17, and each one goes for about $218. Our math shows a $260 savings on tires simply by moving to the smaller size. (Note that those prices are current as of December 20, 2020, and we're rounding to the nearest dollar.)
Want to save even more? Some other options in the 255/40R17 size:
Falken Azenis RT615K+: about $126 each
Kumho Ecsta V720: about $142 each
Maxxis Victra VR-1: about $160 each
Falken Azenis RT660: about $160 each
Does going from 18s to 17s reduce footprint? Some, yes, but remember, we're talking about noncompetitive track events, and we're still doing better than the stock setup of 225/45R18 fronts paired with 255/40R18 rears. (The Advan A052 isn't available in a 225/45R18, but we'll drop in the 255/40R18 specs below.)
Yokohama Advan A052
Size: 255/40R17
Section width: 10.2 in.
Tread width: 9.4 in.
Overall diameter: 25.2 in.
Weight: 23 lbs.
Price: $218 each
Yokohama Advan A052
Size: 265/35R18
Section width: 10.6 in.
Tread width: 9.9 in.
Overall diameter: 25.4 in.
Weight: 24 lbs.
Price: $283 each
Yokohama Advan A052
Size: 255/40R18
Section width: 10.3 in.
Tread width: 9.4 in.
Overall diameter: 26.1 in.
Weight: 25 lbs.
Price: $241 each
Apex offers three options for this 17-inch square setup.
ARC-8R: forged, 1700-pound load rating, 17.85 pounds each, $1940 per set of four wheels.
EC-7R: forged, 1700-pound load rating, 18.45 pounds each, $2060 per set of four wheels.
ARC-8: flow-formed, 1450-pound load rating, 16.95 pounds each, $1116 per set of four wheels.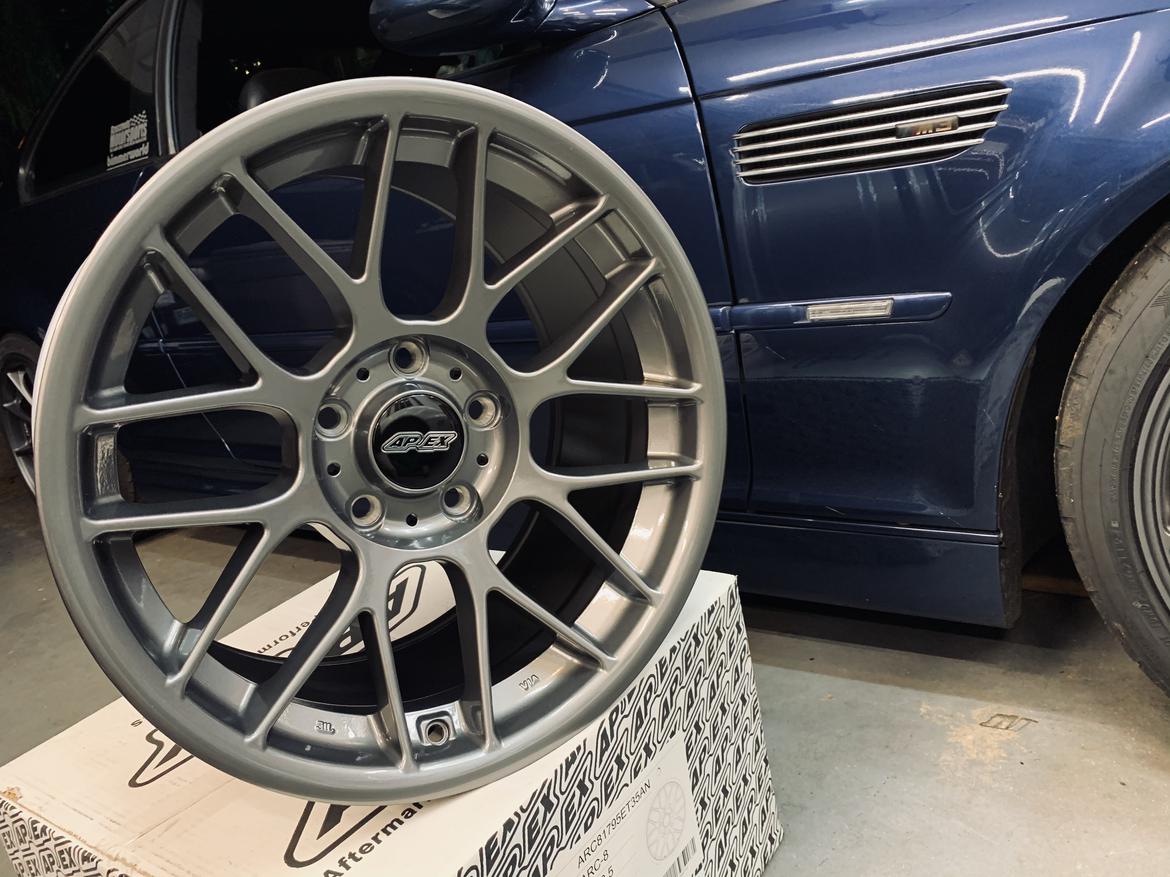 As the pictures suggest, we went for the ARC-8, one of Apex's classic models. Think of it as living at the intersection of performance and value.
But "value" doesn't mean lacking features. The ARC-8 is a hub-centric wheel specifically designed for track use. Notice how there's room around the lugs for an impact socket.
The warranty is aimed at track use, too, as Apex offers accidental damage replacement: "Curb rash or pothole damage on the street? Make an oopsie at the track? We've all been there. Apex is proud to offer 50% off replacement wheels, no matter the damage. See terms and conditions."
It's like someone knows us. Plus, the wheels feature a lifetime structural warranty against defects in workmanship and materials.
Our 17-inch Apex ARC-8 wheels just landed, and tires should be here soon. Then we can mount up and report back with some findings. For those out there seeking lots of laps, this 17-inch setup is beyond intriguing.
Like what you're reading? We rely on your financial support. For as little as $3, you can support Grassroots Motorsports by becoming a Patron today.