This is my project car. It's a 1986 Honda Civic hatch 1300 with an Si motor swapped in. It's got high compression pistons, cam regrind, porting, valve job, and balancing among other things. It's got adjustable Tokico Illuminas, big front brakes off an Acura Integra and rear aluminum drums. I build it to be a GT Lite car for the street, I've always loved those cars. I am unsatisfied with the aerodynamics of this car and would like to make them better. I have done a few things, basically copying what I've seen at the track.
I built an air dam with wheel dams: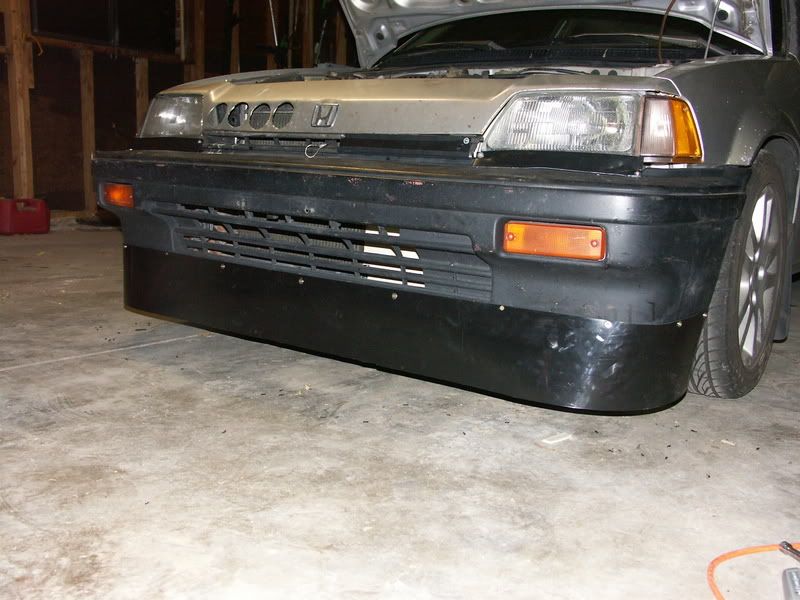 I started on the front undertray, unfortunately I ran out of Coroplast for the corners
I added a Gurney flap to the rear hatch
I then covered the fuel pump. Before:
After:
Am I on the right track? I plan on building some sort of rear diffuser. I also want to build side skirts, but I have no ideas on how to approach it without making it look like crap, any ideas?
Anyway, the car is easier to drive on the highway after the mods, requiring less throttle to keep speed. It also feels much faster over 90mph. I plan on tuft testing the Gurney flap against the stock wing and nothing.
I did some tuft testing today: http://video.google.com/videoplay?docid=-4749342042374012395&hl=en
Now tell me what I'm seeing. On the fender shot it looks like there is very little turbulence right behind the wheel, but after the door gap, it starts getting turbulent. The flow is smooth over the top like I'd expect. It looks like from that shot at least that my wheel dams aren't hurting, usually there is lots of turbulence right behind the wheels.
Next we see the roof of my car. It appears to me like the Gurney flap is doing exactly what its supposed to. From what I've read they are designed to stop airflow directly behind it, this causes vortices directly behind it which help the air flowing over the top do break away from the body/wing smoother. I didn't get footage, but I also had tufts on the rear hatch glass. There was very little movement from them even at 70mph, is this bad? They were moving mostly side to side, and were not getting blown up the top.
What other key areas should I tuft test? I plan on adding wheel dams in front of the rear wheels and testing before and after this time.