Story by J.G. Pasterjak • Photography as Credited
If you've ever been through Bowling Green, Kentucky–even just for a splash of gas or a cheeseburger–it's hard not to notice the town's claim to fame. Corvette iconography is everywhere. Every convenience store and Walgreens has a rack of Corvette tchotchkes, and every other diner has some clever Corvette-based pun built into half the menu.
Also, since we're discussing hamburgers, don't sleep on the fact that Bowling Green is one of the few places in the country where you can get both a Krystal and a White Castle at the same exit. Don't blame us if you actually do that, though.
Anyway, gastronomic adventures aside, Corvettes are a big deal in Bowling Green, where every Corvette since 1981 has rolled off the assembly line. Not only does the plant reside in the city, but the National Corvette Museum and the NCMMotorsports Park also straddle I-65, tempting passing motorists with the sports car delights contained within.

Photography Credit: Abi Photography
While NCM Motorsports park is one of our favorite tracks–it hosts the SCCA's Time Trial Nationals, as well as countless high-profile national and local events–we're "in the life." Track time is a staple part of our existence.
But not all the Corvette fans that stop in Bowling Green to tour the plant or visit the museum are so lucky. They love cars–Corvettes in particular–love performance, and want to celebrate it, but not everyone's lives allow for weekend tows or drives to a track or autocross course.
For that, NCM Motorsports Park has a solution: The Corvette Experience. Signs in the museum and billboards along the highway tease the action. "Drive a Corvette on the Racetrack" they proclaim. And that's exactly what the Corvette Experience program is. For $599, NCM sends you through a streamlined high-performance driving school that lets you loose on NCM Motorsports Park in a C7 Corvette for nearly an hour of track time.
Track Manager Matt Busby describes the average participant as "someone who really, really likes Corvettes–cars in general, really–but may have never driven on track before, or will again, but they want to experience the full performance of a Corvette and find out what it's like to drive on a track."
We shared a school with two other enthusiasts. One fellow had just received the session as a birthday gift from his wife. He loved cars but hadn't even driven a manual transmission for over three years. Our other classmate was a guy who was visiting from Israel. Back home, he drove an Opel in the increasing number of track days that are taking place in Israel's booming sports car scene, but the tracks are generally small, and there's not much access to 455-horsepower sports cars. He had some track experience but wanted to upgrade to the E-Ticket ride.
And that's really the best descriptor of the program. It's a theme park experience applied to a track day. The entire program is compressed into two hours, with three 20-minute classroom sessions alternating with three 20-minute track sessions.

Photography Credit: J.G. Pasterjak
All of the track sessions are paced, but instructors will never have more than three cars in a conga line behind them, and they're very attentive to prior experience. If you've done some time on track before, you can expect to get shuffled after the first session to a point in line where you'll be able to wring things out a bit more. It's a tight, well-run program that gives novices a fairly thorough HPDE experience in a very efficient time frame. And for the more experienced driver, it's quality track time on a fantastic track in a fantastic car–one that you won't ever have to change brake pads on.
"I think probably most of our guests aren't going to use this as a stepping stone to track days," Busby says. "But we get a lot of people who used to do track stuff, or autocross, and their lives just don't make it possible anymore. We also have more than a few people who are regulars. They'll do several per year. For them it's zero pressure, zero maintenance, zero hassle. But mostly it's folks who want the full Corvette experience."
For your $599, that experience includes the track time, the classroom sessions which cover all the basics of track driving in a thorough but efficient manner, lunch and admission to the National Corvette Museum across the highway for a guided tour with a docent. In true theme park style, there's even photos available of your track adventure within minutes of exiting the ride.
While it's not aimed at the hardcore track rat, it's an ideal gift for said track rat's spouse or family member who has expressed curiosity about what they do every weekend. Or for someone looking to make the jump from autocross to track days but isn't sure if the higher speeds of the track are for them. Or for someone who just wants to drive America's Sports Car on one of America's most enjoyable tracks.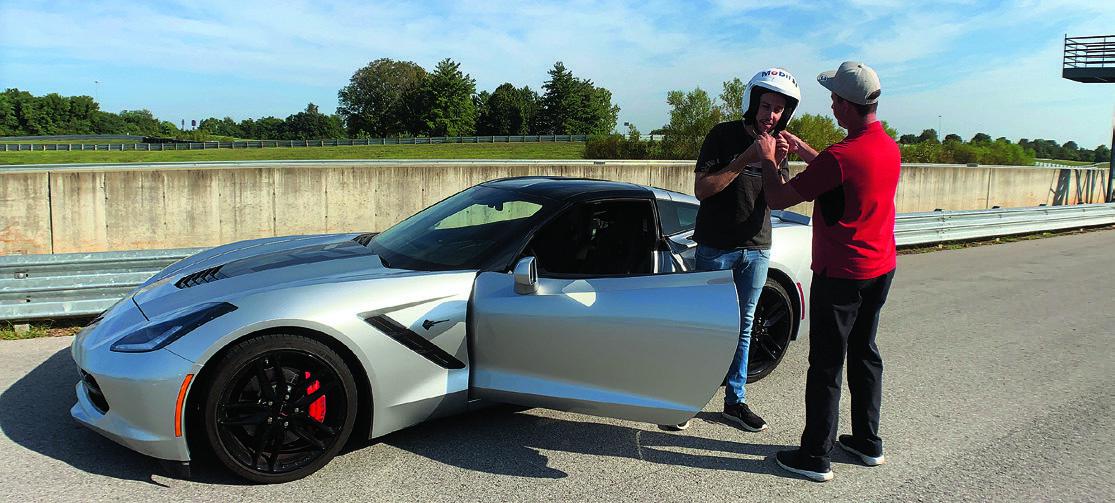 Photography Credit: J.G. Pasterjak
And, yes, before you even ask, the Corvette Experience program will be adopting a full fleet of C8s as soon as they come out. The track already has eight on order, and they expect them to go in service this January. With all the buzz around the first mid-engined Corvette, this should make a fun program even more appealing. Marketing Coordinator Taylor Howard is already anticipating lots of demand when they announce official dates for the C8-based programs. "Oh, I think they'll be very popular," Howard says, with that half excited/half terrified look of knowing that she'll be fielding a flood of requests for program slots.
We think Howard's anticipation is justified. The Corvette Experience is already a great program, and the addition of the C8 is only going to make it more exciting.
NCM MOTORSPORTS PARK
motorsportspark.org