I finally had the time to tackle this project discussed here. Some backround: I crashed my car at Summit Point many years ago and did the repairs/paint myself with no prior experience. I only sprayed the affected areas so the car never matched and I was never happy with it. I wanted to give this a try as an inexpensive alternative to spending a lot of money on a paint job that could easily be ruined again.
I ordered 3 gallons of matte black plasti-dip with the Wagner sprayer. Since my order, they've changed to a new sprayer and don't ship this one anymore due to longevity issues. It worked perfectly for me and I had no issues with it. My initial impression, compared to spraying urethane paint through a proper HVLP gun is that this is 10x easier. It's extremely forgiving of mistakes as the material tends to even out and fill in as the layers build up. There is only one setting on the gun (how much material to spray) so there's not much of a learning curve like there is with a real HVLP.
I prepped the car exactly as if I were going to paint it for real. Body filler where needed to fix small dents, sanding, primer, sanding, more primer, more sanding, even more sanding, then a complete wash and de-grease. Probably no more than 10 hours invested in prep over the course of a few evenings. Mostly wait time for coats of filler/primer to dry.
I went from black-to-black. I sprayed 6 light coats which is the recommended for any job (light-to-dark included) although you may want to spray heavier for those types of jobs. I used about 1.5 gallons on the whole car. I masked the front, rear and side windows.
Peeling off your lights and window areas is the best part... Until you screw up and peel something you didn't mean to. You can use the recommended thinner with a gloved finger to massage the material back into shape if you pull it up, tear it, etc. It'll dry and adhere but you will probably want to throw down another coat after that. Also I noted that the dried material, when peeled off, is extremely lightweight. I can't imagine doing this will add more than a couple lbs tops to the car.
Right, on to the pics:
Crusty ol faded headlight cover and rock-chipped bumper/hood. Repaired some dents and dings in the fender: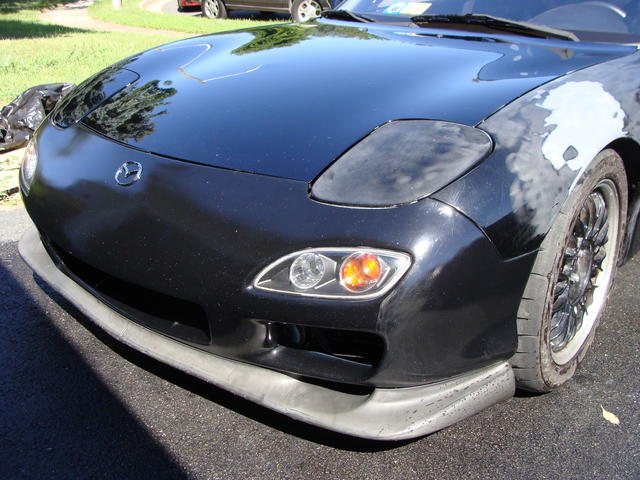 Repaired old track damage to the door and quarter panel better than the first time.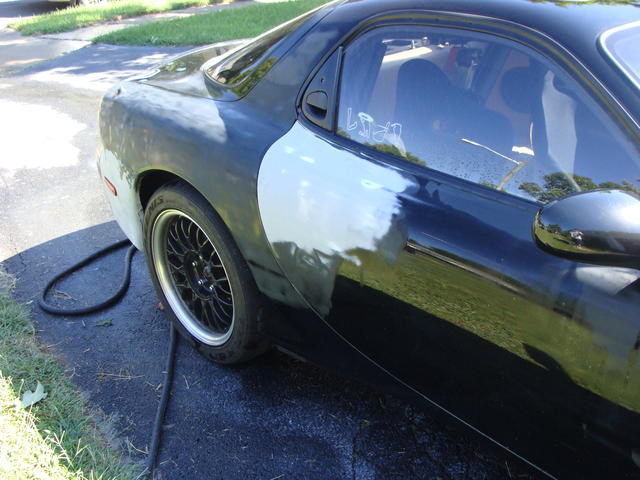 GVR4s need love too: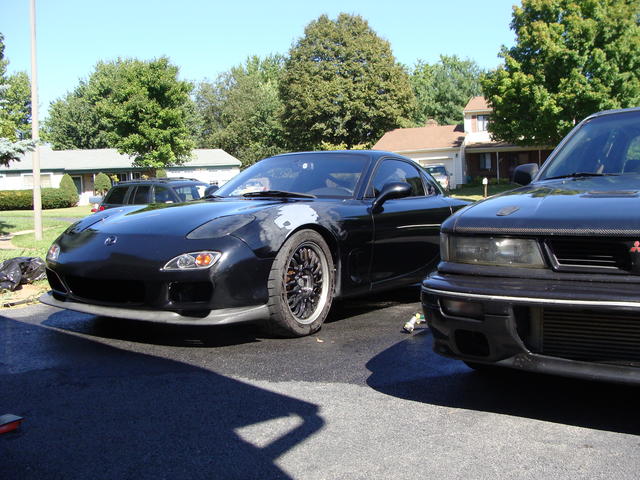 You spray right over everything, more or less: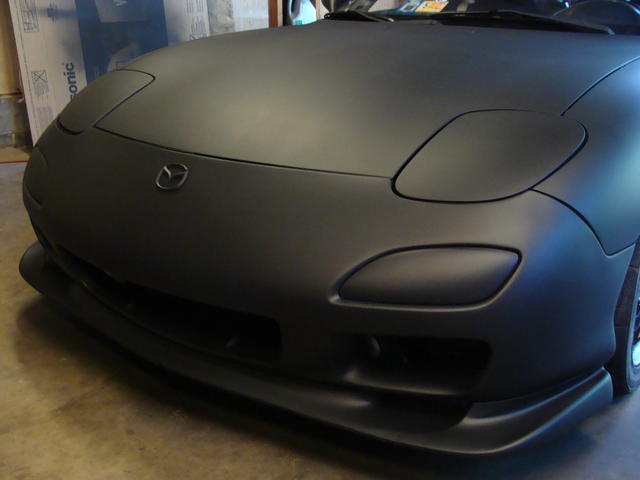 Repaired area: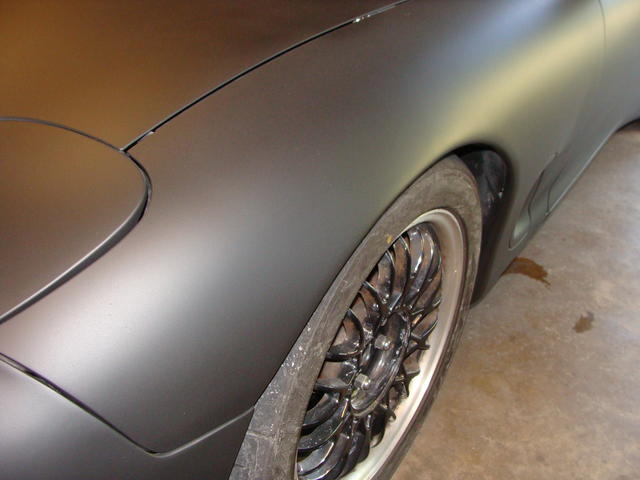 Repaired area: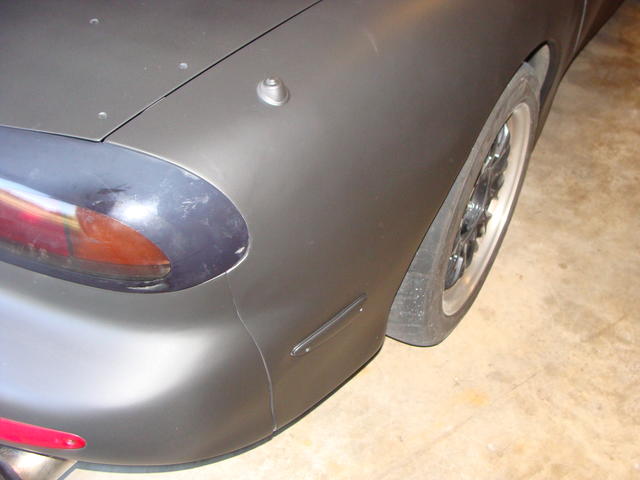 Butt shot: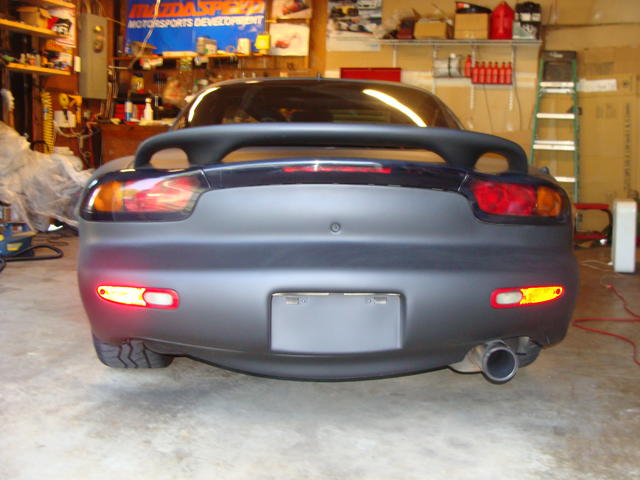 Out in the light of day: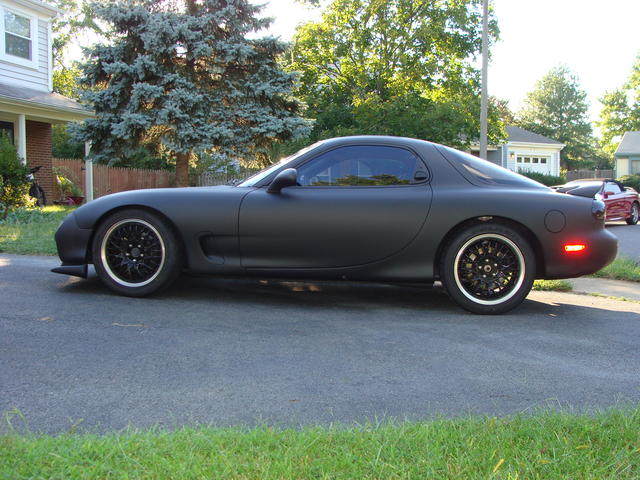 All peeled: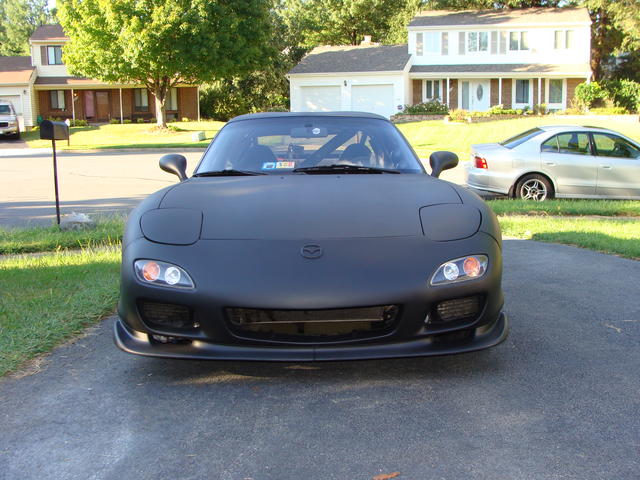 Overall I'm happy with how well it came out considering how poor my 20 year old paint was to start with. I'm thinking I'll rattle can my wheels bronze or gunmetal at some point which should look good with the body color. No idea what kind of longevity to expect from this stuff (special care has to be taken when washing, etc.) but I'll keep you guys posted.