OK, so I've done enough googling on this subject to thoroughly confuse myself.
I am getting different info on whether I have an R12 system, and whether I should convert it to 134a or not. Here is a pic of the fitting on my system: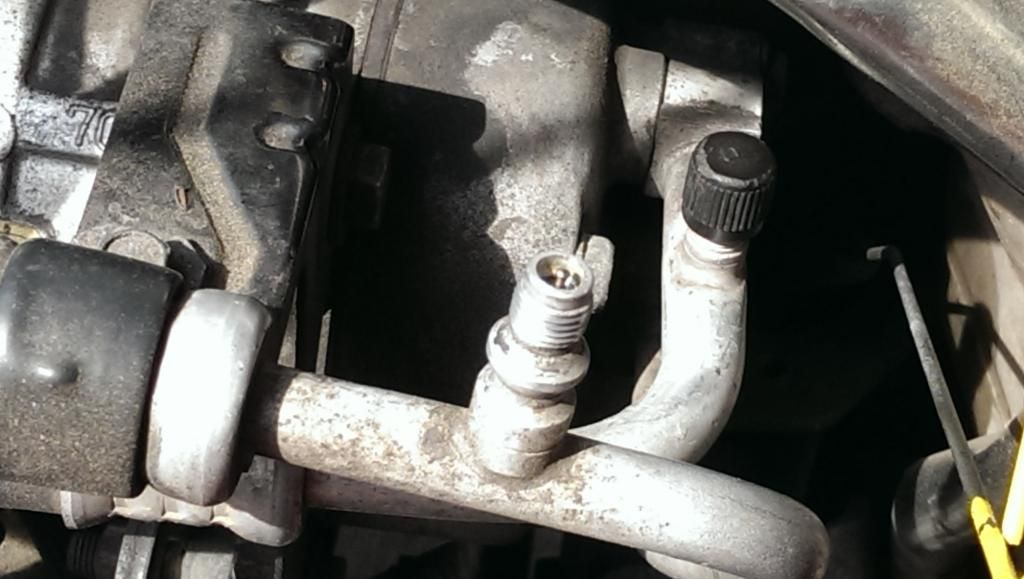 Last year when I bought the truck (1993 Mazda B2200 carb'd) the a/c worked OK, not stellar but it was the end of the season so it was good enough. Now that it is getting warm I find that the compressor does not kick on at all. The spinny thing on the front of the compressor does not move when the a/c button is engaged on the dash. I have checked the ac fuse and it is fine. Here's where it gets fun - I think this truck uses R12, based on the opinion of the guy at the local parts store that I trust.
Now, looking on the internets I find that there are differing opinions (surprise) as to whether you can upgrade to 134a without changing parts. I always ASSumed that the conversion would require at least a rebuild of the compressor to replace o-rings, and of course that sounds like a huge pain in the ass so I would guess that is probably the case here. Is it possible to just recharge it with R12 or is that stuff unobtainium nowadays? I didn't want to take up the parts store guy's whole day with my a/c ignorance. I know the right thing to do is find the leak first, and I will have to call on the assistance of someone who has the equipment to do that, as alas I don't have a UV light nor any cool ass yellow glasses.
What say you guys on the whole conversion? Should I keep it R12, which by what I'm reading provides better overall cooling that the 134a and has the potential to be cheaper? Or should I start saving my scrillas for a 134a upgrade, and if this is the answer, what can I expect to spend to convert it? I know I don't have the tools and know-how to do this myself, but I want to get my brain wrapped around it some before throwing money at it.
Thanks as always for your advice gang!