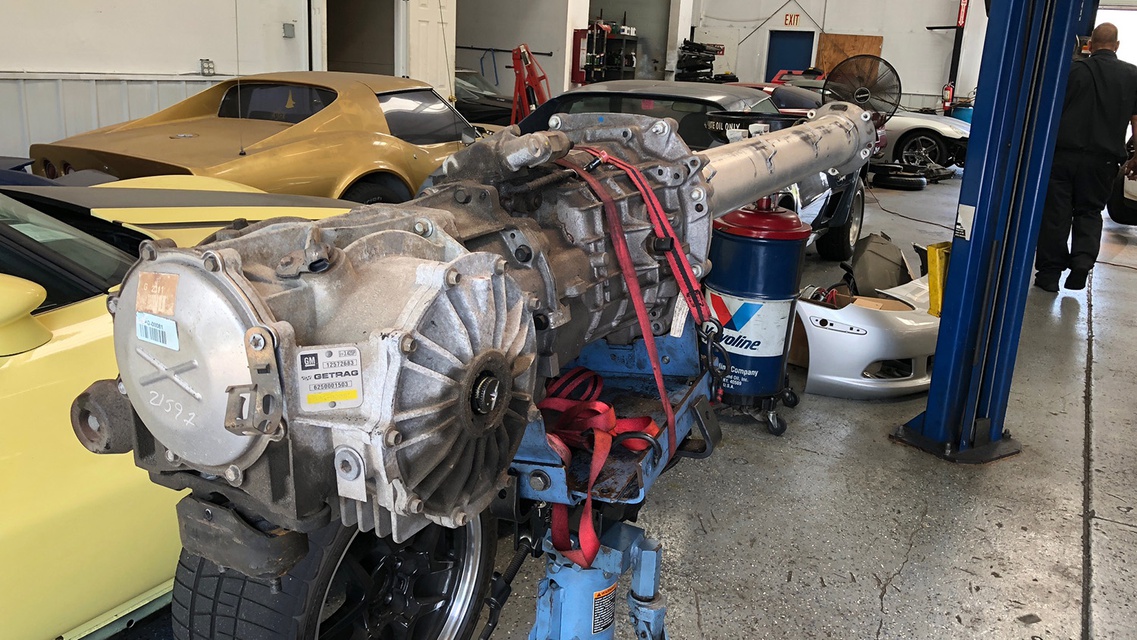 Autocross can be tough on clutches, since every run requires launching the car from a dead stop. We noticed the clutch slipping on our 98,000-mile C5 Corvette Z06 during the last event, which meant it was time for an upgrade. That's easier said than done: Corvettes have transaxles in the back instead of traditional transmissions behind the engine, meaning a clutch replacement is quite complicated. To change the clutch, most of the driveline has to come out of the car, along with the rear suspension cradle. It would be a shame to disassemble the car that far without taking care of a few "while we're in there" jobs, and just like that our simple clutch replacement had creeped into a full-on maintenance odyssey for our poor Corvette.
We've never split a Corvette in half before, so we enlisted the help of a few experts: The Vette Doctor in Melbourne, Florida is full of GM factory-trained technicians. They work on every generation of Corvette every day of the week (hard to find more of an expert than that). They were kind enough to walk us through their process, and point out a lot of the potential hazards and service possibilities along the way.
For example, once you remove the transmission and torque tube, it's going to be your best opportunity to replace the drive couplers and bearing in that torque tube. Should they fail later, it means another major disassembly. Ditto with the leak-prone rear engine cover plate and rear axle seals. A little bit of preventative maintenance while the car is apart may sting the wallet a bit, but not as bad as having to do it all again should there be a preventable failure once it's back together.
What did we put back into our Corvette? We chose the Quarter Master Optimum-SR single-disc clutch and flywheel combination. Our stock clutch disc, pressure plate and flywheel assembly weighed in just a hair over 49 lbs. Our Quarter Master setup weighs in a little below 39 lbs, dropping just over 20% of the rotating mass of the assembly. It reduces enough rotating mass to help the engine rev a bit quicker, but not so much that it becomes intractable at part throttle or off-idle. It's an excellent compromise, especially considering we increased clamping force as well–the new clutch can handle up to 700 horsepower and 500 ft.-lbs. of torque. Since this is primarily an autocross and track car, precise launches and shifts are critical. We also wanted some additional clamping force and friction, since we're planning on adding power in the future. Why didn't we choose some 8-disc wonder clutch that can hold 1500 ft.-lbs.? We didn't want to sacrifice street manners for capability we'd never really need.
The crew at The Vette Doctor was kind enough to share some of their driveline maintenance tips with us on an edition of Grassroots Motorsports LIVE! Check out that episode below: