Immediately after the Tire Rack SCCA Time Trial Nationals, we ripped the engine out of our C5 Z06 in preparation for its forthcoming LS swap (wherein we swap our LS for a different one). Of course, when you remove the engine from a Corvette, it usually comes out with the entire torque tube, transmission and rear end. Since our torque tube was recently rebuilt, we figured that before the trans went back in it was time for some R&R.
We dropped the trans a rear end off at GearFX in Mooresville, NC, where it was rolled into a bay among dozens of transmissions, rear ends and drive systems heading for NASCAR teams all over America (but mostly in North Carolina. Seriously, you can't swing a dead cat near Charlotte without hitting half a dozen Cup teams). Anyway, GearFX are experts in high-end drive system prep, and squeezing the last little bit of performance and reliability out of drive systems. We discussed out proposed upgrades to the rest of the car, and they set to work.
First order of business was disassembly and inspection of our transmission. After nearly 100,000 miles—much of it spent on track—our trans still physically worked, but we figured it was on borrowed time. Putting it behind a fresh and more powerful engine without some upgrades—or at least a good look over—wouldn't be prudent.
The trans was separated from the rear end and everything was disassembled within a couple hours—this was definitely not the first time the GearFX crew had taken apart a T56. Inside the trans was actually…not horrible. As predicted, the second and third gear synchros and engagement teeth were a bit worn—the occasional grind on 4-3 downshifts tipped us off that that might be something we'd find. But on a cursory inspection, we found no imminent disasters. A more thorough checking of the structure of the gears and gear support shafts will come next through a process called magnafluxing. We'll report the results from that when we get them.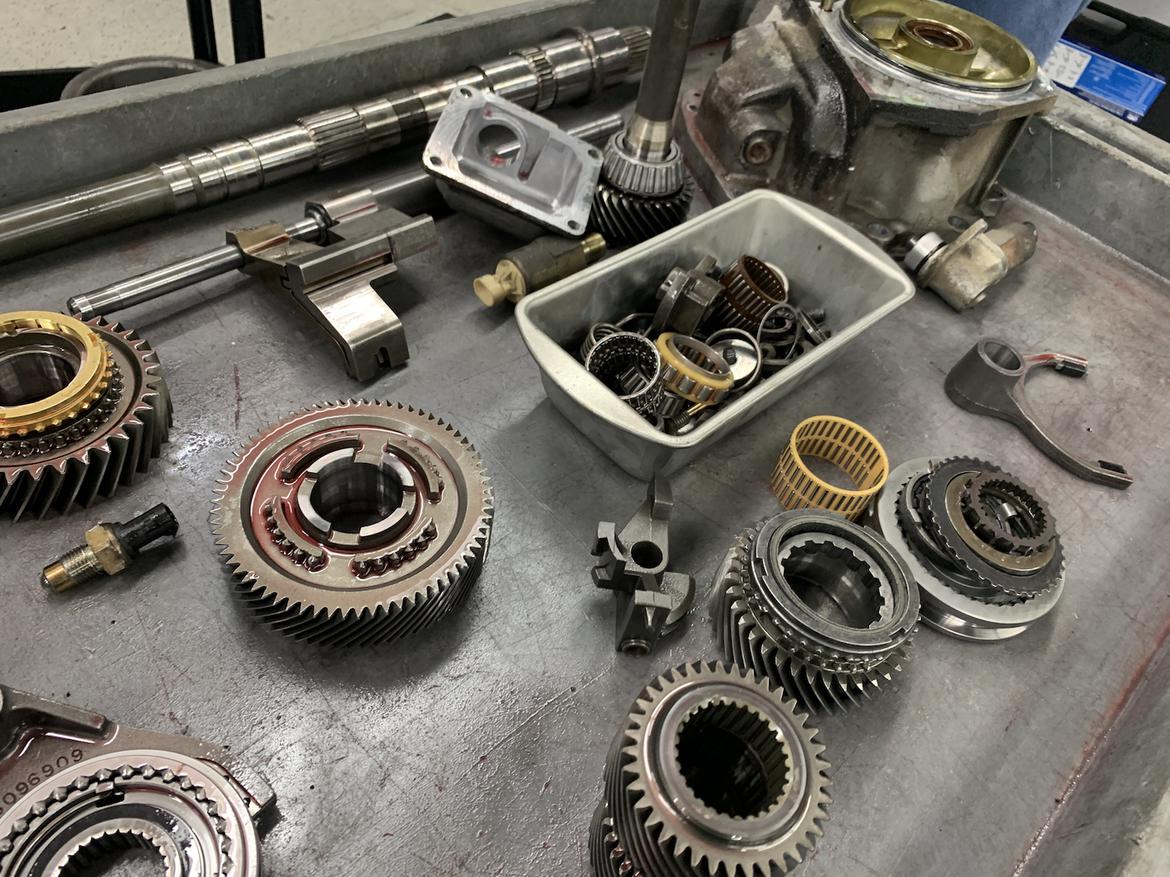 We definitely did find some issues in the rear end, though. Broken belleville washers, which hold tension against the clutch packs that transfer torque from one side to the other across the limited slip differential were obvious upon disassembly, with cracks in the washers and entire missing bits of washer being evident. Those chunks that had broken off had to go somewhere, and in this case somewhere means being ground up in the fluid slurry of the rear end. Not a great thing for either differential functionality or longevity. Looks like we caught this one at a good time. A Wavetrac torque-biasing differential will replace our clutch-based diff upon reassembly.
We also found a couple other areas to possible upgrade the function of our trans, like the universal joint that connects the shift linkage to the transmission. It's quite sloppy, which not only means imprecise shifts, but also the potential for premature wear stemming from that imprecision.
In a future update we'll discuss some of our upgrades further, as well as the large scale friction reduction program that GearFX is putting our transmission through.