There has been a sim racing group here on the forums for at least a decade. We have been working on ways to up our game and started offering T-shirts to the winners as prizes for the series winners. As we were designing then we reached out to Tom at GRM about using the GRM logo on the shirts. Due to legal stuff, the answer was an unfortunate no can do. BUT Tom then offered up to provide a free T-Shirt to the winner of our upcoming series. Needless to say, we accepted the offer!!!
For starters a HUGE THANKS to Tom for making this generous offer!!!! The T-shirts will be designed by Allaircooled and then submitted to Tom at GRM for approval and then printing. The winner of a racing series gets a free shirt for the series and copies will be made available in the GRM store for purchase by everyone. So even if you don't win a sim race or if you just like the design and don't sim race at all you can get one.
About the series. First and foremost it is about having fun. Yes, we are competitive (we are all racers after all) but clean close racing is what we strive for. Winning a race with a 10-second margin is great but racing to the line with the winner determined by inches is way more fun. We promote close clean racing.
One of the biggest things is that if you are new to sim racing or an old pro everyone is welcome. Car setups are shared and help from seasoned veterans is there for the taking. The more people we can get up to speed the more fun we all can have.
We are starting a new series a week from tomorrow. We will be running GT3 cars. At the moment there are a dozen different GT3 cars that we have vetted for the race. All are competitive. The list is as follows: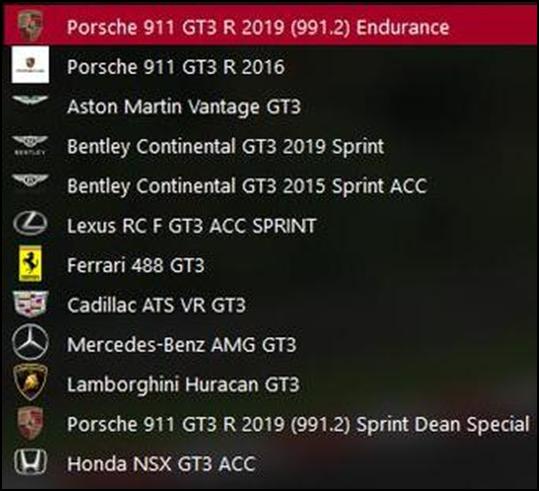 Bullet Points Of This Post:
Yes, we are hoping to add to the number of people that will race with us. More people racing means more fun for everyone.

All Levels of experience with Sim racing are welcome. Beginners are especially encouraged to join us. We can help you get things sorted and get you on track

Upcoming Series: GT3 cars. Currently, there are a dozen or so cars available for use in the series. (list further down in the post)

Series type and Format: 8-10 races points-based series with two drops and a handy cap system to increase competition.

Sim Platform: Assetto Corsa on the PC. (sorry consol users) It is currently available on Steam for $19.95 but is frequently on sale for as little as $7.99. This is the original version, not the Assetto Corsa Competizione version. Yes it is a 10-year-old game but because it is open source the community has continually updated.

Car and Track Content: Free. Yes Free. It is an open-source game released in 2013 and as such if you can dream it up you can race it. The same goes for Tracks. I have a library of over 700 "cars" that I have got online that are all free to the public to download. I dont know how many tracks I have.

Servers: We have 2 that are run and maintained by us/me. One is up 24/7 for practice and the weekly series race. The other is used for testing or one-off events of just messing around with things like double-decker busses or airport stair truck racing. There is even a covid car that has rolls of TP as wheels.

Do I need a powerful PC to do this: No! A basic PC and a 9 or 10 series Nvidia graphics card will work well. You don't need a powerhouse of a PC. Just about any PC built for the home in the last 5-7 years should be good enough to get you racing without issue. This is a 10-year-old game designed to run on 10-year-old hardware.
The series format:
Currently, it is an 8-race points-based series that may extend to ten races with two drops and a handy cap system to increase competition based on finishing position. The Handy cap system is to promote close racing. This is done by adding weight to a competitor's car. The better you do the more weight you get for the next race. Finish low in the race if you have weight you get some removed.
Races are held on Wednesday nights. The typical race format is people generally show up on the server between 8:30 and 9:00 Eastern to practice. At or about 9:00 we start a 15-minute qualifying that then leads into two 15-minute races with the second race being a reverse grid of the finishing order of the first race. Your finishing position in the two races is averaged and a winner of the "event" is determined. In the event of a tie for a position, we then look at the finishing positions of the first race to break the tie.
What do you need to participate?
The shortlist is: A PC, wheel and peddles, a copy of the Assetto Corsa, and a discord account. Optionally a headset with a microphone is technically optional but highly recommended as you could use your cell phone. Another optional (and free) bit of software that is strongly recommended is something called the content manager. It is a big part of what mods the game bringing it up to modern standards
You don't need a super high-end PC. Something that is 5-7 years old and was a middle-of-the-road PC should work fine. You also don't need an extremely high-end graphics card. A 10-series card should work just fine. I think some people are playing on 9 series cards. I run a 2060 Super and it's way overkill. It pushes out 2K at over 300 fps while my 2K monitor is only 144 hz. In short, a low-end PC and graphics card by today's standards should work fine.
Assetto Corsa: It is currently available on Steam for $19.95 but is frequently on sale for as little as $7.99. This is the original version, not the Assetto Corsa Competizione version. Yes it is a 10-year-old game but because it is open source the community has continually updated (more on this later). Oh and this is a one-time purchase there are no monthly fees.
Discord: This is one of the best and most widely used voice chat software available and it is free. You will need to set up an account and we will then send you a link to the discord channel. The discord channel is used for voice chat while we are racing or practicing. It is also used in conjunction with the forum here on GRM to post about upcoming races and ask questions and coordinate times when people are going to be online practicing.
Other Things:
Assetto Corsa being open source and why is this so good? It means that if you can dream it up you can probably drive it. The modding community for this game has created many thousands of vehicles and an equal number of tracks. Do you want to run a 1960's / 70's trans am race using historically accurate tracks? No problem. Ever wondered if you can race double Decker busses? Done that. Want to race them on a figure-eight track? We also did that also. What about trying to use this as a tool for real racing? We recently built a car that mimicked a GRM member's real race car and then ran the One Lap of America tracks as a series as preparation for the real One Lap of America series.
There is so much content out there it is almost overwhelming. Here is a link to one of many sites to give you a small look at what is out there. https://assettoland10.wixsite.com/assettoland/cars. I have over 700 vehicles in my car collection for the game and I have lost count as to how many tracks. There really is something for everyone from the extremely old turn-of-the-century cars to modern F1 and prototype concept cars.
Another benefit of open source is you can modify existing cars and create tracks. You can even create your own cars. You want a 1000 hp E30M3. No problem. Put a 5000 hp dragster motor in a chevet. Sure. . .. You are only limited by your imagination.
Servers: We have our own. We got tired of being beholden to the online servers that most games come with access to. The problem is that as the game ages out the servers shut down and you have to start all over with a new game. It is annoying and costly as the new games plus added content can set you back $100.
So in response to this, we decided to have and run our own servers. At the moment we have two. One is generally running 24/7. It is used for the weekly races and then open for practice the rest of the time. People can get together there and test and tune for the races. We have a second server that we use for testing for future race series and or for testing of the weird or unusual stuff or special events or testing of cars that we have created or modified. This server is not on all the time. As time allows we may try and move this over to a different machine that can run 24/7.
So if you managed to get through all this. Thanks!!!! We would love to have others join us sim racing. First-time sim racers or seasoned veterans are all welcome. The point is to have fun. If you are interested you can PM me or post up in this thread. There is a group of us here that will be glad to help anyone that wants to join us. The biggest thing would be to get a copy of the game and get discord up and running and then join us and we can help with the setup of the game and or hardware or software or car setups and tuning tips or whatever.
There are several people here that are experts in various aspects of this group. This is a group effort. I happen to run and maintain the servers. Others are much more versed in things like Discord and several people are extremely versed in the game than I am. If you are having a problem one of us can most likely guide you in how to fix it and get up and racing.
I am sure others will also post up here about things I have forgotten. For now, if you are interested in sim racing we would love to have you join us.