Short version of my question:
What is the "ideal" set up for a strut front suspension? I of course, know ideal doesn't exist, but would love any insight the hive may have.
The longer question:
I am working on a Fiat X1/9 Challenge car. There is already surgery that needs to happen in the suspension arm location, so this would be the ideal time to build it right. Variables that are nailed down so far are Aw11 struts, cut down for rear inserts and coil overs, 1/2 inch heim joints, and I'd like to keep the locating point of the stock front strut arm.
So, I have a pretty decent grip on A-arm suspension geometry.
The rack width and steering rod length should fall within the quadrilateral described by the upper and lower A-arms:
The thing is, struts just describe long arcs. I believe job #1 is to make the control arm as close to horizontal at ride height, also, have some negative camber dialed in. Then I get a bit lost. Watching Binky, I know raising/lowering rack height will change the situation. There is a limited amount of space where the rack can fit, but I have control arm length and rack width to play with.
I have heard it said that, for instance, if I used a rack like this:
and lower control arms that almost meet in the center of the car, I could get "zero bump steer". Note the tie rod attachment points for the rack above are very close together.
I do have books on this somewhere, but am having difficulty laying hand to them.
Here's another rack option: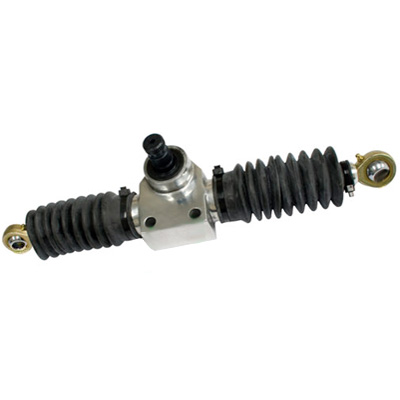 , but having those mounting points so close together looks suspect. Lots of force going through a front suspension.