UPDATE: More additions down the page a bit!
UPDATE 2: Built a second kinda-similar rack for the e30, down even farther in the thread
UPDATE 3 (April 2019): Made some modifications to the rack (down on page 2)
Ok, so this is not my idea, but unless you follow Chris Nonack's RX-7 rally thread you likely didn't see what he did for a super-budget whole-roof cargo rack on The Chief. So I did the same thing, except with more customization. I'm sure we're not the first to do this, but figured might as well do a little write-up anyhow. Anyhow, was looking for a good full-roof rack and/or basket to mount things like lights, carry tires, etc on the tow rig Sequoia. There are basically three options: 1. Off-the shelf or manufactured racks, which run from about $150 (for smaller aluminum baskets) to about $1500 for the nice ones (Bajarack, etc). 2. Buy materials, weld them together, make rack. I priced out various types of tubing (square and round) locally and was looking at about $200+ for materials (nothing is cheap in this area). 3. What Nonack (and I) did: Chris pointed me toward an ebay/internet seller called Discount Ramps. They sell trailer ramps, pickup truck ramps, etc. In particular we're looking at the "triple-folding steel ATV ramps - long" They're 72" and as the name suggests, they are hinged so as to fold up. When laid flat they look like this - though I'm not sure how you walk up them or ride your ATV wearing stiletto heels.... and this:
(ok, the ebay photo link is dead, so I just removed it). Anyhow, google "tri-fold ATV ramp" on ebay and you'll see it.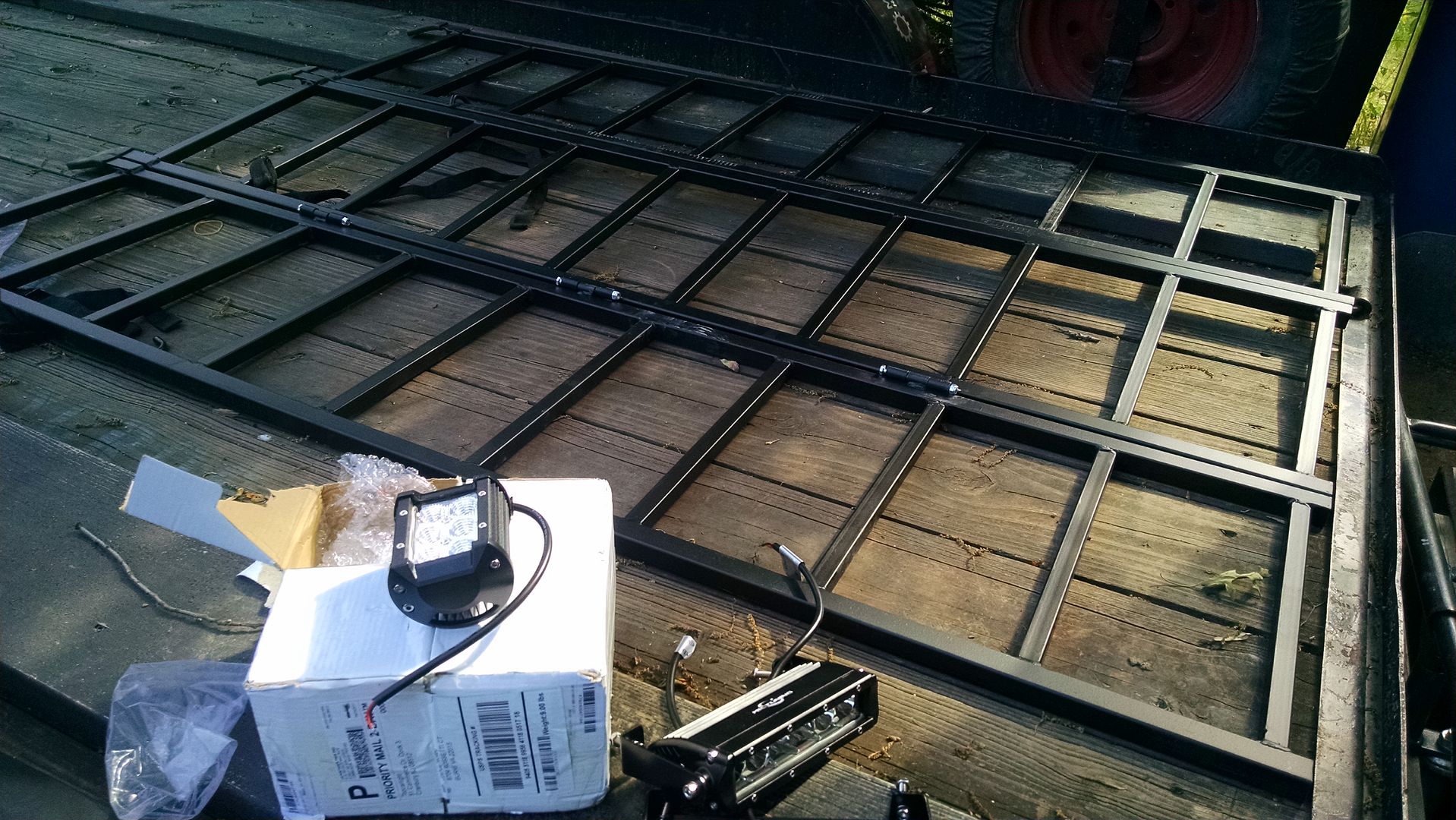 The good part is that on ebay, you can pick these up for $99 SHIPPED (not bad for 50lbs of steel). Yeah, it's made in China stuff, but it's good enough for our purposes here. Also they arrived in 2 days, which is pretty good for free shipping from Wisconsin to Virginia... When Chris made his, he just folded them out flat and seam-welded opposite of the hinges to make a rigid rack, and used U-bolts to attach it to his Suburban's stock roof rails.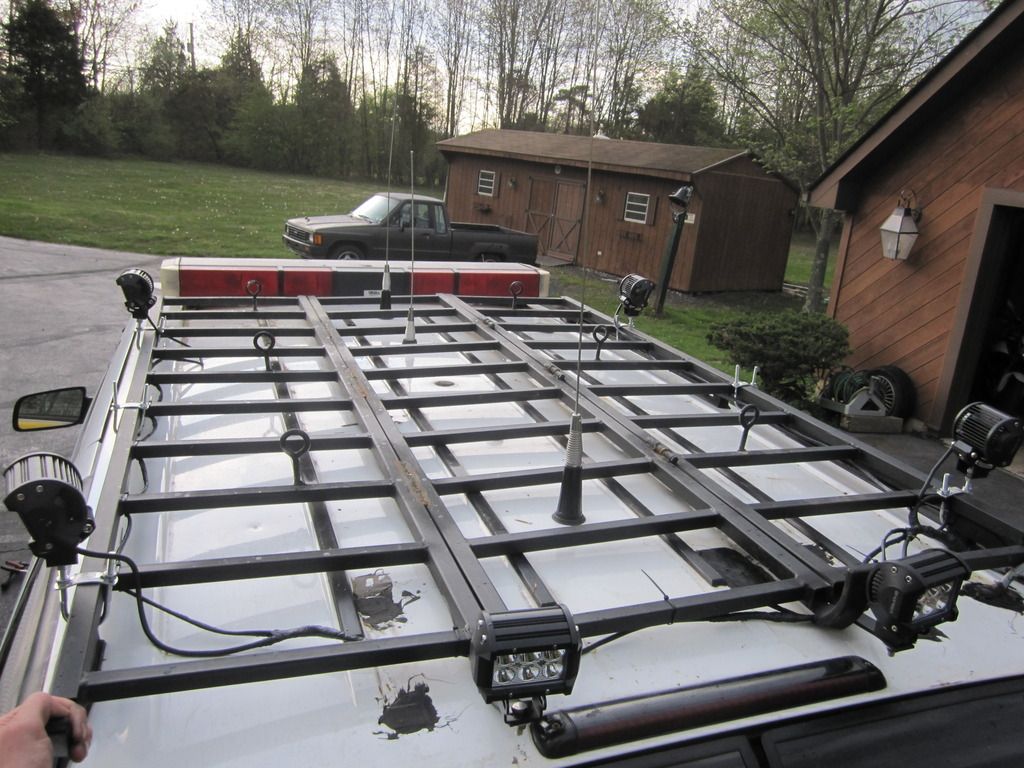 The Sequoia's roof rail spread is a bit narrower (by about 3-4"), and I didn't really want any overhang on the sides. I wanted the side rails of the rack to sit directly on the OEM roof rails (I may make bolt-in feet eventually, but this is good for now). So I cut the three sections apart, and removed two of the longitudinal rails (which you can see in Chris's picture above), and basically welded everything back together in my usual less-than-beautiful style. This has the added benefit of knocking 8-10lbs off of the weight of the rack without really sacrificing any strength I didn't take any "in progress" photos, but here's the end result. Alignment of the ladders is a bit off since originaly everything was pre-tensioned. This is as close as I could get everything using some ratchet straps and clamps.
Did some cleaning up of welds, smoothing out the cut-off hinges, and added a piece of angle iron to the front to seal up the open fronts of the tubes other than a small hole for future wiring. Then with the 6-7 cans of dark red spraypaint that Pat Henry gave me a couple months ago for rally car work, I just blasted the whole thing with several coats.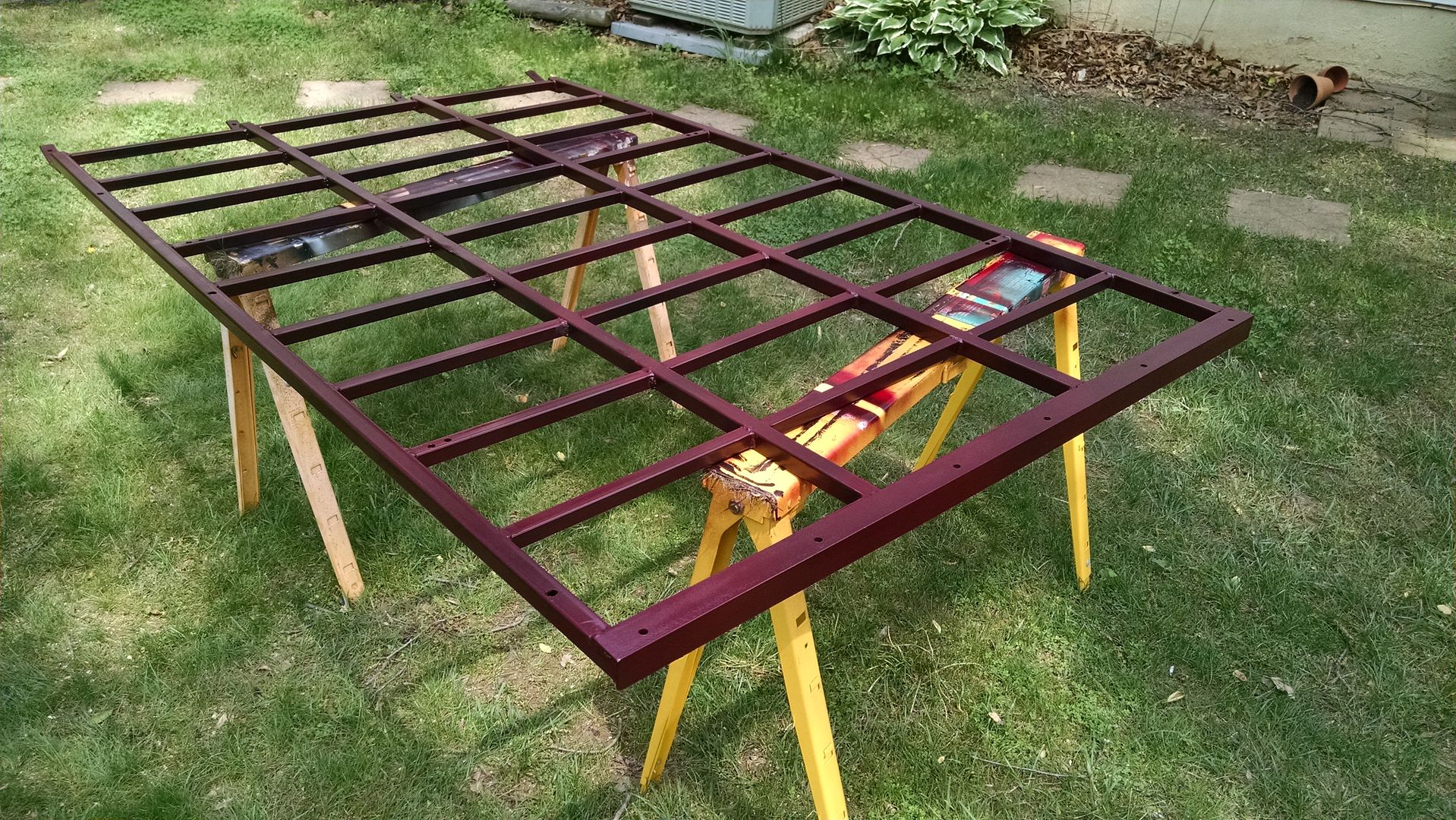 And mounted it to the OEM rails. Now the OEM rails have some front-to-rear curve to them (and the rack is perfectly flat) so I mounted the center of the rack down to the OEM rails, and then made some spacers for the front and rear to get the 3/4" or so I needed filled. These spacers are $1.99 for a pack of four at Home Depot....they are the rubber things that you put over the bottom of chair feet so they don't slide. Heavy duty rubber, just cut them shorter and drilled a hole..
Also copying Chris, I used China and ebay some more by getting an 8-pack of 18w LED worklights (and two slightly nicer front flood/spot LEDs), all of it for about $60. Gotta love cheap stuff. But we've been using this same "brand" in a larger lightbar on the rally car for a couple years and it hasn't leaked and provides serious light output. So I think these will hold up well. You can see one of our rally car ebay light bars at the top of this pic, actually.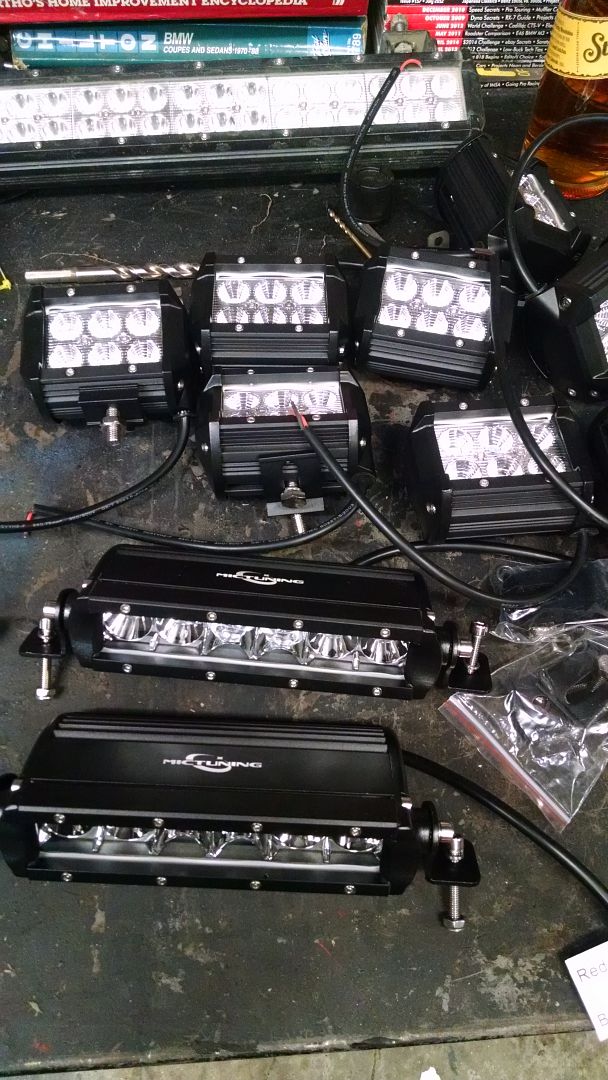 The ATV rack conveniently had hook arms on one end to latch over a pickup truck bed. I bent them straight and they're great mounts for the rear lights. I also left the rear end of the rack tubing open so I can run my wiring through it to the front.
Front lights were mounted to the upside-down angle iron I installed, which covers up/protects the bolt threads and hides them.
And yes, my tilt-up Sunroof still clears by an inch or so :) So anyhow, here's the finished product (other than wiring all the lights, which I'll do next week). Not the fanciest thing around, but it's pretty much exactly what I wanted - cheap, fairly lightweight (40lbs or so), strong enough for my purposes (ramps are rated to 1000lbs supposedly), and low-profile unlike a lot of the roof baskets out there.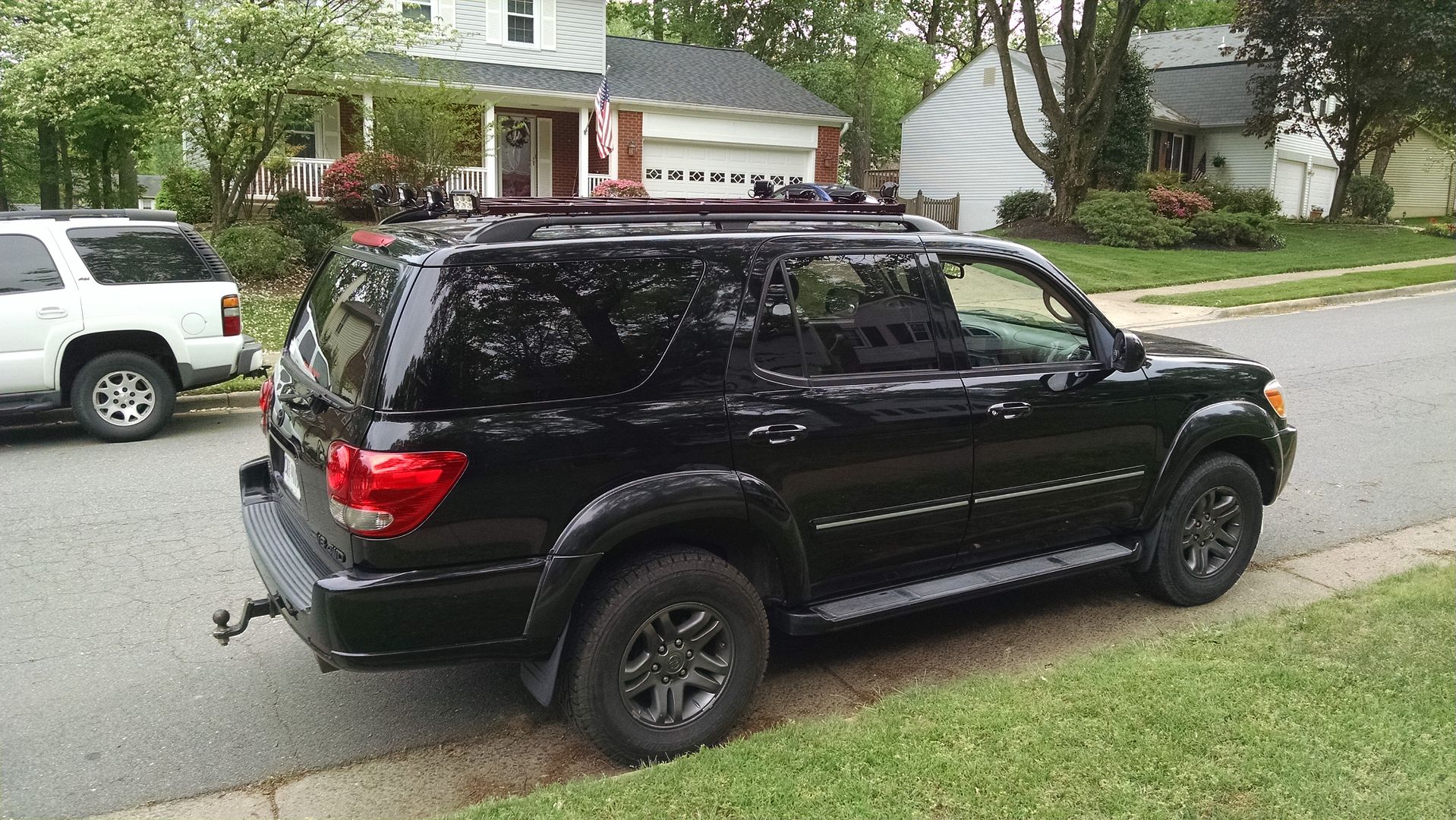 Again, credit to Chris Nonack here on GRM for the original idea. All told, total cost was under $200 including lights, wiring, paint and some stainless hardware I bought to mount it with. (ok, I did get some nice switches to fit into my stock switch blanks in the dash, so that puts it over $200, but it could have been done with normal radio shack toggle switches or whatever. *Go down a few posts and check out the "chicken coop" addition lol*