So I've talked about my family's vast plethora of old cars on here a lot and have received requests for pictures. Add in to that that my family gave me the photo albums to digitally scan (which I still haven't done) and I should probably get my butt in gear.
Anyways, here is the first installment.
This is American Performance Products, the first all-AMC restoration & race shop in the world. My Grandfather started it well before I was born. This was the second shop, in the Cocoa, FL Industrial Park. The cars are (from L to R):
1969 AMC AMC "Ramblin Nash", NHRA Super Gas racer
1969 AMC Hurst S/S AMX "Magic" (#41 of 52)
1981 AMC Turbo AMX PPG Pace Car (1 of 1, actually paced the races)
1968 AMC AMX 390/4-Speed (Grandfather bought new)
1968 AMC AMX 390/4-Speed (My Dad bought at 15, still owns today)
This is a different shot from the same day. The car on the left is my Dad's AMX (he lives about 20 minutes from GRM HQ and it runs 11.2's N/A with a 4-Speed, he'll drive it to you!), the middle is the Turbo Pace Car (258 I-6 with a turbo and mechanical fuel injection, if you went to the Daytona Spring Spectacular between 89-98 you saw this car on track), and Gramp's 68 AMX (just sold it last year, 11K original miles, AACA Gold winner).
Lastly is an old shot of the SUper Stock AMX "Magic" at Orlando Speed World in the 70's. That's my Uncle Dave in the background with no shirt on. The car was painted with real Kandy colors, it had a gold and silver base and then was coated with Candy Red, Candy Orange, and Candy Gold. It was beautiful.
It's in Finland now, here's a 2004 shot: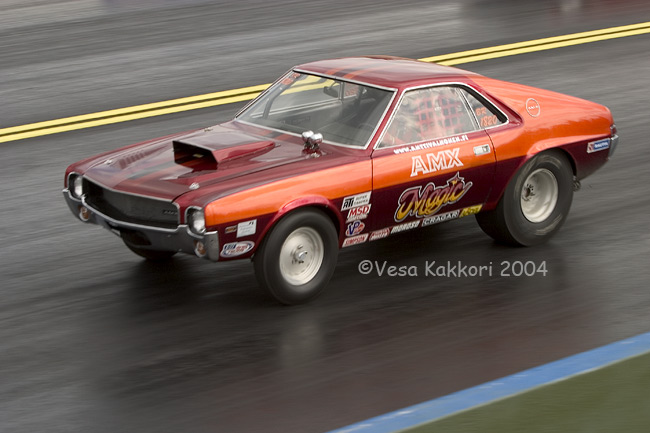 They've since re-painted it
If y'all have any requests, I'll try and do certain cars quicker. I know my Gramps in particular has been bugging me like crazy.