So I spent a day last weekend cutting up my race car.
Some backstory.
I built the Targa Miata out of a 200,000 mile shell for the Targa Newfoundland. The first step was to weld in the cage, then build the car around there. The car competed in the 2008 Targa with a high compression, bored and stroked 2.0. Then it got a modified L33 5.3 liter V8 and went back to the Targa in 2011. After that, it morphed into a track car that happened to have skid plates and weather protection. I exchanged the 5.3 for a 6.3L engine and started bolting on more aero. The rally computer was removed to be installed in another car for an aborted run at Targa 2016.
Over the past couple of years, the car has seen less and less track time. It's outgrown our local kart track, and FM has other halo cars that get priority when it comes to shows. If I want to play on a big track, it's a 5 hour tow each way and an overnight stay. I recently sold a set of stickered race tires that I'd had installed on wheels two years ago - I'd never even managed to run them. Meanwhile, the front half of the cage is...dated. It could offer more safety and more room. Some of that is the Hard Dog design that is biased more towards ease of installation than ultimate space, some of it is compromises that were forced by a unique rule set a decade ago. So the long-term plan if the car is to remain a track car is to cut out the front of the cage and replace it with a newer design.
But...
It's always been road legal though all this. Rally car, right? What if I tried turning an experienced and patinaed race car into a street car for a while? This was probably done with various megadollar Ferraris when they were just uncompetitive race cars 60 years ago. The first step is the same, cut out the front half of the cage.
So that's what I did. This is what happens when I go into the shop and feel like doing something fun.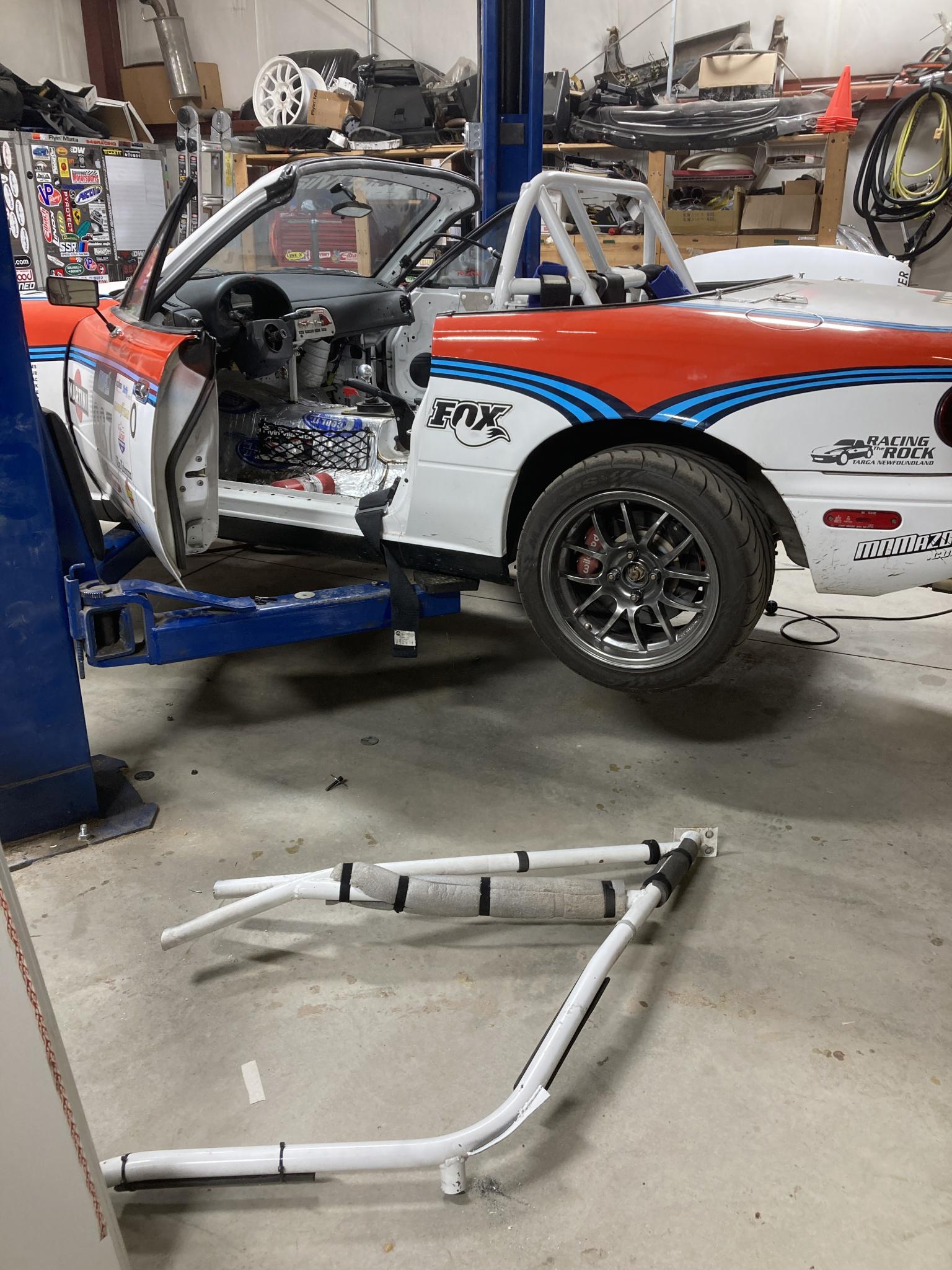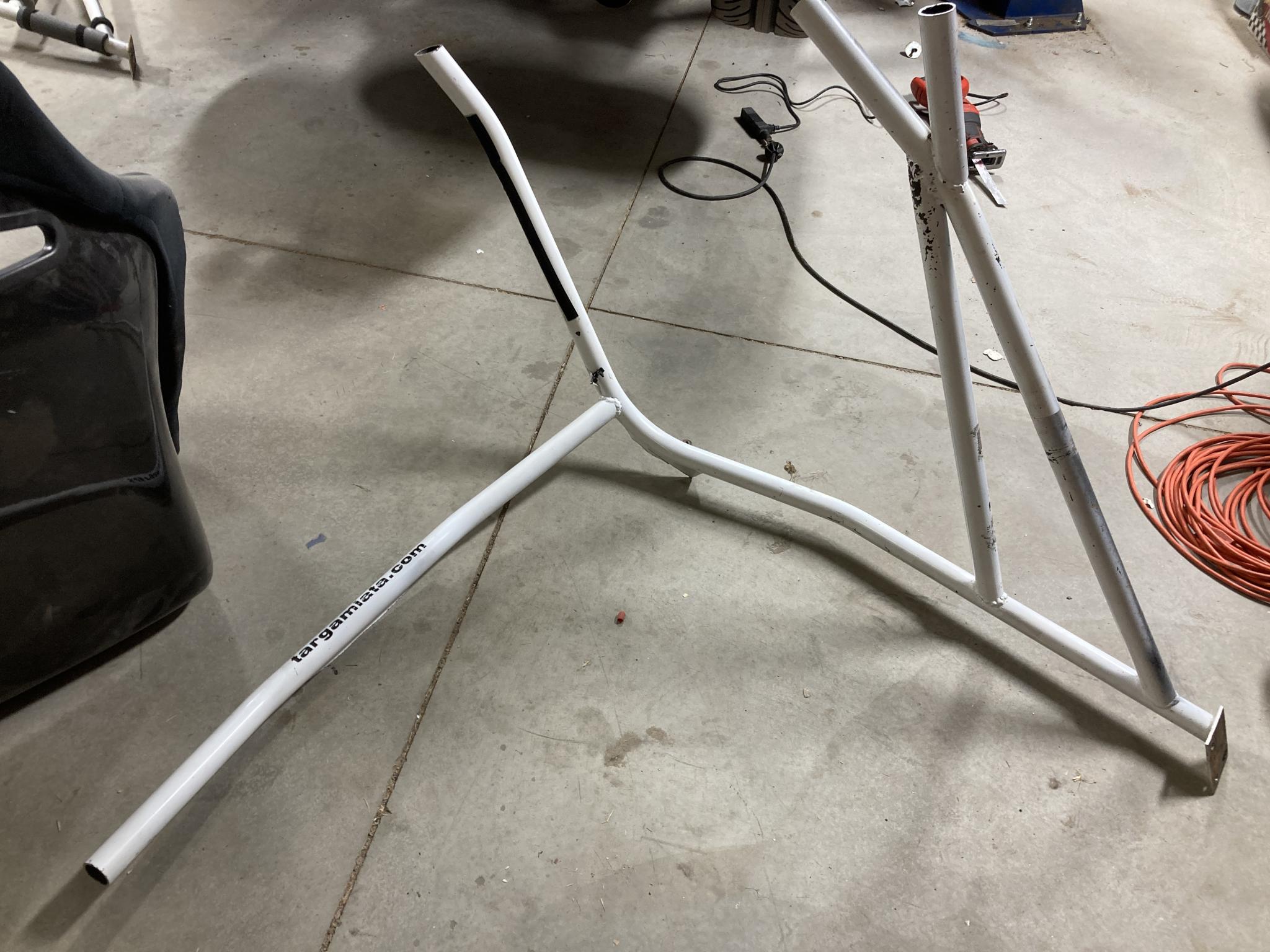 Gulp. That's a real statement of intent. I've never actually driven this car without a full cage and this is the first time it's not a weekend away from being capable of rolling up to the start line of the Targa Newfoundland. After the sawzall surgery, I ground off the stubs from the main hoop so I can either add padding (not really an issue with my seats) or simply make it look less like someone sawzalled a cage out of the car.
Also - the front brake hoses are removed. The big 3" diameter ones I use rub at any real lock and the hoses were pretty haggard anyhow. I mounted a set of 200 TW street tires in a 245/40-15 size because, well, because. The brake pads have been swapped out for a street-friendly compound. Ride height is raised up to a street-friendly number and the front airdam, spats, engine skid plan and flat undertray are gone. The skid plate was damaged, that's why it came off. I also pulled the wing off, although that's a 3 minute job to replace. I've pulled the harnesses so I can replace them with newer ones.
So that's step 1 of the Targa Stradale. So far, all the changes are ones I'd be doing if I were updating the cage for hard-core track use or are simple bolt-ons. But the next step will divert a little further.