Hey guys as the title implies I am wiring up a 2G alternator for my rx7 302 swap. I have been around on the mustang sights and everyone talks about the 3G upgrade and they don't have much to say about the 2G. Here is a diagram I found that seems to explain it all but I have a quick question.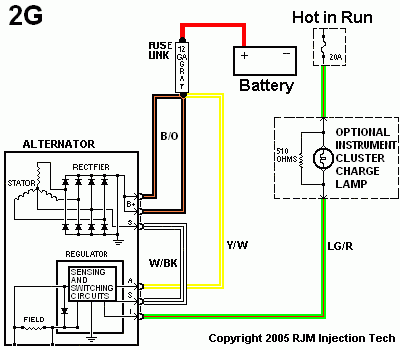 Looks simple all the wires run to a fuse then to the battery/car except for the green wire. I have that done but I want to know and understand the use of the green wire before I wire it up. I am thinking that the green wire is a cut on switch that turns the alternator on so it know to make power. Am I thinking about that right? If so it should not need a large gauge wire running to it and should just need a simple 12v source ignition found somewhere under the hood.
Thanks for the help guys! Slowly going to be a wiring guru thanks to yalls help!