I have had enough of not having what I want, when I want it, where I want it. I try to keep each car supplied with some basics, but inevitably they get taken out and dissapear. So I have decided that I need a purse. I am not really ready for the mocking that would entail, so I searched for a solution and came up with an EDC or every day carry pouch. This waas my inspiration: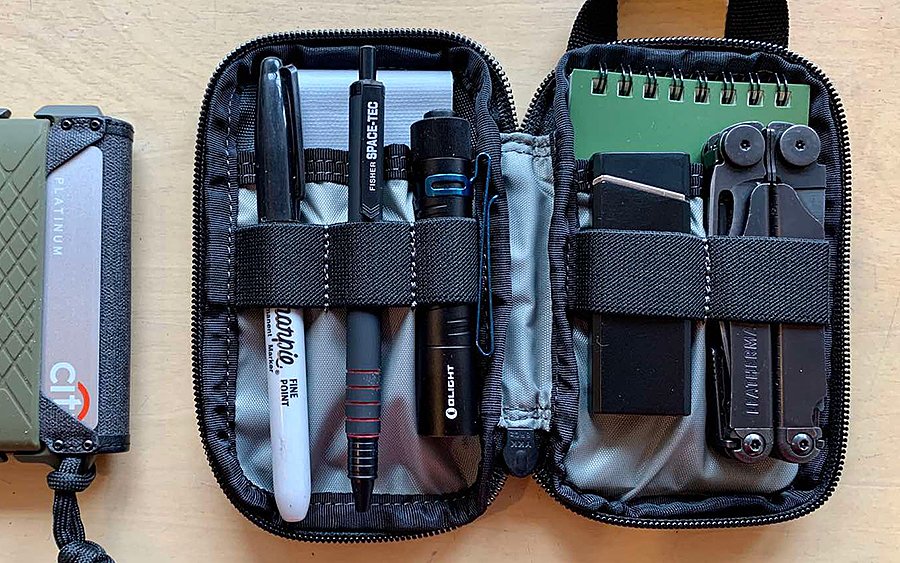 Most of these assume you are going to get stuck in the woods and have to fend off bears. For me, I assume that I will be at Panera and not be able to charge my phone or take a call on headphones. Or I will have to unscrew something or open a box or find something in the dark. So I bought a little pouch and I went with the following:
Leatherman Wave - Little of everything in a compact unit
Flashlight - Yes, iPhones have flashlights, but this one is also a USB battery to charge devices so it has a dual-function.
Sharpie and Paper - The sharpie has thin and broad tips and some scrap paper let me take notes or leave a note.
Lightning Heaphones with 3.5mm adapter - I can take calls or listen to music on the phone or laptop or whatever
Multi-plug USB charger - With Lightning, mini USB and the other thing I can charge most things. Will replace one that adds a USB-C plug as well.
USB wall charger - Cords are easy to find in the wild, plugs are not.
Tweezers - Someone always has a splinter and it is usually me
Cable tie - because why not
Lens wipes - for cameras or glasses
Cash - for emergencies
Bic Lighter - No one I know smokes, so when you need to light fireworks or a stove at a camp or burn the evidence, its handy to have
And that's it. Its too big for my pocket, so I am trying to get in the habit of tossing it in the car or bike whenever I travel. Anyone else rocking a man purse these days?