If you live in a PO Box in Ridgefield WA, (1) I hope things get better for you and (2) the contents of this box probably won't help.
and now that my box is ready to send, I will confess that I did indeed open the box from Jumper K. Balls before I packed mine. When my recipient posts pix in a few days, the eagle-eyed among us will probably spot a couple of minor regifts. Ok, enough talk, let's check out Mr. Balls' package!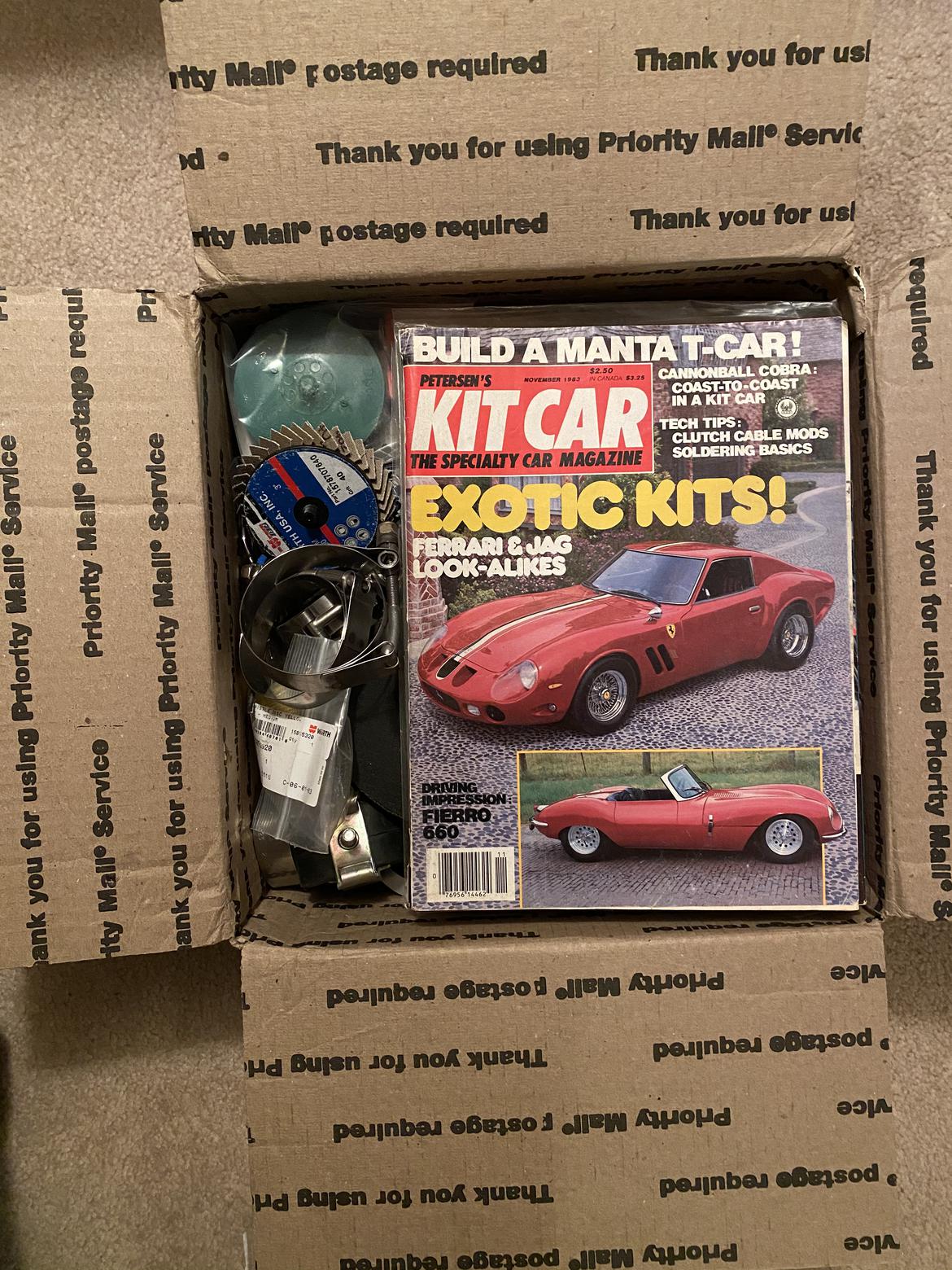 on top of the stack is a 1983 issue of Kit Car magazine! Who knew there was once a Fiero-based Jag E-type kit?!?! Not me.
the rest of the stack was 9 random issues of CarToons, ranging from 1964(!) to 1991. My 14yo and I will enjoy these.
after that was a Car Week Survival Kit courtesy of Hagerty: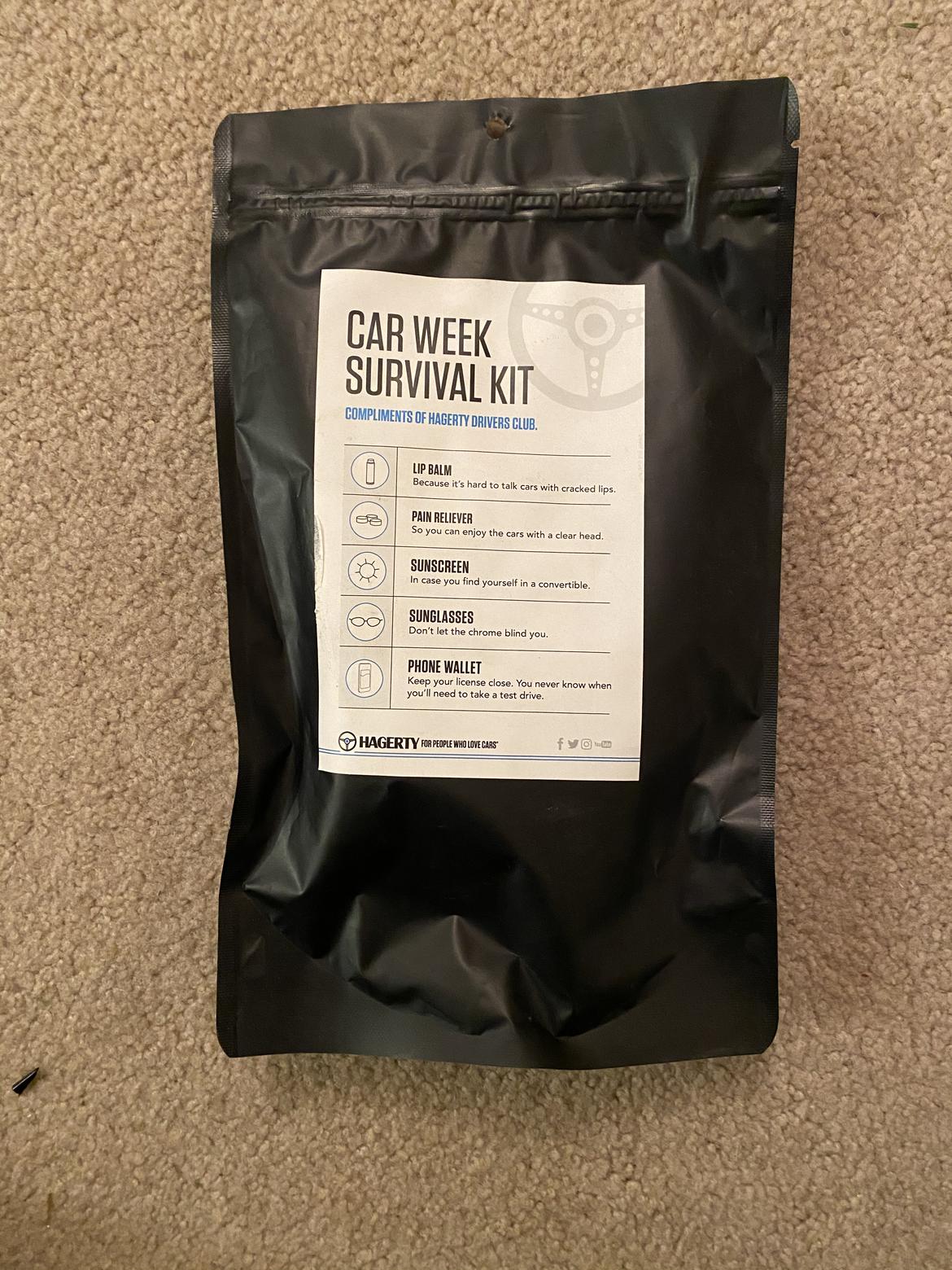 Then there was a bunch of stickers that will show up later in this thread because I'm not really a sticker guy:

I *did* cherry-pick one sticker from the bunch below, because it is berkeleying awesome:
that round Vintage Underground is going on MonZora for sure!

then there's a whole bunch of emblems that I am definitely keeping. I think the "deluxe" might end up on the Sonoma tailgate. And I'm not sure what the bulbs are, they look old-school but they also look LED-ish. Potential MonZora additions? I didn't study that trim plate closely and I don't immediately recognize it, but I promise that I did check the fit of those bulbs in the outboard holes. :-)
Next up is a bunch of things that will definitely be used in MonZora construction:
Roloc (?) Flap discs (top) and 4-1/2" grinding wheels (bottom) and IDK what those things in the middle are, but they're probably super-cool and will transform the way I currently do something into a way more bester way.
2 spools of Lincoln MIG wire and one spool of Lincoln flux core wire, a Fiat wrench, a cool rubber isolator (I'm guessing exhaust hanger), a couple of diaphragm things which I don't recognize but I'm gonna guess are for an SU carb, a hose clamp for braided sheath, and four very Nice bearings.
A variety of tube nuts for 3/16" tube, four stainless hose clamps that are far nicer than any I've previously owned, some Empi tube mounting brackets, an electrical junction thing (yeah, that's the technical term), some throttle-linkage-sized rod ends, some suspension-sized rod ends, and a flange bearing that will almost certainly serve to locate MonZora's steering shaft where it passes through the forward bulkhead.
2 bump stops that will probably go on the Sonoma's new front LCAs, and 2 what I'm guessing are LCA bushings but will probably be repurposed as MonZora engine mounts.
and now something that reminded me of my Dad (a tool and die maker), and also of a thing my Dad used to say: "Buddy, I never got the cherry. All I ever got was the box the cherry came in." He was talking about Bob Costas, of course, but when I saw this box I was like, dang that's a sweet box. Then I gently opened it up and the cherry was still there!
a Lufkin 0-1" micrometer! Seriously, Mr Balls, if this is "random junk" I'd like to see what you consider valuable. :-) I don't know exactly what I'll use it on or when, but it's going into the machinist toolbox I inherited from my Dad.
And if that was the end, I'd say this box of goodies was over the top.
[TV Voice] But wait! There's more! [/TV Voice]

IDK if it's a repurposed bag or not, but I'm going with HOLY E36 M3 FERRARI 250 PARTS!

I'm guessing exhaust hangers?
then there's a set of German Ninja hand to hand combat stabby thingies, complete with illustrations of how to make various stabs:
And finally, what is probably my favorite thing out of an incredible box of things:
That's a Dekon Monza leading a 935 and a Greenwood Corvette through the Corkscrew at Laguna Seca. In a box full of flair, a T-shirt with twelve box flares!
Thank you, Trent!