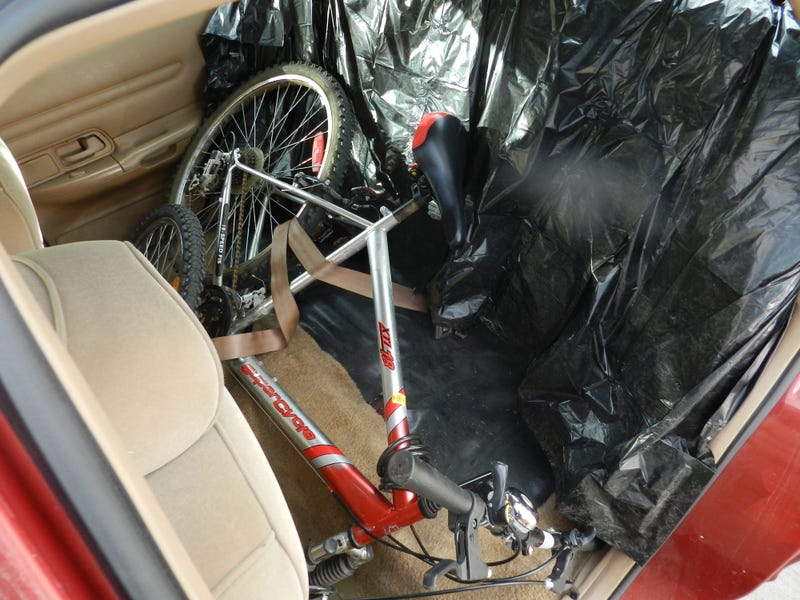 Step 1: Remove the lower rear seat cushion by firmly tugging upwards on it's leading edge, then pop it in the trunk.
Step 2: Lay your preferred covering over the rear seatback face and tuck in the edges. If you have a center shoulder belt, make sure to tuck the covering behind the path of the seat belts.
Step 3: Remove the bike wheel(s) and put the bike(s) in the back, using the seatbelts as tie-downs (if you have three shoulder belts, make sure you pull them all the way out so that when they retract, they lock into position and hold the bikes in place). After the bikes are secure, toss in the front wheel(s), helmets, and anything else you may want to take on your cycling trek.
Removal is pretty much the opposite of installation, except you have to push the rear seat bottom cushion in towards the back of the car before and while jamming down hard (firmly isn't enough, you have to really put your weight on the cushion).
Just as a note, cruiser bicycles with curved handlebars are a little trickier when it comes to fitting them through the door openings, and you may have to remove the handlebars in some cases. Other than that, you're pretty much golden. I've tested this with a road bike, the mountain bike pictured, and the aforementioned cruiser bicycle, and all three fit well once the front wheels were removed. I could even fit two mountain bikes in at the same time, although three would have been quite tight.