A few days ago, I picked up a small jeweler's bead blaster off of Craigslist. I asked the seller why he was getting rid of it and he told me that he bought it at an auction, and only because he wanted the small air compressor that came with it. When he showed me the compressor, I immediately understood why. It was a Jun-Air. I had only seen one other Jun-Air. That one was a single cylinder that a friend of mine found in a storage unit. It was small, but impressive.
So got the blaster home and set it up beside my big noisy Craftsman compressor. It's a really perfect little blasting cabinet. I started thinking about how nice it would have been to have gotten the original compressor with it.
Jun-Airs are made in Denmark. They are often used by dentists and tattoo artists. If you've never heard one operating, you may have been standing right next to it.
When my friend found his, we plugged it in and thought that the motor was seized or burnt out. Then we noticed that the pressure gauge was going up...
A quick check of Craigslist (via SearchTempest) turned up of couple of really expensive ones. And one that was about an hour away for $70. I think you can see where I am going with this...
As luck would have it, the seller was actually visiting family not too far from me and he agreed to bring it with him. And now, it's mine.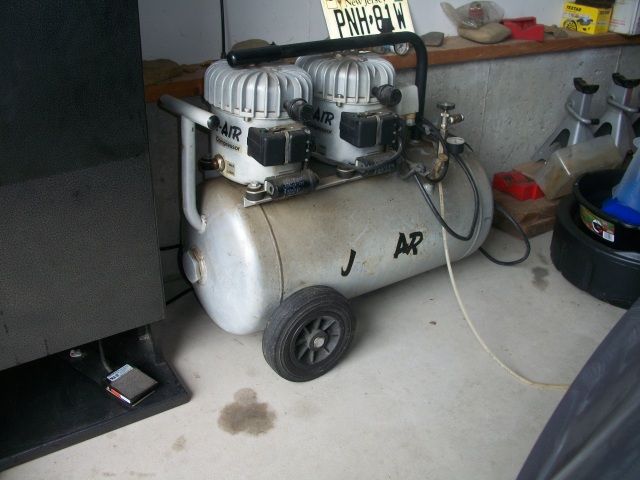 It's a two cylinder, 8 Bar (116 psi) with a 45 liter tank. Made in 1985. It needs a little cleaning but I plugged it in and, for a moment, thought that the motor might be burnt out. Until I saw that pressure gauge going up....