It's been a while since my last update and I've actually had a few people mention that they'd like to see another one. Imagine that!
There's really not much to report on the car so I figured I'd detail the time I spend in the garage filtering stuff. But first, the update on the car. The car is going to tick over to 280,000 miles next week, it was converted at 217,000 and the car is just fine. No issues to report and only maintenance needed as far as the Powertrain is concerned. I'm averaging over 220 miles per diesel gallon, but that is dependent on your regular drive. When I drive anywhere I drive on diesel until the engine is warm and that depends on the weather. In the summer I'm switching over from dino to oil in about 4.5 miles. In the winter that can be 7 miles. Then I switch back over to diesel about 1 mile before I get to where I'm going, unless in the summer I'll be going somewhere again soon. So, if I drive 30 miles (that's my commute to work) I drive less than 6 miles on diesel, 24 on oil. Now, my wife went to New York a few weeks ago. She was going to drive the Benz. She would have driven 5 miles on diesel, then 600+ on oil, then 1 mile on diesel. That would have been a couple thousand miles per diesel gallon!
So on to the filtering. There are more than one way to skin a cat. I chose a centrifuge as opposed to multiple filters. Lots of folks use house water filters, typically 2 or 3 in series. The problem is ones that will block water and have a micron rating of 5 or so are expensive. The problem happens when you get a very dirty or wet oil sample you can ruin these filters in just a few gallons. If you have 20 gallons of nasty oil and can't get more than 5 gallons through three filters it gets expensive fast. And it's messy. And you need a pump. And nobody seems to know if these filters are really dewatering.
So, I got a centrifuge that filters to 0.5 microns AND dewaters in one pass. No filters to clean, no mess and cheap to run. I've covered my whole setup in past updates so you can search and find them if you want. Lots of people ask me how much time I spend in the garage filtering oil. Well, to filter 10 gallons (about what I burn in a week or so) I spend about 4 minutes in the garage. Filling my tank takes another4 minutes. Cleaning the centrifuge takes, maybe 10 minutes and I do that once a month or so. No post should be this long and not have pics, so here you are.
Here's the centrifuge. Basically, oil is drizzled in side where a open bowl spins fast. The oil is forced against the side where it's at 1200 g's. This forces the nasties against the sides. The clean oil eventually goes up over the top of the bowl and is collected in my "clean" barrel.
Here's a picture of the bowl before it's cleaned. This is after about 50 gallons of oil passing through. I simply take a plastic putty knife and scrape the sides out.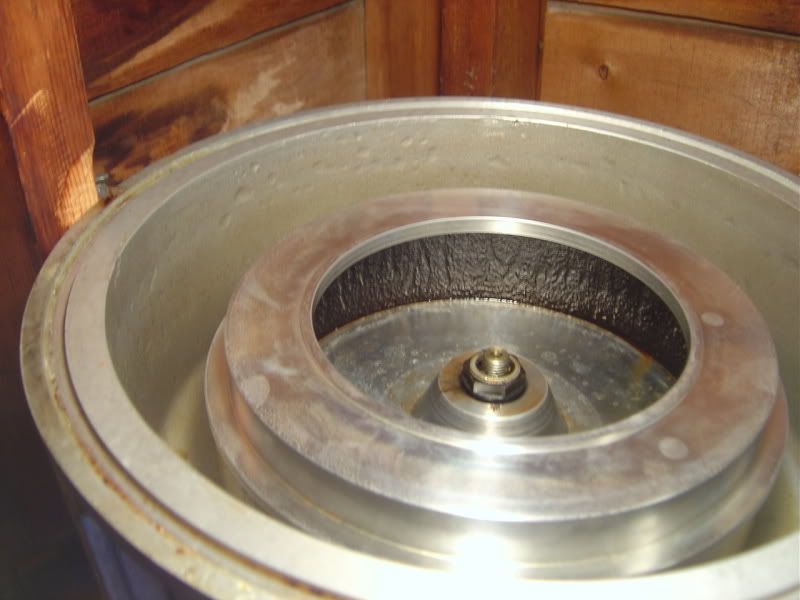 One pass is usually enough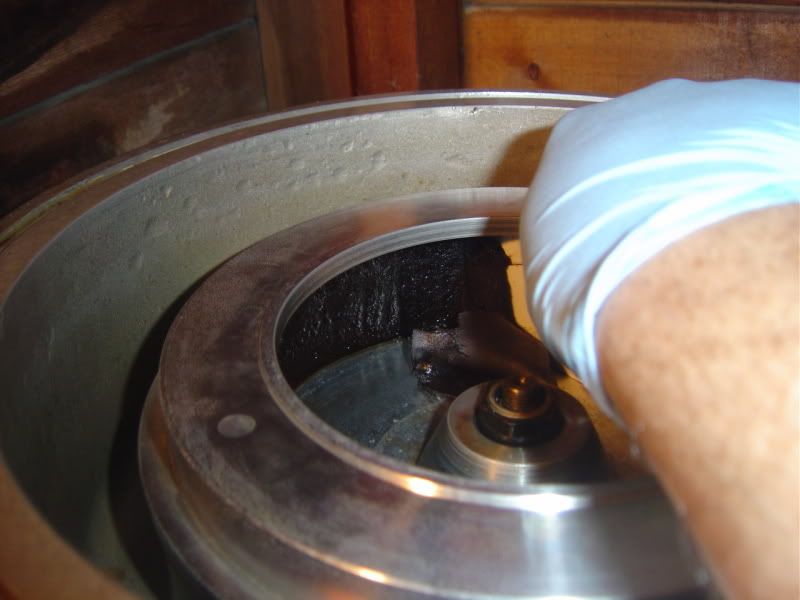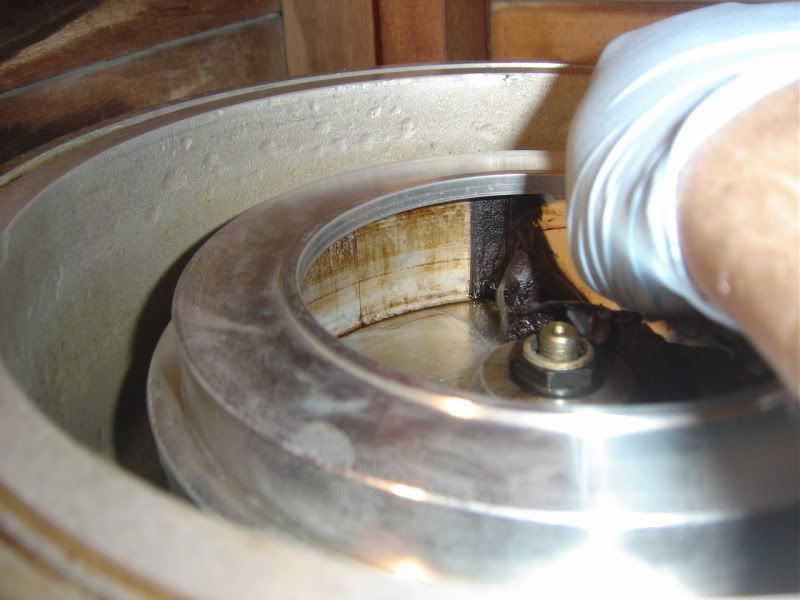 And here's some of the stuff I scrape out. I can sell this to bear hunters going up north cuz the bears LOVE it. I just give it away though. Want some?