I have a 3 year old nephew who loves "monster trucks"*, especially driving them around in the dirt. However, his dad has a fairly capable buggy so he knows how they actually move.
I'm looking for a toy monster truck (Jeep, buggy, actual monster truck) that he can drive around over our rocks. Not an RC car, but something he can manhandle. It has to have real articulation. Scale would be somewhere around 1:10 or 1:12, that's good for driving over real rocks and can be strong enough to take abuse like putting both hands on top and running as fast as possible. He actually has used my WLToys 12428 for this but is constantly fighting with the steering. Otherwise, it's pretty much perfect. Other than the fact that parking it and filling it up with sand is well within the expected use case.
Any ideas? I could just get another 12428, pull the driveshafts and lock the steering in place. Then he could grow into it later. But that's a fair chunk of change for something that will take this sort of abuse.
Picture of WL12428 for reference.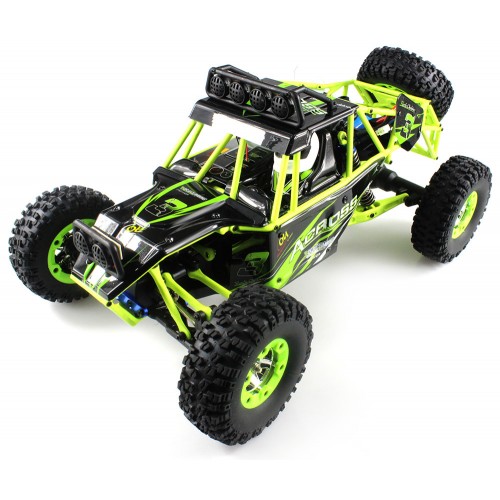 * there are three classes of vehicles in the world: monster trucks, race cars and construction equipment.