Welcome to the (un)official GRM - Gran Turismo 6 racing League - Series 5
This is a championship series based on the cars and spirit of the Grassroots Motorsports (and what is available in GT6). Although highly competitive the main focus of the racing is fun clean racing. Because of this, rough driving is highly discouraged.
STANDINGS

Sunday STANDINGS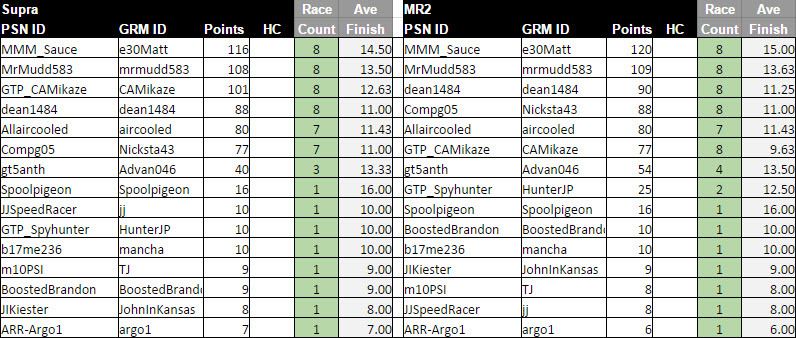 This league will consist of 10 races run weekly, and 2 classes on each of the two days (Wednesday and Sunday)

Must use a VW 1200 '66
SM tires
No other restrictions (NOS allowed)
.

Must use Corvette ZR1 (C6) LM Race Car '09
RH Tires
No modifications or adjustments allowed except brake bias (room will be set to no modifications)
.
There is also a special, separately tracked series run on Sundays BEFORE the two above series, using the same track. This series also has two races:

Must use a SUPRA RZ '97
SM Tires
No modifications or adjustments allowed except brake bias (room will be set to no modifications)

MR2 1600 G '86
SM Tires
460 PP max
Power reduction max to 90%.
All adjustments and mods allowed except as noted below:
No NOS allowed
No added aero (stock wing can be removed)
It is suggested you start with the tune shown a few posts below