There's nothing more exciting than reading the latest issues about your favorite sports cars. We put it all in one place, so you never have to leave.
In The December 2013 issue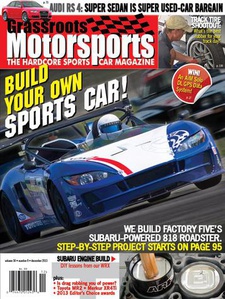 Build Your Own Sports Car
We build Factory Five's Subaru-powered 818 roadster.
Featured articles
Build Your Own Sports Car | Part 1: Turning a castoff Subaru WRX into a budget supercar.
Holiday Gift Guide | Admit it, it's all about the presents.
Editors' Choice 2013 | The 20 things that rocked our automotive world this year.
Merkur XR4Ti | A German rarity that's still hunting BMWs.
Audi RS 4 Buyers Guide | The super sedan is now a super used-car bargain.
Vintage Views: Toyota MR2 | Do the two-seat two-step.
Ford Fiesta ST | Sampling Ford's latest pint-sized terror.
Ford Focus ST | While driving the Fiesta ST, we visited its older sibling, too.
Project Subaru WRX | Part 5: Building a new engine since we blew up the original one.
Track Tire Shootout | What's the best rubber for your next track day?
Measuring Drag | So how much are those sticky tires slowing you down?
Project Cars